Locally Loved Running & Biking Destinations
Looking to opt outside? You've come to the right state. Whether you're into running scenic trails, cycling on winding mountain roads or catching mad air on your mountain bike, we've got miles of magic for you.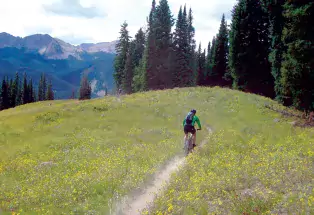 Tip: If you're searching for accessible ways to cycle, mountaing bike and hit the trails, we've got you covered with an array of amazing adaptive summer sports in Colorado. 
Rocky Mountain Runner's Highs
Is a runcation your dream getaway? We've got about 104,000 square miles of wide-open spaces for you to play in.
Pawnee Buttes Trail, near Grover: Trot through yucca and sweet grasses toward two massive sandstone pillars erupting from the prairie.
Bear Creek Lake Park, Lakewood: Singletrack and paved trails crisscross the Front Range foothills, where you'll spot hawks, jackrabbits and, occasionally, bear.
Marshall Mesa Trail, Boulder: Crush this 8.1-mile challenge where you'll be flanked by jagged flatiron formations.
Bull Canyon Trail, Dinosaur National Monument, Dinosaur: This short but steep cactus-lined trail treats with dramatic vistas of Bull Canyon and the Yampa River. (Tip: Take extra water and don't go alone. This is known mountain lion territory.)
Hope Pass, Leadville: The steep grade on this infamous Leadville 100 stretch will have your quads screaming for mercy.
Bodacious Bikeventures
Discover miles of shredding and zigzagging routes with panoramic views of chocolate-walled canyons and snow-tipped peaks. Welcome to paradise.
For Road Cyclists:
Poudre River Trail — Kodak to Signature Bluffs, Windsor
Pedal leisurely alongside the meandering Cache la Poudre River, keeping an eye out for eagles and wild turkeys.
Independence Pass, Twin Lakes
Hugging the Continental Divide, the fourth-highest paved road in Colorado rewards with valley climbs and switchbacks to above-treeline summits.
Cherry Creek State Park, Aurora
Cruise through miles of bird-filled grasslands or enjoy a full day of riding by picking up Cherry Creek Trail and heading to Denver's Confluence Park. (Tip: Stop to stretch your legs and tour the Four Mile House, built in 1859.)
For Mountain Bikers:
Picketwire Canyon Trail, La Junta
Rock and roll through pioneer ruins and the largest dinosaur tracksite in North America. (Tip: Pack extra water for this one.)
Dyke Trail, Crested Butte
Power climbs, stream crossings and explosions of fall colors make it easy to see why this is a local fave.
Zippity Loop, Fruita
Up the thrills on this tough trail with smooth singletrack and fun switchbacks, coupled with stunning desert views.
The Palisade Plunge, Palisade
This eagerly anticipated addition to Colorado's mountain-biking scene is thrilling super-advanced riders from around the world. Dip off the Grand Mesa and send 32 miles of singletrack with 6,000 feet of downhill and awe-inspiring views of the Grand Valley on your way to Palisade.
Tips for Running & Cycling at Altitude
These tips from Coach Joe Howdyshell — elite mountain runner and owner of Summit Endurance Academy in Breckenridge — can help you prepare, so you can enjoy your Colorado running or cycling experience and the jaw-dropping vistas that surround.
1. Adjust Your Expectations: The altitude and terrain will undoubtedly slow your roll if you're not accustomed to it. Don't be surprised if eight-minute sea-level miles stretch to 11:30 or you shift to granny gear more often. Go out slow and soak up the scenery.
2. Modify Your Training: Toss in some anaerobic work, like 10 reps of sprinting intervals, alternating a minute full-out and a minute of recovery. Hill work and getting up into higher elevations as often as possible won't hurt either.
3. Get Settled: Colorado's lowest elevation (3,317 feet in Yuma County) is still way up there, and many popular destinations sit at a mile or higher. Take a day or two to adjust to the altitude before embarking on strenuous adventures.
4. Hydrate & Fuel: You might need twice as much water at higher elevations, so bring a HydraPak or water belt, even for shorter rides and runs. And altitude can curb your appetite, but your body still needs fuel, so make sure you're taking in enough calories.
5. Use Sun Protection: In many places, you'll be a mile or two closer to the sun. Use sunscreen before and during outdoor adventures and wear a brimmed cap — unless you're rocking a bike helmet (which you absolutely should be).
6. Listen to Your Body: Be wary of the fact that your legs may not let on that they're straining and your heart rate might be lower than back home. Instead, focus on your breathing rate and other signals your body's sending to say, "Slow down and take it easy."
Want more? 
Explore some of Colorado's best mountain biking >>