Make Rocky Mountain Adventures Your Guide to River Fun Near Fort Collins
Rocky Mountain Adventures in Fort Collins is your outfitter for fun on the Cache la Poudre River. It's Colorado's only federally designated Wild and Scenic River beloved for its rushing waters, winding twists, rocky outcroppings and peak-strewn panoramas.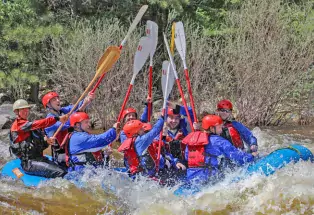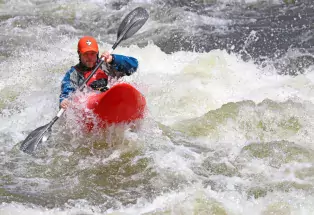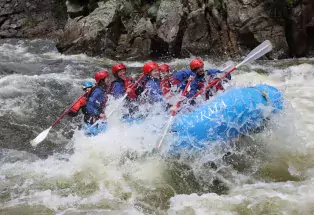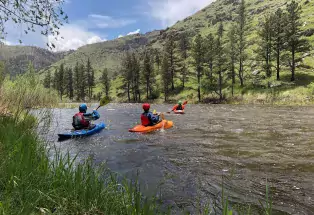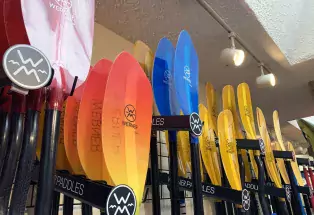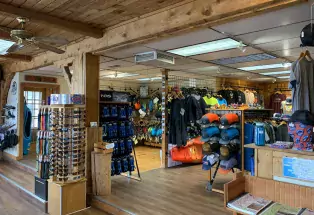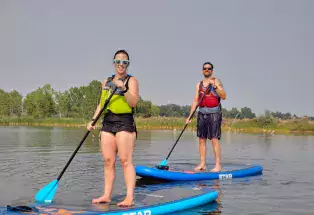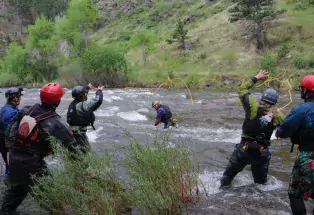 Located just an hour and a half from Denver International Airport (DEN), Rocky Mountain Adventures is also an excellent vacation base near many Colorado cities, like Denver, Boulder and Estes Park. Let their experts plan all sorts of river activities for you — like guided whitewater-rafting experiences, instruction or equipment rentals for the more do-it-yourself types.
Not sure where to start? From guided water sports to welcoming classes, here are their most popular offerings:
Whitewater Rafting
Make Colorado memories with a whitewater-rafting adventure crafted just for you. Whether you're traveling with kiddos (aged 7 and up) or major adrenaline junkies, you can pick half- to full-day trips from mellow to advanced offerings on Class II, III and IV whitewater. Aside from all the stunning mountain scenery you'll see riding the protected Cache la Poudre, if you look closely, you just might spot some of Colorado's most treasured wildlife, like moose, elk and fox.
Prefer a raft trip that boasts unique Colorado history? Book the Mishawaka Lunch Trip to ride 12 rollicking miles of classic whitewater with a stop for lunch at the historic Mishawaka Amphitheatre. Fun fact: This riverside venue and restaurant has hosted musicians galore since waaaay back in the early 1900s. The open-air venue itself — surrounded by a craggy mountainside that's peppered with pines — is more than a century old.
Pro tip: Early-season rafting can be chilly! That's why Rocky Mountain Adventures offers wetsuit rentals.
Take a Class
Ready to move into the driver's seat? Build your own water skills with specialized instructional classes — they run the gamut on sport type and level, perfect for newbies and those looking to level up. Whether you want to learn beginner basics — like how to roll a kayak and balance on a stand-up paddleboard — or are seeking more advanced skill building around raft-guide training and swift-water rescue, Rocky Mountain Adventures delivers with year-round group and private instruction meant to make you the expert.
Pro tip: As a beginner, you'll be learning in a placid pond or a Fort Collins pool, depending on the season. Equipment rentals are included in class pricing.
Rent Gear
Want to try a new sport without an upfront investment? Rocky Mountain Adventures has you covered with a robust assortment of seasonal equipment.
In summertime, you can reserve river tubes (ideal for short floats on calm water), rafts and overnight gear, kayaks (whitewater, inflatable and recreational), stand-up paddleboards, plus technical gear and clothing (everything from coolers and dry bags to oars and life jackets).
Come winter, take your pick of cross-country skis, snowshoes, splitboards, gear sleds and all the lifesaving safety gear you need for backcountry exploration (like beacons, probes and shovels).
Pro tip: Need equipment for a whole week? Or just a day? No problem. Full- and multiple-day rental rates are available.
Visit shoprma.com or call 970-493-4005 to book your Rocky Mountain Adventures experience.
Want more?
Directions to the Fort Collins store >>