Mountain Biking Trails in Salida, Colorado
The laid-back Colorado town of Salida boasts a wealth of trails for mountain bikers. Sitting as the crown jewel in a ring of 14,000-foot peaks, the town is an ideal hub for those seeking challenging terrain and variety.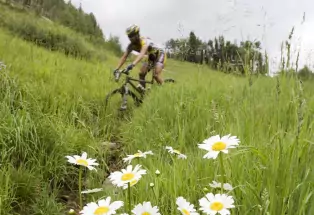 The Colorado Trail, the Continental Divide National Scenic Trail, the Great Divide Mountain Bike Route and the Rainbow Trail all cross paths in Salida. Whether you want an easy road ride on dirt, a challenging descent or an all-day high-altitude singletrack, the town has what you're looking for.
The Arkansas River runs through downtown and beckoning hills jut skyward right from the end of the Main Street. Just minutes from downtown, you can find yourself basking in a wealth of recreation — a whitewater kayak park, challenging singletrack trails, hiking and running routes.
The Salida Bike Park brings even more singletrack to this amazing area. Located just three hours from Denver and 1.5 hours from Colorado Springs, Salida is less than a morning's drive away.
Check out these three of the dozens of Salida mountain bike trails:
The Monarch Crest Trail to Silver Creek
Level: Advanced
Mileage: 38
Time: 4-6 hours (one-way plus a shuttle) 
If you only have a day in Salida, ride this legendary trail that winds along the Continental Divide above treeline, then drops more than 4,000 vertical feet back into town. It's the perfect combination of endless singletrack and dramatic views of the Rocky Mountains. Take a few deep breaths beforehand, because the ride starts at 11,400 feet and climbs high before dropping along the ridgeline south to Marshall Pass (10,800 feet). This multi-use trail is surprisingly well maintained, offering one of Colorado's best combinations of high alpine scenery and sustained singletrack riding. As you pedal across the pine-cushioned trail, you'll pass beaver dams, old mines and streams. 
If almost 40 miles registers a little above your fitness level, or if you're feeling the effects of altitude, take the popular former narrow-gauge railroad cutoff down Marshall Pass, which leads you back to Poncha Springs, five miles west of Salida on US 50.
South Fooses Creek
Level: Intermediate
Mileage: 12
Time: 2-3 hours (out and back)
This canyon-cooled trail begins at US 50 west of Salida and follows the small but scenic South Fooses Creek as it climbs toward the Continental Divide. The path features long forest tunnels with short, steep climbs. Log bridges carry you safely across the creek as the trail winds back and forth. After 3.1 miles of singletrack, look for the Forest Service sign where you can turn around and retrace your treadmarks, or add on a 2.5 hike-a-bike adventure to the top of the Continental Divide. This last section is for experts only and traverses tricky boulder fields before connecting with the Crest Trail. You can also ride the Monarch Crest Trail for the first 5 miles and descend South Fooses Creek.
Bear Creek to the Rainbow Trail
Level: Intermediate
Mileage: 17
Time: 1.5–3 hours (out and back) 
After a short but stiff climb up Bear Creek Road, this route intersects the best section of the Rainbow Trail for many miles of perfect singletrack. The skinny trail dips and swoops into the woods and bursts into meadows with views of Salida and the distant peaks of the Sawatch Range. This ride is a local favorite, and the Rainbow Trail remains one of the unknown singletrack gems of the American West. This ride can be extended for those who want a longer ride — just continue down the singletrack and turn around when you're ready. The Rainbow Trail keeps going for another 15 miles to the west.