Must-Try Denver Restaurants
Thrilling new restaurants are popping up all over the city to fulfill our insatiable cravings for our next great meal.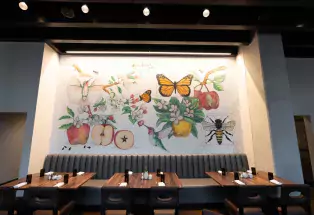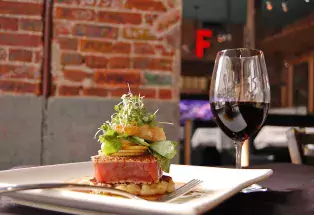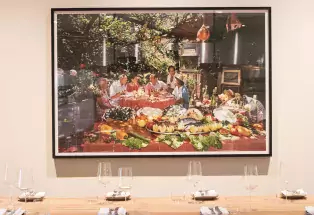 A commanding nod to New York City. Latin American love. Big-name celebrity chefs with Michelin stars. Local luminaries. Spellbinding spaces. Every one of the restaurants below — a mix of new and tried-and-true — remind us that dining in The Mile High City has never been better. Go forth and eat.  
Hot New Spots 
Apple Blossom
Restaurant heavyweights and siblings Paul and Aileen Reilly (Coperta) pay tribute to America's agricultural bounty and the fluctuating seasons at their strikingly pretty dining temple inside the Hyatt Centric Downtown Denver. It's a breakfast, lunch and dinner space designed with genuine artistry and purpose: a garden-inspired mural hand-chalked with butterflies, bees, hummingbirds and apples, courtesy of pastry chef Jodi Polson; crisp, white vases brimming with fresh flowers; and refined light fixtures illuminating the leather banquettes. The menu, orchestrated by chef de cuisine Russ Fox, follows suit with detail-driven salads, pastas and main dishes of duck-bourbon sausage and pickled pumpkin gumbo and olive oil-poached halibut embellished with king trumpet mushrooms and green chickpeas. And the captivating bar is everything a good hotel drinking den should be: sophisticated, comfortable, conversational and elevated with terrific American wines, innovative cocktails (we love the pastrami old-fashioned with bacon fat-washed bourbon) and a tidy beer scroll that favors only Colorado beers.
Chez Maggy
Hotshot Michelin-starred French chef Ludo Lefebvre put his pulse on Lower Downtown (LoDo) with the opening of Chez Maggy, the sophisticated and modern brasserie that's a focal point of the recently opened — and ritzy — Thompson Denver hotel. Flip through Lefebvre's digest of French-influenced dishes and go straight for the foie gras miso soup with fava beans, kombu and English pea consommé. Pine nuts and whipped goat cheese buoys the roasted black seabass, while the mind-and-stomach-boggling knife-and-fork burger a la Française is torpedoed with pickled mustard seeds, beer-braised onions, smoked mayonnaise, American cheese, and a cascade of peppered gravy. The result of Lefebvre's creations, coupled with a robust (and mostly French) wine and cocktail compendium, easily equates to one of the most exciting new restaurants in the city.
A5 Steakhouse
Just one in an armory of terrific restaurants umbrellaed under the Culinary Creative Group, A5 Steakhouse is restaurateur Juan Padro's LoDo-based interpretation of the all-American steakhouse. But A5 distinguishes itself with retro-cool elements — a living fern wall behind the island-themed bar, for example, and conscious transparency via the steak segment of the menu, wherein every cut of steer is bookended with the name of the farm or ranch whence it originated. And even the steaks themselves reveal surprises. Where else can you find a bavette, tri-tip, Japanese striploin and Denver steak on the same menu? If you're looking for cliched creamed spinach or creamed corn, know, too, that chef-partner Max Mackissock doesn't roll that way. Instead, starters and sides tilt toward season-intensive ingredients, innovative preparations and groovy rifts on familiar favorites. To wit: In lieu of traditional crab cakes, behold Mackissock's "crabby toast," a striking medley of Jonah crab jumbled with cucumbers and yuzu kosho aioli straddling a custardy Japanese-style French toast topped with togarashi-dusted potato chips. A poster child for a reimagined steakhouse experience, A5 is a splurgy date spot with swooning ambiance, first-class service, superb steaks and a brilliant wine and beverage list.
Water Grill
Courtesy of the Southern California coast, this high-end fish and seafood chain is reeling in Denverites with its impeccably luxurious décor, ice-luminous raw bar, squeaky-clean aquariums, powerhouse wine list and tank-to-plate showstoppers. The new LoDo addition is the kind of restaurant where everything — and we do mean everything — has been meticulously thought out to create an orchestrated experience that's perfectly emblematic of the modern fish house. Begin with a platter of shucked oysters or the char-grilled octopus with fingerling potatoes, roasted tomatoes and niçoise olives; splurge on the wild Norwegian red king crab or a whole fish of wild New Zealand pink bream; and celebrate the occasion (or no occasion at all) with the bells-and-whistles croissant-and-brioche bread pudding crowned with salted ice cream drizzled with caramel.
Toro Latin Kitchen + Lounge
Chef and prolific restaurateur Richard Sandoval (Tamayo, La Sandia and Avon-based Maya) introduces a progressive and eclectic wave of global flavors at Toro Latin Kitchen + Lounge, the newest food destination inside the classy Hotel Clio in Cherry Creek. Sandoval's menu, absent culinary guardrails, latches on to ingredients from Brazil, Mexico, Argentina, Asia, Japan and Venezuela, a melting pot of flavors that translates to dishes that dazzle on the plate and the palate. Contemporary banquettes and dark-wood tables share space with hand-painted bull murals ("toro" means "bull" in Spanish and "tuna" in Japanese), private tequila lockers and a dedicated ceviche bar from which dishes like the aji amarillo ceviche with hamachi, mango and cucumber, emerge. An open-air patio, softly lit with strands of white lights and decked out with tables and swanky lounge furniture, is a hotspot for happy hour. Get the smoked swordfish dip and a mercado margarita with jalapeño-infused tequila, passion fruit and hibiscus-rosemary foam.
Carmine's on McGregor Square
Flanked by Coors Field, this 28,000-square-foot entertainment emporium in the Ballpark 'hood is an intersection of lofty living residences, a swanky boutique hotel, retail shops, office space, an outdoor plaza, bars and cafes, a Colorado Rockies Hall of Fame experience, a food hall and Carmine's, a contemporary-chic lunch and dinner restaurant specializing in family-style plates of Italian-American obsessions. Much like the original Carmine's — a staple in the Speer neighborhood since 1994 — the new iteration is all about abundance and celebrating that abbondanza with friends and family. The tables, sheeted with brown butcher paper, double as a blank canvas for kids who want to doodle (each table comes with a cup of crayons) and servers who use those crayons to scribble your order. While there are menu boards scattered throughout the labyrinth of muraled dining rooms, the servers are more than adept at helping diners navigate the syllabus of appetizers, salads, side dishes, pasta, risotto and chicken and veal dishes. Just remember: Everything here is on the big side, and desserts are no exception. Still, it's worth leaving a spot in your stomach for a splash of the housemade limoncello.
The Greenwich
If you're in a New York state of mind, start spreading the news: A slice of the Big Apple recently landed in the River North Arts District (RiNo), and you most definitely want a piece of the pie. A collaboration between Delores Tronco and executive chef Justin Freeman, the Greenwich, named for the beloved bohemian neighborhood in Lower Manhattan, doubles down on its inspiration and influence, channeling New York at every turn, whether it's cocktail names (The Bowery, Gramercy Park and Summer in the Hamptons), the New York-centric books, photographs, prints, murals or magazines that bedeck the bi-level space, or the industrial-hip aesthetics. Race for a reservation to explore Freeman's menu, too, which trumpets infallible wood-oven-blazed, sourdough-crusted pizzas and a brilliant plate of char-swatted swordfish puddled in a chile-laced broth bobbing with cannellini beans. More to love: the roasted carrots mated with lemon-smooched tahini and haloed with candied pistachios. The gratification is in the details.
Cantina Loca
When a restaurant's tagline reads "Taco dirty to me," you just sorta know it's the kind of place that's got a flirtatious, irreverent and edgy flair in the air. And Cantina Loca has all of that and more. The newest endeavor from James Beard Best Southwest chef nominee Dana "Loca" Rodriguez (Super Mega Bien, Work + Class and the forthcoming Casa Bonita), this jovial Lower Highland (LoHi) hotspot parades the best of Mexican street food: cod ceviche, queso fundido, delicious fried tacos swelled with cheese and smashed potatoes, housemade chorizo wrapped in still-steaming blue corn tortillas and flavor-shotted Colorado lamb tucked inside a banana leaf and paired with both blue and white corn tortillas, a heavenly avocado sauce and salsa. Entice your companions to embark on a tasting tour of Rodriguez's own line of small-batch tequilas and mezcals and raise your glass to good vibes and great ambiance enlivened with sultry Latin music. For a sugar high, fulfill your lust with the faultless caramel-laced flan.
Lucina Eatery & Bar
Perhaps more than any dish on the syllabus, the congri y maduros — sea-salted plantains, black beans and rice with sofrito, fresh herbs and a splash of citrus — channels Erasamo "Ras" Casiano's Latin American and Spanish roots. Late last year, Casiano, along with business partner Diego Coconati, opened Lucina Eatery & Bar in Park Hill, its warm and fashionable atmosphere marked with potted foliage, boldly whimsical floral wallpaper and mid-mod stools and chairs. Along with the black beans and rice, consider the superb paella, a weekend-only marvel that might showcase mahi-mahi, mussels, blue oyster mushrooms, chorizo or piquillo peppers. And don't overlook the beverage scroll, a spirited ballad of alluring cocktails, wines and beer.
Glo Noodle House
It's always slurp season at this West Highland ramen parlor where besotted enthusiasts pile in for all species — including offbeat ones — of the thick Japanese noodle soup: smoky miso and bacon confit; the ferociously brain-penetrating Deathwish; shrimp and pork tantanmen; lemon-glazed chicken shoyu (soy); prime rib shoyu; roasted mushroom ramen laced with chile jam; and kimchi Bolognese mazemen. But while the human race could quite possibly exist on ramen alone, Glo, a buzzy space with kaleidoscopic paper-lanterns, exquisite plateware, a hand-painted mural of a skull spewing noodles, must-see bathrooms (truly) and a frolicsome outdoor patio, also produces intoxicating small plates, skewers and cocktails, including the standout Seven Samurai, a union of bourbon, vermouth, passionfruit, egg white foam and a twist of crushed peppercorns.
Want more?
Get additional information about Denver's must-see locations and events, and order a Denver Visitor Guide.