Must-Try Denver Restaurants
Thrilling new restaurants are popping up all over Denver to fulfill insatiable cravings for the next great meal.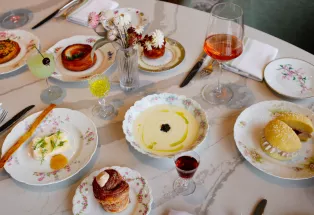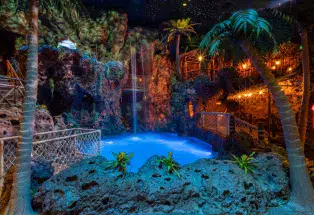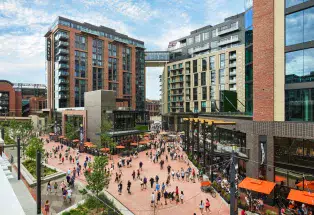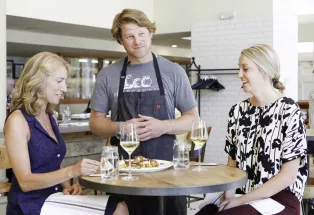 A commanding nod to New York City. Latin American love. Big-name celebrity chefs with Michelin stars. Local luminaries. Spellbinding spaces. Every one of the restaurants below — a mix of new and tried-and-true — remind us that dining in The Mile High City has never been better. Go forth and eat.
Hot New Spots 
Noisette
First, the obvious. Noisette is a stunningly beautiful restaurant, where brass candelabras hang from a circled ceiling and crushed velvet chairs pop against white walls. Where your foie gras and Dover sole arrive on antique floral plates and your sauvignon blanc in cut glassware. What may not be as obvious — at least until you take your first bite — is the insane level of skill in the kitchen. Husband and wife team Tim and Lillian Lu are creating some of the most nuanced, delicious French food in town, evident in both the fancier dining room and in the attached casual bakery. Don't force yourself to choose between a dinner of exquisitely prepared duck and monkfish or a breakfast of quiche and croissants; this is a destination worthy of your day and night.
Koko Ni
Fusing together cuisine from more than one continent is Koko Ni (meaning "here" in Japanese), which found a fitting landing spot in the eclectic River North Art District (RiNo). You'll find produce exclusively from Colorado farms, a 10-course tasting menu drawing inspiration from France and Japan, sustainable seafood from around the world and handmade pasta. It's hard to single out something specific from the menu because everything changes seasonally/daily, as it should in a perfect world. And one more thing. There's some serious talent behind this joint. Chefs Paul Qui and James Gnizak teamed up to pull off some striking dishes. Qui is a "Top Chef" champion and James Beard award winner while Gnizak is a local hero with experience at other top restaurants like Rioja and Mercantile dining & provision. 
Casa Bonita
When the 49-year-old Mexican restaurant reopened in summer 2023 under new owners Matt Stone and Trey Parker (aka the creators of "South Park"), there was, to put it lightly, some hullaballoo. Casa Bonita is a beloved Colorado icon, after all, a family-friendly destination for any sort of celebration that warrants gorilla-suited cliff divers and sopapillas. Would the guys preserve the pink palace's peculiar charm? Would those cliff divers, the roaming mariachi bands and Black Bart's Cave survive their Hollywood facelift? And, above all, would the food—which had never been known for being especially tasty—finally be great? The answer to all of those burning Casa Bonita questions is yes — Casa Bonita is back, and it's better than ever. Especially the menu, which is under the direction of chef Dana Rodriguez, a James Beard-nominated chef known for taking simple, fresh ingredients and turning them into culinary magic.
Local Favorites in The Mile High City
Water Grill
Courtesy of the Southern California coast, this high-end fish and seafood chain is reeling in Denverites with its impeccably luxurious décor, ice-luminous raw bar, squeaky-clean aquariums, powerhouse wine list and tank-to-plate showstoppers. The LoDo addition is the kind of restaurant where everything — and we do mean everything — has been meticulously thought out to create an orchestrated experience that's perfectly emblematic of the modern fish house. Begin with a platter of shucked oysters or the char-grilled octopus with fingerling potatoes, roasted tomatoes and niçoise olives; splurge on the wild Norwegian red king crab or a whole fish of wild New Zealand pink bream; and celebrate the occasion (or no occasion at all) with the bells-and-whistles croissant-and-brioche bread pudding crowned with salted ice cream drizzled with caramel.
Toro Latin Kitchen + Lounge
Chef and prolific restaurateur Richard Sandoval (Tamayo, La Sandia and Avon-based Maya) introduces a progressive and eclectic wave of global flavors at Toro Latin Kitchen + Lounge, the newest food destination inside the classy Hotel Clio in Cherry Creek. Sandoval's menu, absent culinary guardrails, latches on to ingredients from Brazil, Mexico, Argentina, Asia, Japan and Venezuela, a melting pot of flavors that translates to dishes that dazzle on the plate and the palate. Contemporary banquettes and dark-wood tables share space with hand-painted bull murals ("toro" means "bull" in Spanish and "tuna" in Japanese), private tequila lockers and a dedicated ceviche bar from which dishes like the aji amarillo ceviche with hamachi, mango and cucumber, emerge. An open-air patio, softly lit with strands of white lights and decked out with tables and swanky lounge furniture, is a hotspot for happy hour. Get the smoked swordfish dip and a mercado margarita with jalapeño-infused tequila, passion fruit and hibiscus-rosemary foam.
Carmine's on Mcgregor Square
Flanked by Coors Field, this 28,000-square-foot entertainment emporium in the Ballpark'hood is an intersection of lofty living residences, a swanky boutique hotel, retail shops, office space, an outdoor plaza, bars and cafes, a Colorado Rockies Hall of Fame experience, a food hall and Carmine's, a contemporary-chic lunch and dinner restaurant specializing in family-style plates of Italian-American obsessions. Much like the original Carmine's — a staple in the Speer neighborhood since 1994 — the new iteration is all about abundance and celebrating that abbondanza with friends and family. The tables, sheeted with brown butcher paper, double as a blank canvas for kids who want to doodle (each table comes with a cup of crayons) and servers who use those crayons to scribble your order. While there are menu boards scattered throughout the labyrinth of muraled dining rooms, the servers are more than adept at helping diners navigate the syllabus of appetizers, salads, side dishes, pasta, risotto and chicken and veal dishes. Just remember: Everything here is on the big side, and desserts are no exception. Still, it's worth leaving a spot in your stomach for a splash of the housemade limoncello.
The Greenwich
If you're in a New York state of mind, start spreading the news: A slice of the Big Apple recently landed in the River North Arts District (RiNo), and you most definitely want a piece of the pie. A collaboration between Delores Tronco and executive chef Justin Freeman, the Greenwich, named for the beloved bohemian neighborhood in Lower Manhattan, doubles down on its inspiration and influence, channeling New York at every turn, whether it's cocktail names (The Bowery, Gramercy Park and Summer in the Hamptons), the New York-centric books, photographs, prints, murals or magazines that bedeck the bi-level space, or the industrial-hip aesthetics. Race for a reservation to explore Freeman's menu, too, which trumpets infallible wood-oven-blazed, sourdough-crusted pizzas and a brilliant plate of char-swatted swordfish puddled in a chile-laced broth bobbing with cannellini beans. More to love: the roasted carrots mated with lemon-smooched tahini and haloed with candied pistachios. The gratification is in the details.
Apple Blossom
Restaurant heavyweights and siblings Paul and Aileen Reilly (Coperta) pay tribute to America's agricultural bounty and the fluctuating seasons at their strikingly pretty dining temple inside the Hyatt Centric Downtown Denver. It's a breakfast, lunch and dinner space designed with genuine artistry and purpose: a garden-inspired mural hand-chalked with butterflies, bees, hummingbirds and apples, courtesy of pastry chef Jodi Polson; crisp, white vases brimming with fresh flowers; and refined light fixtures illuminating the leather banquettes. The menu, orchestrated by chef de cuisine Russ Fox, follows suit with detail-driven salads, pastas and main dishes of duck-bourbon sausage and pickled pumpkin gumbo and olive oil-poached halibut embellished with king trumpet mushrooms and green chickpeas. And the captivating bar is everything a good hotel drinking den should be: sophisticated, comfortable, conversational and elevated with terrific American wines, innovative cocktails (we love the pastrami old-fashioned with bacon fat-washed bourbon) and a tidy beer scroll that favors only Colorado beers.
Chez Maggy
Hotshot Michelin-starred French chef Ludo Lefebvre put his pulse on Lower Downtown (LoDo) with the opening of Chez Maggy, the sophisticated and modern brasserie that's a focal point of the recently opened — and ritzy — Thompson Denver hotel. Flip through Lefebvre's digest of French-influenced dishes and go straight for the foie gras miso soup with fava beans, kombu and English pea consommé. Pine nuts and whipped goat cheese buoys the roasted black seabass, while the mind-and-stomach-boggling knife-and-fork burger a la Française is torpedoed with pickled mustard seeds, beer-braised onions, smoked mayonnaise, American cheese, and a cascade of peppered gravy. The result of Lefebvre's creations, coupled with a robust (and mostly French) wine and cocktail compendium, easily equates to one of the most exciting restaurants in the city.
A5 Steakhouse
Just one in an armory of terrific restaurants umbrellaed under the Culinary Creative Group, A5 Steakhouse is restaurateur Juan Padro's LoDo-based interpretation of the all-American steakhouse. But A5 distinguishes itself with retro-cool elements — a living fern wall behind the island-themed bar, for example, and conscious transparency via the steak segment of the menu, wherein every cut of steer is bookended with the name of the farm or ranch whence it originated. And even the steaks themselves reveal surprises. Where else can you find a bavette, tri-tip, Japanese striploin and Denver steak on the same menu? If you're looking for cliched creamed spinach or creamed corn, know, too, that chef-partner Max Mackissock doesn't roll that way. Instead, starters and sides tilt toward season-intensive ingredients, innovative preparations and groovy rifts on familiar favorites. To wit: In lieu of traditional crab cakes, behold Mackissock's "crabby toast," a striking medley of Jonah crab jumbled with cucumbers and yuzu kosho aioli straddling a custardy Japanese-style French toast topped with togarashi-dusted potato chips. A poster child for a reimagined steakhouse experience, A5 is a splurgy date spot with swooning ambiance, first-class service, superb steaks and a brilliant wine and beverage list.
Tavernetta
From James Beard Award-winning luminaries Bobby Stuckey and Lachlan Mackinnon-Patterson, owners of Frasca Food and Wine — Boulder's lauded Northern Italian temple of gastronomy — comes Tavernetta, a regional Italian restaurant based at the boot of the Limelight Denver, prime real estate that overlooks the train platform of Denver Union Station. The superb menu reaches deep into salumi, cheese, antipasti, sensationally prepared fish and meat plates and breathtaking pastas that seesaw between lamb ragù with rigatoni and saffron-intensive bucatini enrichened with uni butter and trout roe. The classy space, graced with a fireplace lounge, a trio of patios, a centerpiece open kitchen and pasta station that buzzes with activity and walls mounted with Slim Aarons portrait photographs showcasing Italians on ritzy holidays, suggests a lost world of wine-soaked lunches and dinners and sojourns to fantastical faraway places.
Safta
Alon Shaya's dazzling Denver restaurant, situated inside The Source Hotel's culinary marketplace in the River North Art District (RiNo), has racked up an avalanche of accolades, all of them hard-earned and well deserved. His modern ode to Israeli cooking is composed, confident and pure, his flavors precise and pronounced. Pita bread, for instance, sounds deceptively simple, but the charred pillows of puffed dough that emerge from the wood-fired oven are remarkable. So, too, is the hummus with lamb ragù, the smoky baba ghanoush, the vibrant Moroccan carrot salad and the impossibly crisp eggplant, the spheres crested with herb-specked goat cheese and tomato sauce. The space, befitting the food, is light, airy and modern, its fixtures and furnishings a mix of communal tables, a long, L-shaped bar overlooking the open kitchen, art and drinkware inspired by Shaya's grandmother and floor-to-ceiling windows with views of the Denver skyline and mountain peaks. Like everything else here, the wines, many of which are from regions that are often overlooked (think Hungary, Greece and Israel), merit praise.
Jax Fish House
There may not be a more passionate restaurateur than Dave Query, who ignited — and demystified — Denver's seafood scene with the opening of this oceanic restaurant and oyster bar in LoDo that has since spawned offshoots across Colorado and beyond. From its rambunctiously energetic vibe, offset by a subtle nautical theme, to its fiercely seasonal menu of sustainable seafood sourced from passionate purveyors, it's a fin-tastic favorite for slurping pristine oysters, although the rest of the menu — towering seafood platters, plump king crab legs, fresh lobster, creamy clam chowder, spaghetti tangling with fresh clams and Alaskan halibut — is every bit as crowd-pleasing, as are the spirit-forward cocktails and compelling wines and craft beers, many of which are brewed at The Post, a Lafayette-based fried-chicken restaurant and brewery also owned by Query.
The Bindery
Chef, owner, culinary instructor and sojourner Linda Hampsten Fox oversees this dazzling LoHi market, bakery and restaurant that looks as though it could have been transported from Manhattan. By day, the high-ceilinged, sun-streaked dining room, awash in a minimalist white and black color palette, functions as an on-the-go stopgap for caffeine-jolted java drinks, housemade pastries, breakfast bites, sundries and sandwiches, while the ambitious dinner menu is a globetrotting homage to Fox's culinary jaunts around the world. Slide a stool up to the chef's counter, where the air is fragrant from the wood-burning grill in the exhibition kitchen and sip a lovely herbaceous cocktail while enjoying statement plates of smoked rabbit pie punctuated with pecans, the Spanish octopus tostado and risotto kissed with the scents of green chile.
Il Posto
On the stretch that's upper Larimer Street in the River North Art District (RiNo), you'll find Il Posto, an Italian restaurant from Milan-born chef-owner Andrea Frizzi. All glitz, glamour and swagger, Il Posto turns out a daily-changing menu of up-to-the-moment dishes that defer to seasonal ingredients, like skilled risottos mingling with everything from mushrooms and truffle oil to celery leaf and sprigs of fresh rosemary. Ask locals about the restaurant's pièce de résistance, and you'll get a unified answer: the herb-laced beef-tallow candle, the fat of which pools on the plate, resulting in a seductive puddle that adds a glorious luster to the slices of crusty bread that are served alongside. From start to finish, Frizzi delivers a nuanced experience, the kind that pairs remarkably well with a bottle of Barolo or Brunello from the show-stopping wine wall.
Denver Central Market 
River North Art District (RiNo) locals are spoiled rotten by the terrific combination of culinary concepts at this high-spirited food-and-drink emporium grandstanding eleven ace vendors, including Vero Italian, Culture Meat & Cheese, Tammen's Fish Market and Temper Chocolate and Confections. If you crave caffeine, swing by Crema Bodega for a pick-me-up cappuccino, and when the clock rings in cocktail hour, snag a seat at the bar at Curio for a boozy Manhattan, negroni or boulevardier. The 14,000-square-foot space also highlights brilliantly graffitied outdoor picnic tables painted by local artists.  If you're flying in or out of Denver International Airport, look for the market's second (and smaller) outpost on the A Concourse.
Guard and Grace 
Chef and restaurateur Troy Guard has been blazing culinary trails in Denver for more than a decade, and while his first trail of restaurants spotlighted modern Asian cuisine, Guard and Grace bucks bok choy for beef — scarlet slabs of well-marbled flesh served in testosterone-restrained surrounds offset by a handsome bar, spacious chef's counter and elevated, crescent-shaped booths stretched throughout the dining room, its windows overlooking the downtown Denver skyline. The menu is a grand ecosystem of land and sea: beef tartare, glistening oysters, crab legs and lobsters; and grill-etched steaks, including Wagyu and grass-fed, dribbling with juice. A towering, glass-enclosed wine cellar displays upwards of 4,000 bottles, many of which are also available by the glass.
Rioja
Rioja, a celebrated modern Mediterranean and Spanish restaurant, cemented the stardom of James Beard Foundation best chef winner Jennifer Jasinski, whose exuberant restaurant, complete with a transparent kitchen, copper-topped bar and chef's counter, transformed Larimer Square into a bona fide dining destination that's universally worshipped for its polished aesthetics, season-intensive dishes, plate artistry, hand-crafted pastas (the artichoke, goat cheese and white truffle tortelloni is exemplary), extensive brunch menu and thoughtful pastry program (including a fantastic house-baked breadbasket). It's a cult favorite of local and national celebrities, the food cognoscenti and just about everyone else who appreciates true culinary artisanship coupled with imaginative cocktails and a meaningful, well-edited and adventurous wine album that spotlights bottles from Spain and Portugal. Dually jaunty and formal — depending upon the occasion — Rioja remains one of the top restaurants in the city.
Work & Class
Comfort foods of the Latin-American culinary canon is the calling card of Work & Class, a refreshingly free-spirited restaurant in the River North Art District (RiNo) from multi-time James Beard Foundation Best Chef nominee Dana Rodriguez, whose soulful cooking more than lives up to its ballyhooed billing. Driven by the motto, "a square meal, a stiff drink, and a fair price," the diminutive restaurant, which commands waits from the moment the doors open, proffers gratifying plates of red wine-braised short ribs, green coriander-roasted Colorado lamb and rotisserie chicken, all of which should be paired with a side dish: chickpea croquettes, fried sweet plantains or the smoked Gouda macaroni and cheese. There's nothing particularly fancy about Rodriguez's cooking, but sitting at the chef's counter and indulging in the vanilla bean panna cotta or the caramel-glazed and ice cream-topped chocolate brownie is all the luxury you need.
Bistro Vendome 
In its new Park Hill location, Bistro Vendome is a Parisian sanctuary that evokes enchantment at every turn. The soul-soothing menu is magnetic, beckoning diners with escargot gratiné, voluptuous mussels floating in an herb-and-garlic broth and duck confit with fingerling potatoes, English peas and glistening kumquat glaze. The affordable and romancing wine list — complete with bubbles — keeps the conversation flowing.
Denver Union Station 
While LoDo's Denver Union Station is The Mile High City's main transportation hub, a glorious renovation in 2014 inspired high expectations from locals who waited with bated breath for the unveiling of the historic train depot's culinary offerings; they weren't disappointed. Morning travelers hit up Pig Train Coffee Co. for a jolt of caffeine and Snooze for the profoundly delicious pineapple upside-down pancakes, while Stoic & Genuine, a restaurant from chef Jennifer Jasinski and Beth Gruitch, trumpets sensational seafood and fish creations that rival its coastal counterparts. For their second act at Union Station, Jasinski and Gruitch celebrate the foods of Spain and Portugal at Ultreia, a snug, sunlit gastroteka that takes diners on a culinary sojourn through Iberia — a journey that's elevated by a terrific bar program that dives into Basque ciders, fortified wines, sherry, port and gin tonics, by which they're known in Spain. Mercantile Dining & Provision, a lovely New American restaurant from Alex Seidel (Fruition) features a barista counter and market that sells hand-crafted jams, spreads and pickled vegetables, along with sandwiches and terrific cheeses. Book a dinner reservation in the gorgeous dining room to fawn over Seidel's beef tartare, bucatini or burger. An anthem to the world-over street foods awaits at ND streetBar, which also touts an all-day Wednesday happy hour with food specials and $10 pitchers of Avery Brewing's popular IPA. If you lust for glamour and elegance, flash back to the golden age at The Cooper Lounge, a gorgeous cocktail parlor perched on the mezzanine overlooking the Great Hall, Union Station's bustling centerpiece.
Want More?
Get additional information about Denver's must-see locations and events, and order a Denver Visitor Guide.