National Park Profile: Great Sand Dunes National Park and Preserve
Sink into the highest mountains of sand in North America. Nestled in a spot where the Sangre de Cristo Mountains buckle inward, the dunes within the borders of Great Sand Dunes National Park have been building and sifting for eons — the result of the San Luis Valley's unique wind patterns.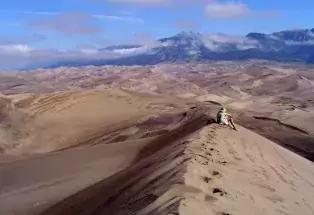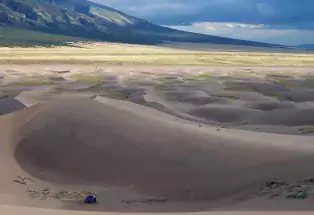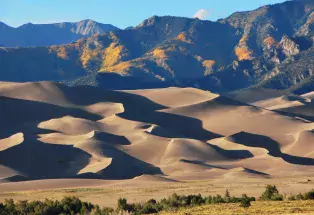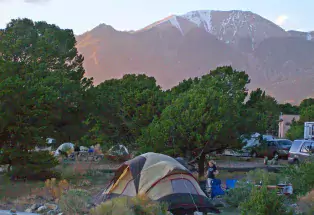 Great Sand Dunes National Park Basics
A sandbox of epic proportions, the entire dune field encompasses 30 square miles and the tallest dune towers 750 feet high. The kid in every visitor loves to sled down the sand year-round and plunge into the soft-sand tracks of those who climbed ahead of them. Aside from the dunes, you'll find picnicking, hiking and camping opportunities, the challenging four-wheel scenic drive on Medano Pass, horseback-riding trails, the mysteriously appearing and disappearing Medano Creek, ranger-led programs and a some 14,000- and 13,000-foot peaks for highly skilled mountaineers to climb (Crestone Needle, Crestone Peak, Cleveland Peak and Mount Herard). Explore hiking in Great Sand Dunes National Park and Alamosa.
The park's elevation (8,200 feet) and rural location make it a favorite with dark-sky-loving stargazers. It's even recognized as an International Dark Sky Park and offers special astronomy programs many evenings May–September. The Junior Ranger program has different activities for kids ages 3–12, and they earn a badge once they've completed the educational and fun tasks.
Camping in Great Sand Dunes National Park
There are a few options for camping in the area. The Piñon Flats Campground is run by the National Park Service, with 88 total campsites — 44 that are first-come, first-served and 44 that visitors can reserve in advance.
For those traveling in 4X4 vehicles, there are 21 campsites along Medano Pass Road within the park that are free and available on a first-come, first-served basis.
Folks willing to haul their gear and everything else needed in backpacks can book free backcountry permits (required) at the park's visitor center. You can pitch your tent anywhere in the 30-square-foot dunefield that lies outside the day-use area. You'll have a minimum hike of 1.5 miles over the dunes, but will experience a mystical overnight setting.
Backpacking (with a permit) is also available amid the foothills and mountains along the Sand Ramp Trail within the park, where the dunes give way to the mountains.
There are also several private and public campgrounds within an hour's drive of the park, including those at San Luis Wildlife Area, with facilities that range from primitive to those with electrical hookups.
Magic Moment
Choose your own calf-burning path up the dunes, particularly at dusk when the light gives them a rich gold color and shadows snake across their wind-sculpted ridges. Dig your toes into the sand or feel it run through your fingers, and you'll realize the true enormity of the dunes.
The park also has special sand wheelchairs that can be reserved at no cost, though you'll want to go when the sand is dry and will need a helper to push you. (We suggest booking one in advance.) In addition, there's an accessible picnic area and the majority of ranger-led programs are accessible. 
Extend Your Trip
Zapata Falls, San Luis Wildlife Area, San Luis Valley National Wildlife Refuges (Alamosa and Monte Vista), Fort Garland Museum, Colorado Gators Farm
Towns Near Great Sand Dunes National Park
Alamosa, Blanca, Fort Garland, Monte Vista, Mosca, Westcliffe
Want More?
Read about Colorado's three other national parks
Check out our Colo-Road Trips itinerary: 3 Days in the San Luis Valley & Great Sand Dunes National Park
Photo: Courtesy of Great Sand Dunes National Park and Preserve.