Open-Air Arts: Colorado's Creative Outdoor Spaces
Make the most of our famously sunny days as you discover gorgeous scenery, fresh air and artistic inspiration at outdoor exhibitions throughout the state. Here, the sky really is the limit on creativity.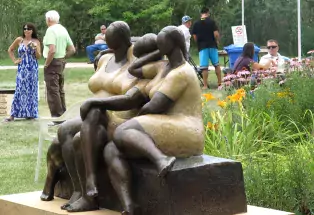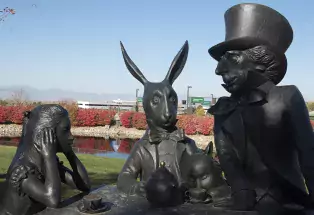 A former industrial area turned cool-kid enclave, River North Art District (RiNo) is studded with art galleries and larger-than-life murals. Marvel at the curated graffiti that brings building facades and otherwise mundane walls to life and wander the vibrant alleyways year-round on self-guided tours of the neighborhood. 
In Greeley, stroll Eighth Avenue and Art Alley to see dozens of outdoor works, from interactive hopscotch games to the metallic branches of whimsical art trees. 
Skate, bike or walk down Carbondale's 1-mile paved Rio Grande ARTway, a linear park featuring murals, a Latino Folk Art Garden and artwork by more than 35 artists. 
Need more 3-D in your life? Colorado has enough outdoor sculpture collections to keep you inspired for years. Soak up some sunshine and serenity as you stroll the 26-acre Chapungu Sculpture Park, home to 80-plus hand-carved stone works depicting traditional Zimbabwean themes. Sculpture vultures can get an additional fix with the 148 beautiful bronze castings at nearby Benson Sculpture Garden.
Last Chance 
Approaching Last Chance Module Array by M12 Studio feels a bit like stumbling onto an extraterrestrial creation — akin to an elaborate crop circle or Stonehenge. Set in wide-open plains just outside the prairie town of Last Chance, the arrangement of large-scale geometric pieces aligns with the sun during the summer and winter solstices.  
Hyper-realistic murals and flower-inspired sculptural playgrounds mix with mountain scenery in Vail, thanks to their Art in Public Places program. In addition to permanent pieces, you'll also find temporary exhibits like the charming crocheted creatures that took over the public library in 2020. 
In Fort Collins, music and art harmonize with Pianos About Town, a collection of painted pianos throughout the city. Admire the artwork, tinker on the keys and, if you visit Old Town in summer, watch artists paint the public pieces. 
The Museum of Outdoor Arts in Englewood places site-specific installations throughout the Denver metro area. Go on a self-guided tour to see the fantastical statues, kinetic sculptures and eye-catching metalworks at the Englewood CityCenter and at the newly remodeled Marjorie Park, opened in Greenwood Village this spring.
Head east to Sterling and pick up a map from the Sterling Rest Area for a self-guided tour of the beloved Bradford Rhea Tree Sculptures, a collection of golden wood-grained animals and spiritual figures carved from cottonwood trees. 
As you walk the tree-lined streets of Grand Junction watch for the likes of silvery bison and stained-glass ostriches. Art on the Corner, a year-round outdoor exhibit, showcases 100-plus permanent and temporary sculptures of all styles. 
Weird, Wacky & Wonderfully Instagrammable
Snap a picture at these memorable indoor museums. Tag us on the app to share your memories.
What do a wall covered in doughnuts, a yellow swing amid suspended bananas, and a mirrored room with glowing orbs have in common? They're all backdrops for your next Insta-moment at the Denver Selfie Museum, where photo studio meets pop-up museum with more than 25 made-for-Instagram scenes.
Delightfully bizarre cars (think a skeleton-inspired rocket car and a van covered in googly eyeballs) are the draw at this quirky and one-of-a-kind museum in Trinidad.
Escape to a fully immersive psychedelic dreamscape at the latest installation of Meow Wolf — an interactive experience combining architecture, sculpture, storytelling, music, video and virtual reality. More than 110 local artists will bring this 90,000-square-foot destination-art experience to life just outside downtown Denver, with the opening slated for this year.
From bustling city centers to charming hamlets, take your pick from 26 official state creative districts — including the 331-mile Colorado Creative Corridor, which links the mountain towns of Carbondale, Crested Butte, Paonia, Ridgway and Salida — to experience First Friday art walks, galleries, street art and more.
Want more?
Cultural Capital: Colorado Arts & Entertainment >>
11 Quintessential Summer Festivals in Colorado >>