The Royal Gorge Region's Trail Systems are Some of the State's Best
The Royal Gorge Region boasts some of the best trail systems in the state and with new trails being continuously added to the list, visitors return year after year to explore what's new. Since 2010, local nonprofit Fremont Adventure Recreation (FAR) has helped promote and create new trail systems throughout the region so riders and hikers of all levels can enjoy the unique terrain and incredible scenery.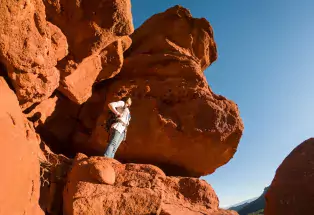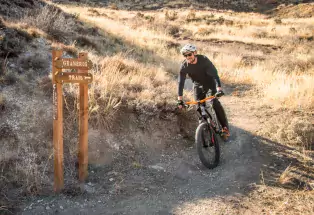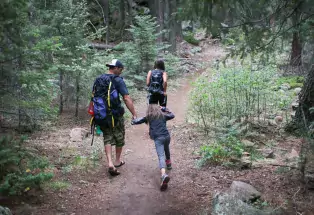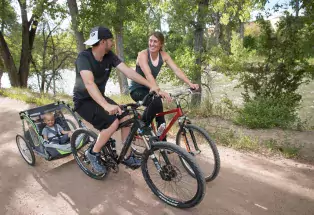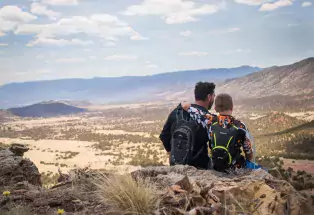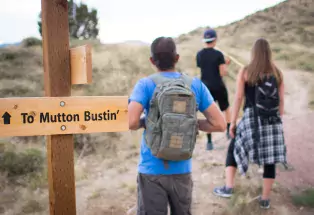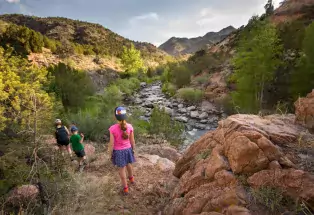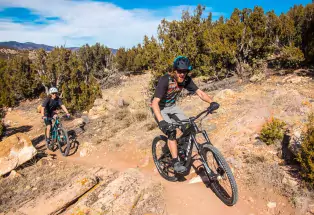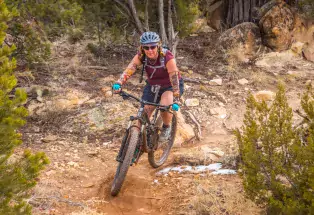 Also known as Colorado's Climate Capital thanks to its mild year-round weather, The Royal Gorge Region rivals Moab as a mecca for mountain biking, hiking and rock climbing. So, grab your bike, friends and hiking boots for a multiday adventure exploring these trail systems.
Arkansas Riverwalk Trail
In Cañon City, the Arkansas Riverwalk Trail is a 7-mile crushed gravel path winding through wetlands and groves of cottonwoods. With multiple parking areas along the trail, hikers, bikers, walkers and even riders on horseback can start where they choose. Those on the trail in early evenings can often catch sight of local birds and wildlife.
Tunnel Drive
This flat, scenic 2-mile out-and-back trail is just outside downtown Cañon City and offers a bird's-eye view of the Arkansas River. The surrounding canyon, with ribbons of pink and white granite, is 1.7 billion years old and once laid beneath the surface of the earth! Families, wildlife lovers and scenery oglers will find solace on Tunnel Drive which also has plenty of benches for snack breaks or simply pausing to take in the magnificent scenery.
Hogbacks Open Space
Did you know Colorado was once an inland sea? Check out fossils from the state's aquatic origins and the Dakota Ridge Hogback Formation at Hogbacks Open Space. Advanced hikers and cyclists will appreciate the challenge the 2-mile (one-way) Dakota Trail offers. Ride or hike through junipers and pinyons before descending down steep bedrock on the north end of the trail. 
South Cañon Trail System
With more than 10 miles of trails that offer options for all levels of experience, the South Cañon Trail System is accessible to hikers, cyclists and equestrians. Among the most popular trails are Mutton Bustin', an easy trail that's perfect for families with small children, and Hard Time, a technical and steep climb with rewarding views at the top.
Temple Canyon Park
Temple Canyon Park is the perfect place to leave crowds behind and explore the natural landscape. Spend the night under the stars at one of three campgrounds where nearby, you'll find the trailhead for Redemption Trail. The path's steep switchbacks and necessity to cross Grape Creek without a bridge (not recommended during high water flows) make it a good fit for intermediate to advanced hikers. The trail leads to the "temple," a rock alcove that was formed by water seepage and is thought to have been used by the Ute Indian Tribe as a ceremony site.
Oil Well Flats
The Fruita-like trail system at Oil Well Flats has some of the state's best mountain-biking trails (though hikers are welcome too!) and is just an hour drive from Colorado Springs. Thirteen miles of trails with varying degrees of difficulty provide hours of adventure. Whether it's a steep climb on your mountain bike or views of the Royal Gorge, Arkansas River and Sangre de Cristo Mountains, these trails will take your breath away.
Red Canyon Park
Fans of Garden of the Gods will be equally impressed with the 600 acres of red sandstone formations at Red Canyon Park. A short drive from downtown Cañon City and easy to moderate hiking trails make this area ideal for families. While taking in the splendor, make sure to watch for some of the park's wildlife residents: gray flycatchers, black-throated warblers, snakes and lizards.
Royal Gorge Park
Traverse the Royal Gorge's rim and surrounding hills on foot or two wheels at Royal Gorge Park. With a variety of hikes to incredible views of the Sangre de Cristo Mountains and Arkansas River, and more than 17 miles of singletrack, everyone from casual hikers to adventurous mountain bikers can get their fill. Start at the Canyon Rim Trail — the first trail to be built around the gorge — for views of the highest bridge in the U.S. Mountain bikers will want to take on Dark Side of the Moon and The Maze which both have exhilarating berms, turns and bumps.  
Newlin Creek/Florence Mountain Park
Escape the high mountain desert 20 minutes south of Florence at Newlin Creek/Florence Mountain Park where hikers, cyclists and rock climbers can explore pine forests and granite outcroppings. Families will find the first 0.75-mile stretch of the Newlin Creek Trail to the creek bridge a kid-friendly option where more advanced hikers will want to continue 3 miles to the abandoned Herrick Sawmill, built in 1887, in the alpine meadow.  
Find information about Cañon City >>
Learn more about Royal Gorge's trail systems >>