Royal Gorge: Things to See & Do
The Royal Gorge is one of the most popular attractions in Colorado, inviting everyone from road-tripping families to thrill-seeking adventurers to explore this beautiful area's canyon, train, rafting, zip lines and other amusements in the Cañon City area.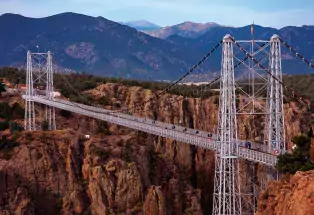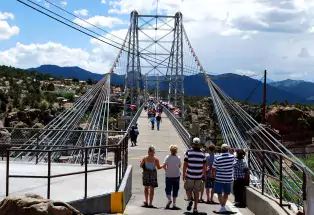 The 1,200-foot deep gorge is 10 miles long and was carved over millions of years by the Arkansas River, which still flows through its depths and welcomes whitewater rafters.
The gorge is just a few minutes' drive from Cañon City, and an hour each from Colorado Springs and Pueblo.
Royal Gorge Bridge and Park
The Royal Gorge Bridge spans the gorge and is one of the world's highest suspension bridges. Built in 1929, it stretches 1,270 feet across and soars 956 feet above the Arkansas. Those who wish to cross it can do so on foot, where you can peer over the bridge to see the rafters below. Meanwhile, the new Royal Gorge Via Ferrata allows climbers to scale the granite rock walls of the gorge with trained mountain guides and experience views that most don't have the opportunity to see.
Those seeking more adrenaline-fueled experiences should book time on the Royal Rush Skycoaster. After a 50 mph free fall, the coaster hangs you over the gorge's rim with only the river below. New attractions added to the park in 2015 include a new aerial gondola that gently whisks riders from one side of the canyon to the other and a Cloudscraper Zip Line that also flies you above the Arkansas.
Royal Gorge Train
The Royal Gorge Route Railroad runs along the base of the canyon beside the mighty river. With several classes of service, spectacular dining options that include local ingredients, a bar car, glass-topped dome car, murder-mystery and beer and wine excursions, Mother's Day brunch, Santa Express and other holiday events, there's always something exciting happening on board. The train embarks from the Santa Fe Depot, which is found right in Cañon City. Learn about other Colorado trains >>
Royal Gorge Rafting
Several outfitters run rafting trips on the Arkansas River that go beneath the famous bridge. Thanks to challenging rapids and amazing canyon and wildlife views, this section of the river is one of the nation's most popular for whitewater. Many companies have created packages that combine the rafting trip with zip lining, train rides and lodging. Learn about other popular Colorado rivers for rafting >>
Cañon City Skydiving
Colorado Mountain Skydive offers tandem skydiving excursions that allow gallant souls to catch once-and-a-lifetime views of the Royal Gorge, Pikes Peak and the Sangre de Cristo Mountains while free-falling from a rousing 14,000 feet. 
Want More?
Check out our Colo-Road Trips itinerary: Family Adventure in Cañon City >>
Learn more about all there is to see and do in the Royal Gorge Region >>