Shop Local: Stock Up on These Women-Made Products for Spring
March is Women's History Month, so we've compiled a list of some of the most scrumptious goodies that are female crafted in the state.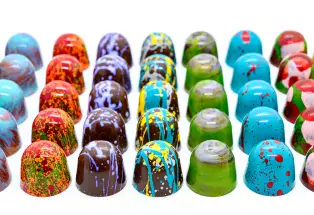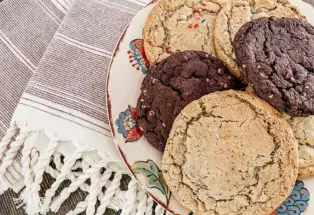 From sinful cookies to juicy IPAs and everything in between — we're talking some killer samosas and Armenian yogurt dips — get out and buy something local. 
Picture this: bite-sized M&M's cookies served with a side of confetti frosting. That's the kind of gastronomic genius that Colorado Cookie Company has to offer. Order the Diparoos and a giant, cookie-dough-stuffed monstrosity — your stomach will thank you. 
Gluten-free, vegan and protein-rich granola, in flavors like Tropical Paradise and Berry Me, will add some serious joy to your breakfast bowl.
Elevated riffs on classic pies, pastries, breads, chocolates, cookies, macarons — the list goes on — are just waiting for you in Sterling. 
Feel like you're at a local strawberry festival with Atrevida's Fresas Con Crema cream ale on nitro. 
With domed-candies that look like they should be in an art museum, Cocoa Tree's five-piece box is a kaleidoscope of fun for friends or family. 
One of the best cinnamon rolls in the state — you heard it here first — and freshly roasted dark beans can be found at Colorado Coffee Company. 
These triangles of crunchy glory — filled with your choice of beef, chicken, fruit or chocolate — should be ordered immediately. 
Get ready for summer with a s'mores kit from this chocolatier in downtown Durango. 
The bostock (brioche soaked in orange syrup, slathered with almond cream), canelé (chewy caramel outside, vanilla bean inside) and financier (teacake with ground nuts) are just three of the many delicacies Little Bird bakes up to perfection. 
Put Lotus Root Kitchen's kimchi, pico de gallo and cilantro-walnut pesto on your shopping list. 
Looking for a taste of the Windy City? Look no further than this small, red-and-blue brick building that sells massive hot dogs, Fannie May chocolates, Salerno cookies and more. 
Try peppered-elk and smoked-teriyaki-buffalo jerky as protein on your upcoming snowshoe excursion.
The burnt-orange, cracked gingersnaps coated in fine, white sugar will have you killing it at hopscotch at this local's favorite in Pueblo.
These sports drinks were made for those of us getting out on the mountain for the first time and adjusting to altitude sickness. 
The cookies-and-cream cupcakes reign supreme at Gold Mine just off Washington Ave. in downtown Golden.
The perfect gift doesn't exist, you say? Well, you haven't purchased a custom bottle of strawberry rhubarb from Reds small-batch winery then!  
Root-beer float, pepper berry and sweet tater might not be flavors you'd associated with cupcakes, but at this rustic, farmhouse-chic cupcakery, there's no limit to wild taste combinations.  
Custom cakes — think tiny skiers on a black diamond, posed atop a frosty, white cake — are owner Megan McCabe's specialty.  
Make the charcuterie board of your dreams with New Beat's crunchily good, gluten-free quinoa crackers.  
Unleash your inner feminist with beers like Sandra Day IPA, Merkle's Thursday Hefeweizen and Barrel-Aged I Dissent spiced seasonal dark ale.
Your sweet tooth will be in heaven here, with pecan cinnamon rolls, elephant ears and cinnamon bark slices. 
Cooper Door purchases a majority of their coffee from women producers, so you can feel good about buying 12 bags of Four Sisters Espresso or the Shady Lady Blend.
Grab a growler of the snappy Ideal Citrus Ale 2.0 or the smoky Fly the Bird Milk Stout. 
Freak your friends out by having their freshly baked cookies delivered by someone in a sasquatch costume. 
Cinnamon raw honey, bourbon-vanilla granola and Palisade-peach hot sauce dot the shelves at Bricks, an emporium of Colorado-made delights. 
Not one gluten-containing ingredient enters the doors of Holidaily — sip Beulah Red Ale and Favorite Blonde Ale with no worries about gut issues later. 
Dip it, spread it, garnish it and top it (whatever "it" is is up to your discretion) with one of Sosi's Armenian yogurts. The garden mint and artichoke dill are our favorites. 
Snatch up flawlessly flaky butter, chocolate, almond and strawberry croissants for your next breakfast picnic. 
Did you know there are many different kinds of paprika? Well, you can purchase five of 'em from this Fort Collins spice seller and let us know which is your favorite.  
Mix up some snazzy cocktails with Rising Sun's Lavender Hibiscus Liqueur.
Freeze-dried pad thai and fettuccine Alfredo have never tasted as good as these packs — just add boiling water! 
Want more ideas to shop local?
Show Some Love to Colorado Black-Owned Restaurants & Shops >>
Give Colorado-Made Goods to Loved Ones for the Holidays >>
Cocoa Tree Chocolates photo credit: C2 Photography