Sip Away at Hot Spots Along the Colorado Spirits Trail
An excuse to explore Colorado's mountainsides, plains, towns and cities, sipping the state's best spirits and cocktails along the way? Don't mind if I do. And you're welcome to come along, too.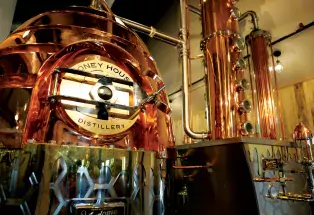 The Colorado Spirits Trail is your cordial invitation to sample the state's more than 50 craft distilleries. We're getting a head start here — stopping at spirited spots where Colorado's homegrown ingredients (peaches, cherries, juniper berries, grains, pine needles) really shine.
Note: Check tasting-room hours before you go, and please enjoy Colorado's spirits responsibly. If you're touring by car, be sure to arrange a designated driver. 
Syntax Spirits' all-female production team has an impressive array of advanced science degrees — a fact you'll see reflected in their distilling precision. They insist on making all of their spirits using only Colorado grains (with the exception of rum) and pristine, purified Cache la Poudre River whitewater. Syntax's own garden supplies several of the herbs and vegetables for use in their cocktails to boot. Visit them at their new location in the historic Greeley Elevator Building.
Swill Worthy: The veg-forward Beetnik has a loyal following and features Syntax vodka with a beet-dill shrub, fresh lime juice and a salt-and-pepper rim.
An 1880-era German still (affectionately nicknamed Ashley), two brothers with a love of the outdoors and a setting in stunning Arkansas River-side Salida seem to be the key ingredients for exceptional Colorado whiskey and gin. Stop in Wood's welcoming tasting room to see for yourself. But caution: As more than one guest has noted, you may go in a whiskey skeptic and come out a whiskey believer. Theirs is that good.
Swill Worthy: Wood's mixes up a mean Manhattan, featuring their Tenderfoot Whiskey, locally made Vino Salida Rosso Vermouth and Angostura bitters. 
With a name that pays tribute to Colorado being the 38th state to join the union, it's no surprise that State 38's devotion to state-sourced products is voracious. Take their gin, which is distilled with handpicked Colorado juniper berries. State 38 also uses fair trade, Colorado Department of Agriculture-certified organic raw blue agave in all of their spirits. Their blanco, reposado and añejo are tequilas by definition but not by name (since that title is reserved for spirits produced in Mexico), and are perfect for your next post-hike or post-bike-ride margarita.
Swill Worthy: Try any of the tequilas or the Loveday Bourbon, which is fermented in small batches and fed a constant diet of Pink Floyd recordings (no joke) for added mellow.
The eastern outpost of Hugo (population 730) may be tiny, but some mighty big flavors await Colorado Spirits Trailblazers who make a stop here. The whiskey at Sand Creek Distillery is produced in micro-batches under the great care and attention that only a one-man operation can devote. The tasting room is small and intimate, perfect for good conversation and whiskey sippin'.
Swill Worthy: Sand Creek is so new, a visit to the tasting room means you may be able to taste one of the first few bottlings of their single-malt whiskey. 
Honey House's unique approach takes the sting out of bourbon, vodka and rum. Each spirit is infused with Colorado wildflower honey, a technique that has wowed seasoned spirit hounds and newcomers alike. Stop by the fun and welcoming tasting room to admire the copper, beehive-shaped still, sample spirits and shop an incredible selection of honey products.
Swill Worthy: Honey House's Hex Vodka is actually honey-wine-turned-vodka through the distilling process. Give it a try to marvel at the transformation.
Palisade's peaches are mythical in their sweet and juicy perfection. People come from far and wide to Colorado's Western Slope to taste them. Luckily, the geniuses at Peach Street Distillers found a way to bottle that bliss so we can sip it year-round. Their fruit-to-glass operation extends well beyond peaches and is truly local: Many of the trees their ingredients grow on can be seen from their distillery door. 
Swill Worthy: If you're a bloody mary fan, welcome to heaven. If not so much, then your path to paradise is the Peach Punch, which tastes like a Colorado summer, served in a mason jar.
When it comes to supporting local industry, Axe and the Oak walks the walk. The corn and rye for their bourbon whiskey is sourced exclusively from a local farm in Hugo, and their tasting room is actually a full-service bar located inside the Ivywild School, a reclaimed elementary school that's been turned into a community food hall and hip marketplace.
Swill Worthy: Try A Novle Winter, a warming swirl of vanilla-infused Colorado Mountain Bourbon Whiskey, ginger liqueur, a toasted allspice dram, orange bitters and more. 
This elegant distillery-restaurant-bar combo is the place to spend a special evening. The dramatic space is presided over by a gleaming copper still one story up, with plush navy banquets to lounge upon below. The on-site distillery produces rum, vodka, gin, crèmes de violet and cacao and a Colorado pine amaretto. Spend an indulgent evening sipping cocktails and savoring small bites and fondue, or make a reservation for a Saturday guided tour and tasting. 
Swill Worthy: The Lavender Clover Club is a study in balance that mingles house gin, lavender jones, blackberry simple, lemon juice, egg white and bitters to perfection.
Three words: mountain-view patio. Take your vodka, whiskey and gin tasting flight or your cocktail out to the deck of this exceptionally situated tasting room and enjoy views of what's been called the "Switzerland of America." The philosophy behind KJ Wood's spirits is to start with the best water possible — Rocky Mountain glacial runoff — and to add only fine ingredients such as local barley and blue corn.
Swill Worthy: Keep it simple with a gin and tonic that lets KJ's piney Jinn Gin shine as brightly as those glorious views.
Spirit Hound, nestled at the foothills of the Rockies, is onto something with their whiskey, gin, vodka, sambuca and moonshine, judging by their growing award list (including a 2018 double gold from The Fifty Best for their whiskey). A behind-the-scenes tour is the perfect way to learn how they use locally sourced ingredients, such as malt from Alamosa and juniper berries from Lyons, to pull it off. Lucky for you, tours are available seven days a week. 
Swill Worthy: A whiskey flight with tasting notes walks you through the nuances of a single whiskey recipe that's been casked in different barrels, yielding unique results.
Want more?
Find Colorado beer, wine and distillery tours >>
Check out our Colorado's Liquid Arts™ scene >>