Spend the Day at the Focus on the Family Welcome Center in Colorado Springs
Looking for free things to do with the kids in Colorado Springs during your family vacation? Spend a day exploring the attractions at the Focus on the Family Welcome Center, handily located just off I-25 on the north side of the city.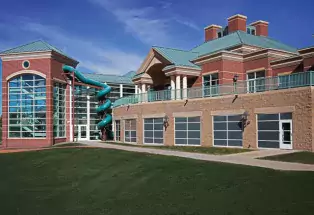 One of visitors' favorite stops is the Whit's End Soda Shoppe, familiar to many as a setting in the long running "Adventures in Odyssey" audio series produced by Focus on the Family. Join us for a soda, ice-cream specialties or kid-friendly lunch in its whimsical setting. It is the best family meal value in town!
In the KYDS Radio studio, staffers will coach your crew through recording their own episode of "Adventures in Odyssey" on a CD or an MP3 to keep as a souvenir of your Colorado family vacation. Spots fill up quick — first come, first served!
The Kids Korner area also includes an indoor playground and jungle gym with tubes and tunnels to crawl through, a secret passageway, a video cave showing "Jumpstart," a sneak peek into the world of "Adventures in Odyssey," and an airplane to scramble inside. Step through the wardrobe into the Narnia Adventure Room to hear and imagine scenes from the timeless C. S. Lewis book series.
The Discovery Emporium has a reading area and puppet stage where the kids can put on a show, an area for dressing up like a favorite "Adventures in Odyssey" character and many other activities. For the littler ones, a toddler area called Camp What-a-Nut features colorful, soft-touch places to climb and have fun.
The twisty, three-story slide named A-Bend-A-Go is certainly one of the center's other favorite attractions. Sliders must be at least 43.5 inches tall and no taller 5 feet, nine inches. Nearby, pick up a scavenger hunt to explore the downstairs play area.
There are also self-guided tours to learn more about the work of Focus on the Family to help families thrive in Christ.
Step out on the first-floor balcony for the perfect backdrop for a family-vacation photo and use a viewing telescope that lets you zoom into the majesty of Pikes Peak.
Take a quick break in the Solid Grounds coffee area for complimentary coffee or tea and visit the Christian bookstore and gift shop.
Visitors love this free Welcome Center (great for colder days), kids play area, soda shoppe, bookstore and gift shop.
For hours and to learn more, visit the Focus on the Family Welcome Center.