A Taste of Pueblo: A 1-Day Itinerary
Once a rough-and-tumble mining town inhabited by cowboys, gold-seekers and infamous ruffians like Wild Bill Hickok and Buffalo Bill Cody, modern-day Pueblo is a sunny playground nestled on the banks of the Arkansas River.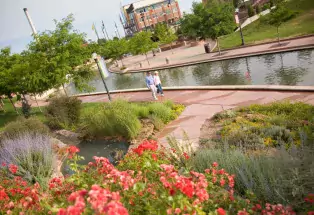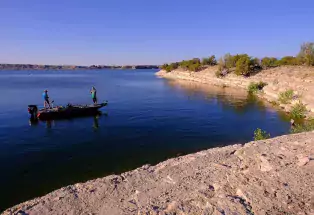 Morning
Kick off your visit in the colorful Union Avenue Historic District, the town's original city center, which once housed trading posts, gambling saloons and second-story brothels. Today, the area's beautiful brick and sandstone buildings house a collection of boutiques, art galleries and sidewalk cafes. The neighborhood is one of three that make up Pueblo's Creative Corridor, hubs of museums, live music, galleries, public sculptures, fountains and more. Arts Alliance Studios is one of the biggest and most exciting developments here. More than 40 creatives work out of this studio collective. Each month on First Fridays, the artists host open houses and events such as raku firings, poetry readings and receptions. 
Check out the Historic Arkansas Riverwalk, a 32-acre waterfront plaza with a nature center and outdoor amphitheater. Take a guided river cruise or get your heart pumping on one of the bike trails, many of which connect to nearby Lake Pueblo State Park, one of.
Near the riverwalk is Neon Alley, an outdoor museum of refurbished vintage signs and new creations near the historic Union Depot.
Afternoon
If you're traveling with children, your next stop should be the award-winning Buell Children's Museum, adored for its hands-on exhibits focused on the arts, science, and history. Next, head to the Pueblo Weisbrod Aircraft Museum, a World War II Army air base turned museum with more than 40 vintage aircraft, including a massive B-29. Other can't-miss museums include the El Pueblo History Museum, a re-created 1840s adobe trading post and archaeological excavation site, and The Steelworks Center of the West, rated in the top five industrial collections in the nation.
Evening
Watch the city melt into shades of gold, red and orange during a sunset gondola ride down the river. Afterward, head into historic Old Town for a bite to eat, making sure to sample the town's de facto mascot, the chile pepper. This spicy, fire-roasted treat is perhaps best enjoyed in savory pork green chile. Try a Pueblo Slopper, a hamburger patty smothered in green chile and topped with cheese and onions. More than 25 local restaurants serve up their own version of the beloved dish, including Gray's Coors Tavern, Sunset Inn and Bingo Burger so you can easily embark on your own Slopper tour — or take the Pueblo Chile Farm Tour along Hwy. 50 east of town July through October,  and soak in the aromas, colors and the hard work of generations of local farmers. Roadside markets also offer dry sausages, cheese, honey, pastries and more throughout the summer. 
The city's Latine, African American, Italian, Greek, Slovenian, Polish, Irish and German heritage have also shaped the its menus. Stop into one of the longtime local restaurants and shops, like Franks Meat Market, Paleteria Y Neveria Durango, Tortilleria Delicias or Giodone's Italian Bar and Grill.
Colorado's craft-beer industry is booming statewide and Pueblo is no exception. Embark on a tasting tour. Try the Pueblo American Pale Ale at Shamrock Brewing, sip the Pueblo Chile Lager at Walter's Brewing Company or grab a pint of Leadhead IPA at Brues Alehouse Brewing Co.
If there's still time, find out what's on stage at the Steel City Theatre Company, Impossible Players and Grupo Folklórico del Pueblo. Stay at Station on the Riverwalk, a boutique hotel housed in a building that operated as the town's police station and jail from the 1940s to 2010.
Motorsports racing fans find plenty to cheer about at the Honor Speedway and the Pueblo Motorsports Park, which each host a variety of competitions through the summer and fall.
Side Trips
Take a scenic drive west of Pueblo to the towns of Westcliffe and Silver Cliff, between the Wet Mountains and the Sangre de Cristos. The quiet area, home to 200 miles of hiking and biking trails and 54 alpine lakes, has an air of the undiscovered, and you're likely to spot real cowboys and gals herding cattle on horseback and historical one-room school houses to peek into. Head to the All Aboard Westcliffe railroad museum (open Saturdays, Memorial Day through mid-September) and stop for a performance or movie at the historic Jones Theater. For fine dining and spectacular views, make a date at Westcliffe's Alpine Lodge. The communities are also the first in Colorado to be recognized by the International Dark-Sky Association, so stop by for summer star parties and plan for some stargazing and a stop at Smokey Jack Observatory.
South of Pueblo along I-25, Colorado City anchors the southern leg of the Frontier Pathways scenic byway. The 104-mile road along the splendid Sangre de Cristos travels through the San Isabel National Forest, by Hardscrabble Canyon and 40-acre Lake Isabel, an ideal spot for fishing, hiking and picnicking. Head west for 24 miles along Hwy. 165 to Bishop's Castle, a quirky fortress Jim Bishop has been building for more than 40 years and billed as "The Largest One-Man Construction Project in the Country."
Want more?
Find more urban escapes in Colorado.
Explore the Frontier Pathways scenic and historic byway, which starts in Pueblo.