Top Places to Fish in Colorado
In cold or warm weather and everything in between, Colorado boasts 6,000 miles of fishable rivers and streams and prosperous fishing locales that offer views of craggy peaks, blue skies and translucent waters.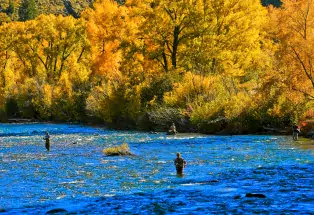 The state has 2,000 lakes and reservoirs that offer diverse fishing experiences for every angler and every season, including Gold Medal waters, designated as the best places to catch the largest and the most fish.
Below are a few other locales to drop your fishing line across Colorado. 
Hundreds of miles of picturesque waterways and thousands of new fish released each year from the Roaring Judy Fish Hatchery make Gunnison County a hub for anglers. The county holds records for the largest brown, rainbow and lake trout along with kokanee salmon and offers easy access to anglers in prime fishing locations including Blue Mesa Lake, Taylor Reservoir and the Gunnison, East and Taylor rivers.
Nationally recognized for its fly-fishing excellence, Glenwood Springs offers year round fishing on its two rivers, the Roaring Fork and the Colorado. Some enthusiasts suggest that winter is one of the best times for fishing in the area, although spring through fall is typically fishing season among the area's anglers. Located in the Roaring Fork Valley is one of Colorado's longest stretches of Gold Medal Water (the longest is the 102-mile stretch of the Arkansas between Leadville and Parkdale). This stretch is popular because of its accessibility to both the Roaring Fork River from the 44-mile Rio Grande Trail and the Colorado River from the Glenwood Canyon Recreation Path.
A key location for fishing throughout the fall, Carbondale has three access bridges to the Roaring Fork River, which is perfect for wading and for trout fishing. The headwaters of the Roaring Fork spring to life at Independence Pass (elevation of 12,095 feet) and, depending on time of year, either roar or gently flow towards the Colorado River. Because of this quick decline in elevation, the Roaring Fork River throughout Carbondale offers a wide variety of water types and amazing views of fall foliage.
The San Juan and Animas Rivers and Vallecito Lake in southwest Colorado are also included on the state's list of Gold Medal Waters. The area's waters are filled with kokanee salmon, rainbow trout, small mouth bass, German brown trout, northern pike and walleye. Whether anglers are beginners or seasoned fishers, this area offers something for all experience levels. The San Juan River is a technical river with some stretches that hold 10,000 fish per mile. The Animas River is one of the last free-flowing rivers in Colorado and has easy access from Durango by way of foot and bike trails that run parallel to the river. Vallecito Lake provides visitors with a spectacular mountain setting and easy access to full service campgrounds, RV parks and cabins.
The waters of Lake City allow for fishing year round with varying approaches for success. During the spring, fly-fishers have the most luck with trout by reaching the deep pools where the fish are still hiding out from the winter. As Lake San Cristobal thaws out by mid-May, anglers can catch 10- to 30-pound mackinaw or lake trout near the shore. As summer settles in, it becomes prime season for the streams and lakes around Lake City. Places such as Deer Lakes and Big Blue Creek have abundant, but small trout, which are ideal for a fishing trip with children. Those seeking larger fish like wild browns should try Cebolla Creek and Henson Creek in the fall, when changing fall foliage gives waters a golden glow and streams are low and clear. During the winter, Lake San Cristobal becomes a great location for ice fishing.
The southeastern region of the state includes Lake Pueblo, Trinidad, John Martin and Lathrop state parks with more than 5,000 acres of great fishing. These scenic waters are not to be missed and attract fishers with the hope of the next big catch, including bass, walleye, crappie, bluegill, pike and more. With a variety of warm and cold water species, anglers can enjoy a variety of fish along with 140 miles of accessible fishing along the Arkansas River where visitors can also camp and picnic.
Throughout the White River Valley is a range of public and private lands filled with rainbow, brown and cutthroat trout as well as large whitefish. With permission and a small fee, anglers can fish in these protected waters where the owners invest in protecting spawning beds and fish habitat. Meeker public lands offer many cool mountain streams where some of the state's largest trout thrive. Ice fishing has also become popular in the area with several locations on the White River National Forest waters.
Do note that anglers aged 16 and up must have a valid Colorado fishing license. And avid trout anglers should register for the Western Native Trout Challenge, a multi-state scavenger hunt of sorts to catch 18 species throughout 12 states to reach the master angler level. Two of the species — Colorado River cutthroat trout and Rio Grande cutthroat Trout, are found in Colorado.
Want more?
Check out places to fish with the family >>
Find fly-fishing hot spots >>
Explore more great places to drop a line >>