Tour Denver Murals & Street Art
Denver street artists have been busy brightening (and enlightening) the urban landscape for decades by making canvases of the city's alleyways, building exteriors, warehouses, garage doors and storefronts.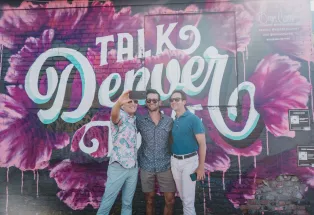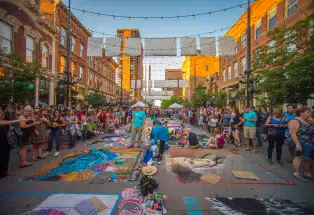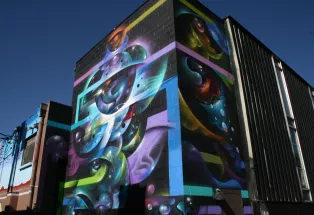 Now with local news source Westword reporting a proliferation of more than 100 new creations in just one summer, there's more Denver street art to see in Denver than ever before.
If you're interested in tracking down thought-provoking murals, graffiti and street art in Denver, we invite you to embark on a tour of the areas and compositions listed below. There are many more examples across the city — far more than we could possibly cover here — so be prepared to stumble across surprises along the way and in other neighborhoods throughout the city.
A few things to note: We're using the term "street art" fairly broadly here. Many of the works listed below were commissioned by businesses, events or communities, while others were unsanctioned paintings or graffiti — all are in the open air for anyone to view and enjoy. Also, street art, by its nature, is often found in alleyways, under bridges or in abandoned lots. Please use common sense and don't go traipsing into unfamiliar areas alone or at night. Finally, artists regard the city's walls and surfaces as living canvases, so don't be surprised if you go looking for something listed below and find a new piece in its place. That's part of the fun.
RiNo
One of Denver's creative hubs, River North Art District (RiNo) leans heavily on its industrial past, preferring to revitalize historic warehouses and factories rather than tearing things down. In that same spirit, it's fitting that the district's creative expression extends well beyond its galleries' walls, with colorful and innovative street art around nearly every corner.
East Colfax
Like one of its iconic neon marquees, East Colfax is abuzz with energy 24/7. Some of Denver's best live music venues are here, and its solidly urban, slightly gritty nature is both a draw and incubator for artistic expression. With a grant program in the works, expect to see even more street art coming to East Colfax soon.
The Art District on Santa Fe
The Art District on Santa Fe is a designated Colorado Creative District, with the largest concentration of art galleries in Colorado — more than 30 of them. The neighborhood is splashed in brilliant color and covered in artwork from head to toe, inside its galleries and outside on it doors, alleys, hallways, sidewalks, walls, mailboxes, windows … you get the picture.
Confluence Park
A hip enclave within the Highlands neighborhood, Confluence Park is nestled just east of I-25 where the South Platte River and Cherry Creek converge. The area enjoys acres of riverside parkland and a trendy collection of eateries, boutiques and condominiums — plus a significant number of colorful paintings adorning bars, breweries and building walls.
South Broadway
As South Broadway undergoes a major renaissance — with theaters, music venues, bars, restaurants, galleries and shops flourishing like mad — the district's open-air art tradition continues to thrive as well. Much of it is more of the "renegrade" strain of street art, with nearly every alleyway and side street on the west side of South Broadway sporting some kind of expression — from graffiti tags to elaborate masterpieces.
More Denver Art to Explore
Wildlife Mural
The Colorado Wildlife Council has partnered with local artist AJ Davis to educate Coloradans on the benefits of wildlife management and conservation by creating a unique interactive augmented reality mural.
The mural features two beloved Colorado animals, the elk and cutthroat trout. Colorado is home to three native subspecies of native trout: the Rio Grande, Colorado River and greenback. And, according to the council, the state has the largest elk population in the world, thanks to successful conservation efforts.
The physical mural is located at 1114 Acoma Street.
Denver Chalk Art Festival
If you like street art, you will dig this festival inspired by the Italian tradition of beautifying city streets. Held on Larimer Square each summer, watch artists while they work — making vibrant chalk art on the pavement to the delight of (carefully stepping) passersby. Students, as well as professional artists, create designs that range from traditional to contemporary.
Walls of Gratitude
Austin Zucchini Fowler is a Denver muralist whose mission is to spread gratitude across Denver by highlighting essential workers during the COVID-19 crisis. He works in a unique pointillism style mixing in spray paint and acrylic brushwork. Check out his ongoing body of work "Walls of Gratitude" by taking a self-guided tour of completed murals throughout the city.
Denver Graffiti Tour
See a different side of the city as you explore street art, murals and graffiti. Denver Graffiti Tour provides leisurely two-hour strolls through the vibrant River North Art District (RiNo). Not only will you learn about the artists and their work, but get insider tips on go-to bars and hip restaurants.
Knit Wits
Denver has its own gang of crocheting street artists. The Ladies Fancywork Society has "crochet bombed" benches and signs around town but also have been commissioned for large-scale installations, such creating a temporary giant legwarmer for the "Dancers" sculpture outside the Denver Performing Arts Complex. Rad.
Want More?
Get additional information about Denver's must-see locations and events, and order a Denver Visitor Guide.
Experience the sweet sounds of Denver's eclectic music scene