Translating Colorado: 14ers, Continental Divide, Four Corners & More
Coloradans have a funny way of saying lots of things. Here's a short list of terms to know that will make you feel right at home in the Centennial State (see the definition for that below!).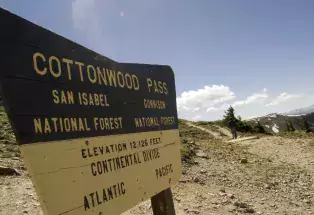 Fourteener
These are peaks that rise more than 14,000 feet above sea level. We've got 58 of them, more than any other state. Hardy hikers aim to "bag" — or summit — all of them. Read more about 14ers >>
Continental Divide
Also known as "the Divide," this ridge runs along the crests of the Rocky Mountains north to south; rivers and streams west of the divide flow to the Pacific Ocean, and east of the divide to the Gulf of Mexico. Learn about Trail Ridge Road, which crosses the Continental Divide >>
5280
Denver is the Mile High City because it sits 5,280 feet (or one mile) above sea level. If you like to be precise, the 13th step of the Colorado State Capitol Building will put you exactly at 5280. (Pronounced: fifty-two eighty) Read about the city of Denver >>
Front Range
Where the Rocky Mountains gently slope down and transition to the eastern plains. Home to Denver and other populous cities like Fort Collins, Boulder, Colorado Springs and Pueblo. Find more info about the cities of the Front Range >>
Western Slope
This region is found on the western side of the Continental Divide. It's home to the Grand Mesa, the largest flattop mountain in the world (near Grand Junction).
Centennial State
Colorado's official nickname refers to the year we were admitted to the union. That happened in 1876, which was the centennial anniversary (100 years) of the United States' declaration of independence.
Four Corners
The point where the borders of Colorado, New Mexico, Arizona and Utah come together at one point in our extreme southwest corner (40 miles from the Colorado city of Cortez). Read about the Four Corners region in Colorado >>
High Country
A fancy way to say "the mountains." This term is uttered mostly by local weathermen or folks along the Front Range headed to the mountains' higher altitudes for a getaway.
The Tunnel
If you are headed to or from the High Country on I-70, you'll likely pass through the 1.7-mile Eisenhower/Johnson Memorial Tunnel. Since 1973, the tunnels have been providing easy access to mountain activities through the Continental Divide.
Opening Day
We've got two opening days in Colorado, both of which are a grand occasion for celebration: 1) The first day the lifts open at each of Colorado's 28 ski resorts, usually in late October or early November. 2) The Colorado Rockies' first home game at LoDo's Coors Field, or early April.
Powder Day
Powder days follow snowy nights. That fresh snowfall means the conditions are set for skiing and boarding that feels like you're floating down the slopes on air. Our deep, dry, fluffy powder is what makes us home to America's Best Skiing® (and is also good for cushioning the occasional fall). Read why Colorado is a ski and snowboard paradise >>
Corduroy
Ski slopes freshly groomed by snowcat (a truck-like vehicle designed to groom snow) have the look and texture of corduroy material. Skiers and boarders who like speed seek out corduroy for fast runs.
Mud Season
This glorious harbinger of spring is typically slotted on the calendar for late April or May. It occurs when winter's snow starts to melt and rivers swell, making for amazing fishing, thrilling whitewater rafting and great High Country lodging deals. Find special deals during mud season >>
Lilydipper
In whitewater-rafting parlance, a lilydipper is one who doesn't dip their paddle into the water. This is not a compliment: It means you're not pulling your own weight! Read our whitewater rafting guide >>
Colorado Casual
Colorado Casual is the state dress code. Jeans, t-shirts, ski pants, sandals or cowboy boots fly almost everywhere. Wear whatever you feel like because that's what the locals do! Learn how to dress for every season in Colorado >>
LoDo
Shorthand for Lower Downtown, LoDo refers to Denver's lively, walkable, historic downtown. Filled with restaurants, bars, shops and beautifully restored buildings, it's a must-see destination for any Denver vacation. 
RiNo
A mashup of River North, RiNo (pronounced "rhino") is a hip arts and food scene emerging in Denver's former warehouse district. Amazing murals abound here, and new ones are added each year. Read about the RiNo Certified Creative District in Denver >>
The Humidor
When the Colorado Rockies baseball team debuted in 1993, they delighted fans with abnormally high-scoring games. Because the air is thinner at this altitude, balls were flying out of the park at record pace (something for golfers to take advantage of as well!). The excess ended in 2002, when the team began storing baseballs in a humidor that enabled them to better control their moisture content — and made pitchers less afraid of a home-run parade.
For more Colorado basics, check out: