Weekend Itinerary: Things to Do in Denver with Kids
Does summer vacation have you sick of hearing the phrase "I'm bored"? A weekend spent playing at Denver's kid-centered museums and family attractions will have you feelin' the summer love once again.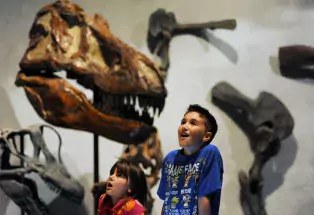 Day 1: Denver Aquarium, Children's Museum & 16 Street Mall
Denver may be landlocked, but it's still home to more than 500 species of ocean-dwellers, thanks to the Downtown Aquarium, the largest aquarium between Chicago and California. Have close encounters with sharks, sea turtles, stingrays, rainbow fish and sea otters as they swim in more than a million gallons of water. Don't miss the exciting Shipwreck exhibit, where a replica of a sunken galleon has transformed into an underwater habitat teeming with aquatic life, or the Sumatran tigers who prowl majestically.
Nearby is the Children's Museum of Denver at Marsico Campus, an imagination-stimulating journey for newborns through age 8. Kiddos and their grown-ups can race to the top of a 3½-story climber, step inside a 6-foot bubble, sculpt a masterpiece out of clay or zip through the air in Adventure Forest.
The exhibits here will entertain, as well as give an opportunity for exploration and learning. The museum features more than a dozen "playscapes," including a hands-on fire department, an assembly plant for interactive building activities and a tot-sized veterinary clinic.
Older kids will want to check out a few of the city's urban adventure parks for skateboarding, BMX, mountain biking, skiing/boarding and more right in town. Downtown Denver Skatepark and Curbside Skate Park are a couple to scope out.
End your first day exploring the 16th Street Mall, a mile-long, tree-lined pedestrian promenade — and one of Denver's most visited attractions. The mall is easy to traverse, thanks to free shuttles that stop frequently at every corner. It's a great spot for dinner, with plenty of kid-pleasing choices. Every block boasts a landmark or a piece of fun public art; treat it like a scavenger hunt as you make your way around. Check out the herd of colorfully painted buffalo between Larimer and Market streets, the iconic Daniels and Fisher Clocktower on the corner of 16th and Arapahoe, or William Burgess' abstract sculpture at 16th and Wazee. 
Day 2: Denver Zoo, Museum of Nature and Science, Casa Bonita & More
Go to where the wild things are in Denver: the Denver Zoo. One of the nation's most popular zoos, this one-of-a-kind wildlife adventure in City Park takes visitors on a globetrotting safari. You'll go nose to nose with a polar bear, trade funny faces with gorillas and orangutans and stretch necks with giraffes. Younger kids will love taking a ride on the Pioneer Train, which chugs past elephants, rhinos and hippos in Pachyderm Park. The Toyota Elephant Passage lets kids get up-close-and-personal with elephants, rhinos and more in one of the world's largest bull-elephant habitats. The Endangered Species Carousel offers a ride atop one of 48 hand-carved animals. And The Edge is a new up-close peek at rare Amur tigers.
For lunch, pack a picnic and spread out in City Park, which surrounds the zoo with 330 acres of refreshing green space and an abundance of fresh-air activities. A perfect spot is the area surrounding Ferril Lake, where you'll take in one of the best views of the Denver skyline and the Front Range.
Another option is a visit to the Denver Museum of Nature & Science, also located in City  Park. You'll see enormous dinosaur skeletons, including T-Rex, Triceratops and Stegosaurus in the Prehistoric Journey exhibit, where you can also get a glimpse of real paleontologists preparing fossils for display. The IMAX Theater provides giant-screen thrills, and the state-of-the-art Gates Planetarium sends you through the cosmos. Don't miss the new, interactive Expedition Health exhibit, where you'll learn all about how your own body functions.
The Denver Art Museum is one of the nation's best for its kids programs, including the Just for Fun Family Center, gallery games and Create-N-Takes — and it's always free for kids 18 and under.
Or head west to the city of Golden's Colorado Railroad Museum, where more than 100 locomotives, passenger cars, cabooses and HO model railroad attractions make the state's rail history seem larger than life.
The Denver Center for the Performing Arts hosts many kid-friendly events, including the Colorado Symphony's Family Series (Halloween Spooktacular and Drums of the Word are faves), as well as Movies at the Symphony, when the scores are performed during screenings of "Harry Potter and the Deathly Hallows," "Disney Pixar's Coco" and more.
Dinner calls for a trip to Casa Bonita, which is not your average Mexican restaurant. This longtime Denver favorite is a great place for kids, and a great place to end your Denver adventure. Casa Bonita entertains little ones with cliff divers, mariachi bands, puppet shows, a pirate cave, magicians and much more. After this packed Denver weekend with the kids, you might consider treating yourself to one of Casa Bonita's famously large margaritas.
Other popular family spots include Steve's Snappin' Dogs, Sam's No. 3, Punch Bowl Social (bowling, table games and arcade), Ace Eat Serve (Southeast Asian food and pingpong hall), Cherry Cricket (two locations) and Little Man Ice Cream.
Special Visits
The Denver Center for the Performing Arts hosts many kid-friendly performances each year, including the Colorado Symphony's Family Series (Halloween Spooktacular and Drums of the Word are faves).
Other Family Attractions in Denver Area
Elitch Gardens Theme & Water Park: Mind-blowing rides for those taller than 48 inches, plenty of slower family rides for those who aren't, Island Kingdom Water Park, lots of places to eat, the new Meow Wolf's Kaleidoscope ride and a summer concert series make the nation's only downtown theme park a must visit.
Wings Over the Rockies Air & Space Museum: Experience the rush of flight in the museum's simulation center, climb into cockpits and wonder at the collection of military and civilian aircraft and the country's only X-wing Starfighter.
Water World: This is one of the biggest and best water parks in the nation, with acres of refreshing summertime fun in Federal Heights. Water World's 46 rides and adventures offer something for all ages.
Black American West Museum & Heritage Center: Nearly a third of the pioneers who helped settle Colorado in the late 1800s were Black. These miners, ranchers, teachers, blacksmiths and lawmen were a major part of the Wild West. See the stories of these residents brought to life.
Butterfly Pavilion: More than 1,200 free-flying butterflies make their home at this one-of-a-kind attraction in Westminster, fluttering all around visitors in a re-creation of a tropical rain forest.
The Wild Animal Sanctuary: This 10,400-acre rescue/educational facility 30 miles outside of Denver is home to nearly 500 large carnivores (including lions, tigers, bears and wolves!). They roam the massive refuge while you walk above them on the Mile Into the Wild walkway.
Dinosaur Ridge: Compare footprint sizes with giant prehistoric beasts on a 1.5-mile nature walk in Morrison. You'll encounter more than 100 fossilized dinosaur tracks, including those of stegosaurus, apatosaurus and allosaurus.
iFly Indoor Skydiving: Lone Tree's smooth-riding vertical wind tunnel literally sends you soaring. A stellar training program and instructors make it great for families.
Archery Games: A short drive away in Arvada is the area's only archery dodgeball arena. Two teams enter the arena equipped with bows and foam-tipped arrows, but only one team comes out the winner. Will it be your family?
More Things to Do with Kids in Colorado
Check out our Colo-Road Trips itinerary: Kid-Approved Denver >>
Spending an adults-only weekend in Denver? 
Check out A 5-Star Luxury Day in Denver, A Day of Arts & Culture in Denver and this guide to urban Colorado vacations.
Photo: Courtesy of the Denver Museum of Nature & Science.