What Are 14ers? Learn About Colorado's Peaks Over 14,000 Feet
Colorado is studded with more than 50 mountain peaks exceeding 14,000 feet — known as "14ers" or "fourteeners" — the most of any state and many of which are the highest in the Rockies.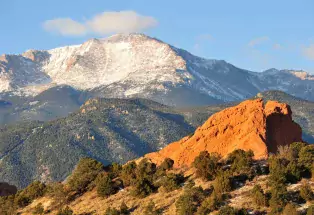 Ambitious hikers from all over the world travel here to challenge themselves by summiting one of these staggering pinnacles, while taking in glorious views along the way. Whether you're making your first attempt or are a seasoned professional, find out all you need to know about preparing for a Colorado 14er and get ready to experience the state's rugged beauty like never before.
So, how many 14ers are in Colorado, really? The Colorado Geological Survey says there are 58 peaks that exceed 14,000 feet in elevation. Some of Colorado's best-known 14ers include the tallest: Mount Elbert, Pikes Peak (which inspired the poem "America the Beautiful") and Longs Peak (which resides inside Rocky Mountain National Park).
The reward for reaching the summit of one of these beasts? Bragging rights, of course. Plus, you'll find some of the most breathtaking views found anywhere on the planet. But it's important to know a few things before you head out to these massive Colorado mountains. See a full list of Colorado 14ers and their elevations.
Colorado 14ers Ranked by Difficulty
There is no such thing as an easy 14er, climbing any of these peaks in Colorado is a challenging feat, but some are considered less-so than others.
Class 1
If you prefer challenging but straightforward hiking on well-marked trails — in other words, the "easiest" 14ers in Colorado — flex your leg muscles on mountains like Grays Peak, Handies Peak, Mount Elbert, Pikes Peak, Quandary Peak and San Luis Peak.
Class 2 & Difficult Class 2
For more technical hikes that will take you off marked paths, tackle 14ers like Blanca Peak, Castle Peak, Challenger Point, Conundrum Peak, Culebra Peak, Ellingwood Point, Humboldt Peak, Huron Peak, La Plata Peak, Missouri Mountain, Mount Antero, Mount Belford, Mount Bierstadt, Mount Bross, Mount Cameron, Mount Columbia, Mount Democrat, Mount Blue Sky (formerly Mount Evans), Mount Harvard, Mount Lincoln, Mount Massive, Mount of the Holy Cross, Mount Oxford, Mount Princeton, Mount Shavano, Mount Sherman, Mount Yale, Redcloud Peak, Sunshine Peak, Tabeguache Peak, Torreys Peak, Uncompahgre Peak and Windom Peak.
Class 3
Peaks known not only for their steepness — but also for the need to scramble and climb to reach the top — include Crestone Peak, El Diente Peak, Maroon Peak, Mount Eolus, Mount Lindsey, Mount Sneffels, Kit Carson Peak, Longs Peak, North Eolus, Snowmass Mountain, Wetterhorn Peak and Wilson Peak.
Class 4
Steep and dangerous terrain necessitating hand- and footholds to reach the top, plus ropes and climbing, include 14ers like Capitol Peak, Crestone Needle, Little Bear Peak, Mount Wilson, North Maroon Peak, Pyramid Peak and Sunlight Peak.
Plan Ahead
Wherever you choose to go, follow backcountry-safety tips, like checking weather predictions, mapping out your course ahead of time, packing the essentials and being prepared for emergencies.
Thoroughly research your route beforehand to ensure that you choose one that is within your abilities, to avoid any surprises, to prevent you from getting off-route and to get a feel for a timeline. Plan to start your hike early in order to be back below treeline around noon to avoid bad weather. Afternoon thunderstorms and/or hail are a primary concern for high altitude regions, especially in the summer months, and you will be exposed if caught above the treeline. If a storm should hit while you are still hiking up, it would be wise to turn around immediately. During periods of heavy, frequent rain, rockfall can be a serious hazard on fourteeners and other rocky peaks.
Anything can happen in the backcountry, and accidents can happen to even the most seasoned recreationalists. Should anything occur, you'll want to be prepared with some essential items to prevent a small problem from growing into an emergency.
Water: Bring more than you think you'll need and carry at least two liters per person; hydration packs, like a CamelBak, are especially handy because they can carry lots of water and fit in your pack.
Food: Pack enough for how long you plan to be out, as well as extra just in case.
Sun protection: Bring things like a hat, buff, sunscreen, protective clothing and sunglasses.
Daily medications if you need them: Bring an EpiPen if you have severe allergies.
Travel first-aid kit
Headlamp/flashlight and extra batteries
Multi-tool or pocket knife, and duct tape for quick repairs
Extra clothing layers for the chilliest weather possible on your trek
Navigation tools: Paper map, compass, GPS device, cell phone, etc.
Backup cell-phone battery and power source
Whistle: To alert people of your presence if you're lost and/or injured
Emergency shelter: Like an emergency bivy, blanket, small tarp or even a large, heavy-duty lawn/leaf bag
Lighter or waterproof matches and emergency tinder
Satellite messaging device 
Always carry a satellite-messaging device with two-way communications capability when traveling in the backcountry. These devices allow hikers to send an SOS to Colorado Search & Rescue if something goes wrong and a cell phone won't work, as well as communicate with them to determine the nature of the problem. But, carrying one of these devices should not lull hikers into thinking they can press a button and a helicopter will swoop in within minutes to rescue them. Fourteener rescues can take a great deal of time and resources, and helicopters are only used in cases where lives are at stake or rescuer safety is seriously threatened. If it took you seven hours to get wherever you call for help from, it will take rescuers even longer than that to respond from their homes or places of work and hike to your location.
Be Aware of the Effects of Altitude
While climbing up a Colorado 14er can lead you to breathtaking views, the thinner air can lead to altitude sickness. Altitude sickness is brought on by a lack of oxygen to your body and a failure to acclimate to air that has less oxygen, which can be caused by going too high too fast.
Everyone's body has a different rate of acclimating, so it's important to be aware of any changes you feel. The most widely felt symptom is a headache, but other symptoms include shortness of breath, tightness in the chest, marked fatigue and weakness. If you experience any of these, follow the simple guidelines below and let others know you're not feeling 100 percent. Symptoms often improve once your body adapts to the higher elevation, but you need to be patient — and most importantly, stay hydrated and take it easy.
Ways to Help Prevent Altitude Sickness:
Drink plenty of water; replenishing fluids helps to stabilize your body and will increase your blood-oxygen level. You should start doing this a few days in advance to help ease acclimation.
Take it easy; don't over-exert yourself. Consider starting with a 10er, 11er, 12er or 13er first. 
Experts recommend eating a high-carbohydrate diet while at altitude to supply your body with more energy.
Keep alcohol intake and smoking to a minimum both on the trail and in the days leading up to your hike.
Remember that altitude sickness can affect anybody, even top-flight athletes.
Most importantly: if you're not feeling well, let someone know.
If at any point you are feeling unwell, it is best to turn around and try again another day – it may just save your life.
Check out these other safety tips, including the importance of getting an early start.
Care for Colorado Leave No Trace Principles
Colorado has the great fortune of having these 58 majestic 14ers right in our backyard. But every year, we see more hikers and climbers attempt to ascend these peaks, impacting the alpine environment. It is up to those who love these mountains to minimize damage to their fragile ecosystems.
The terrain at these extreme altitudes lacks the ability to properly break down waste in a timely manner, meaning that when the need to empty your bowels arises, you should be prepared with a disposable WAG bag. Designed to trap, deodorize and break down feces, these bags can be found at most outdoor stores and should be used to not only capture your waste, but to carry it out to a trash receptacle. Defecating in the open space or even digging a cat hole is simply not good enough at these altitudes and is not only harmful to the environment we share, but it's also unsanitary and unpleasant for all.
Learn more about the etiquette of poop in the backcountry, no matter your elevation.
Learn more about the Care for Colorado Leave No Trace Principles, which provide tips on how to care for these special places.
And if you're looking for the same amount of adventure with a bit more solitude, we recommend detouring from the very popular 14ers to a few of 580-plus 13ers in Colorado, which pack just as much adventure in slightly less elevation.
Want More?
Read about other famous mountains in Colorado.