What Are 14ers? Learn About Colorado's Peaks Over 14,000 Feet
Colorado is studded with more than 50 mountain peaks exceeding 14,000 feet (known as "14ers" or "fourteeners" — the most of any state. Outdoor enthusiasts of all skill levels will find mountain treks ranging from easy to very difficult, with hiking trails for exploring the state's scenery, wildlife and rugged beauty.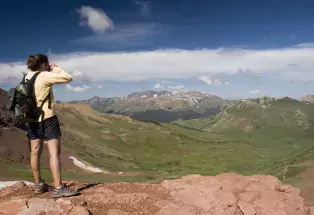 So, how many 14ers are in Colorado, really? The Colorado Geological Survey says there are 58 peaks that exceed 14,000 feet in elevation. Others use this logic: To qualify, a peak must rise at least 300 feet above the saddle that connects it to the nearest fourteener peak (if another exists nearby). You can make up your own mind!
Some of the Colorado's best-known 14ers include the tallest: Mount Elbert, Pikes Peak (which inspired the poem "America the Beautiful") and Longs Peak (which resides inside Rocky Mountain National Park).
The reward for reaching the summit of one of these beasts? Bragging rights, of course. Plus, you'll find some of the most breathtaking views found anywhere on the planet. But it's important to know a few things before you head out to these massive Colorado mountains. See a full list of Colorado 14ers and their elevations >>
Colorado 14ers Ranked by Difficulty
Climbing any 14er in Colorado is no easy feat, but some are considered easier than others. Luckily, 14ers.com broke it down for us with this handy route-difficulty list, including how routes are rated and why >>
If you prefer challenging but straightforward hiking on well-marked trails (Class 1) — in other words, the "easiest" 14ers in Colorado — flex your leg muscles on mountains like Grays Peak, Handies Peak, Mount Elbert, Pikes Peak, Quandary Peak and San Luis Peak.
For more technical hikes that will take you off marked paths (Class 2 & Difficult Class 2), tackle 14ers like Blanca Peak, Castle Peak, Challenger Point, Conundrum Peak, Culebra Peak, Ellingwood Point, Humboldt Peak, Huron Peak, La Plata Peak, Missouri Mountain, Mount Antero, Mount Belford, Mount Bierstadt, Mount Bross, Mount Cameron, Mount Columbia, Mount Democrat, Mount Evans, Mount Harvard, Mount Lincoln, Mount Massive, Mount of the Holy Cross, Mount Oxford, Mount Princeton, Mount Shavano, Mount Sherman, Mount Yale, Redcloud Peak, Sunshine Peak, Tabeguache Peak, Torreys Peak, Uncompahgre Peak and Windom Peak.
Peaks known not only for their steepness — but also for the need to scramble and climb to reach the top (Class 3) — include Crestone Peak, El Diente Peak, Maroon Peak, Mount Eolus, Mount Lindsey, Mount Sneffels, Kit Carson Peak, Longs Peak, North Eolus, Snowmass Mountain, Wetterhorn Peak and Wilson Peak.
Steep and dangerous terrain necessitating hand- and footholds to reach the top, plus ropes and climbing (Class 4), include 14ers like Capitol Peak, Crestone Needle, Little Bear Peak, Mount Wilson, North Maroon Peak, Pyramid Peak and Sunlight Peak.
Wherever you choose to go, follow backcountry-safety tips, like checking weather predictions, mapping out your course ahead of time, packing essentials and being prepared for emergencies.
Be Aware of the Effects of Altitude
While climbing up a Colorado 14er can lead you to breathtaking views, the thinner air can lead to altitude sickness. Altitude sickness is brought on by a lack of oxygen to your body and a failure to acclimate to air that has less oxygen. It can be caused by going too high too fast.
The problem is, everyone's body has a different rate of acclimating, so it's important to be aware of any changes you feel. The most widely felt symptom is a headache, but other symptoms include shortness of breath, tightness in the chest, marked fatigue and weakness. If you experience any of these, follow the simple guidelines below and let others know you're not feeling 100 percent. Symptoms often improve once your body adapts to the higher elevation, but you need to be patient — and most importantly, keep hydrated and take it easy.
Ways to Help Prevent Altitude Sickness:
Drink plenty of water; replenishing fluids helps to stabilize your body. You should do this a few days in advance as well.
Take it easy; don't over-exert yourself. Maybe start with a 10er, 11er, 12er or 13er first. 
Experts recommend eating a high carbohydrate diet while at altitude.
Keep alcohol intake and smoking to a minimum.
Remember that altitude sickness can affect anybody, even top-flight athletes.
Most importantly: if you're not feeling well, let someone know.
It's 100 percent OK to turn around if you need to; the mountain will be there another day.
Check out these other safety tips, including the importance of getting an early start.
Care for Colorado leave no trace
Colorado has the great fortune of having these 58 majestic 14ers right in our backyard. But every year, we see more hikers and climbers attempt to ascend these peaks, impacting the alpine environment. It is up to those who love these mountains to minimize damage to their fragile ecosystems.
Learn more about the Care for Colorado Leave No Trace Principles, which provide tips on how to care for these special places.
And if you're looking for the same amount of adventure with a bit more solitude, we recommend detouring from the very popular 14ers to a few of 580-plus 13ers in Colorado, which pack just as much adventure punch in slightly less elevation.
Want More?
For more information on the 14ers in Colorado, including a complete list, trip reports and more, visit 14ers.com and the Colorado Fourteeners Initiative. And read about other famous mountains in Colorado.