What to Wear in Colorado: The Basics
When you come to Colorado, you might notice that we love our activewear. And there's a reason for that — there are so many great outdoor experiences across the state, Coloradans always want to be prepared for taking a quick hike or dip in a hot spring.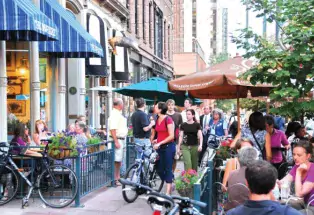 Likewise, it's important to be prepared for any temperature. Thanks to Colorado's great ranges in elevation, you can ski at Breckenridge during the day and then indulge in a craft beer on a Denver patio in 70-degree weather at night — all with style, of course. A versatile packing list is crucial to a perfect activity-based Colorado vacation.
1. Layers, Layers & More Layers
Ask a Coloradan how to dress and they're likely to answer, "In layers!" That diversity of elevation we mentioned means temperatures can shift on dime. Don't underestimate the importance of layering up and packing clothes for all seasons year-round if you're going to be exploring our great outdoors — no one wants to be the guy in the thick wool sweater who says "I had no idea it could get up into the 70s in February!"
Here are some basics to bring that will help you stay comfortable in every season:
Winter: Fleece jacket, long-underwear, water-resistant coat, jeans and snow pants
Spring/Fall: T-shirts, rain jacket, light fleece, jeans and shorts 
Summer: Light jacket, T-shirt or tank top, shorts, jeans, hiking pants, swimsuit and warm clothing for camping
2. Western Wear
We're proud of our Western roots, which means cowboy hats, boots and other Western garb are always in style. Pick up some stylish cowgirl and cowboy fashions at these favorite Colorado stores:
Learn more about Colorado's Western roots >>
3. Homegrown Style
Search for these Colorado-made products as you travel the state — they're the perfect, practical souvenir, and nobody knows Colorado swagger better.
Apparel, performance clothing and outerwear: SmartWool (Steamboat Springs), Shredly (Carbondale), Melanzana (Leadville), VOORMI (Pagosa Springs), Pearl Izumi (Louisville), Spyder Active Sports (Boulder), Mountain Standard (Boulder), Pactimo (Greenwood Village), Loki (Grand Junction), CG Habitats (Denver), Dynafit (Boulder), Flylow Gear (Denver), Obermeyer Ski Clothing (Aspen), Point6 (Steamboat Springs), Strafe (Aspen), Freeride Systems (Leadville)
Backpacks and travel gear: Osprey (Cortez), Kelty (Boulder), TOPO Designs (Denver), Mountainsmith (Golden)
Footwear by La Sportiva (Boulder), Crocs (Niwot), Newton Running Company (Boulder)
4. Comfy Footwear
Choose comfort over fashion. Wear shoes that can cover mileage — whether it's hiking, rafting, biking or perusing art galleries.  
Winter: Waterproof boots and cozy après-ski slippers
Spring/Fall/Summer: Hiking boots (or sturdy shoes), athletic shoes, comfortable sandals and shoes that can get wet 
5. Shielding Eyewear  
Coloradans love to brag about more than 300 days of sunshine a year and peaks reaching higher than 14,000 feet or fourteeners (we've got 58 of them!), but bragging rights warrant serious eye protection. Hats, goggles (for winter recreation) and sunscreen also shield against strong rays.    
6. Night Out On the Town gear
After recreating during the day, Coloradans occasionally dress up for a live concert or dinner at the newest critically acclaimed restaurant at night. Don't get us wrong though — jeans are nearly always welcome.
See how Colorado cities liven up when the sun goes down >>
If You Still Have Room …
These items are sure to enhance a Colorado vacation. Now the challenge is fitting them in your suitcase.
For More Colorado Basics, Check Out:
Photos courtesy of: Jon Mullen; Colorado State Parks; Visit Denver, The Convention & Visitors Bureau/Steve Crecelius