What's Epic About Colorado Whitewater Rafting
When the sunrays of spring begin to melt the snowpack that makes Colorado's peaks an epic skiing and boarding playground, the rivers begin to percolate under their frozen canopy. The roar that eventually erupts from snowpack-bloated whitewater is just the challenge river runners have been dreaming about all winter.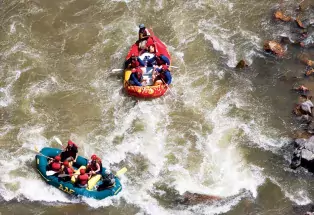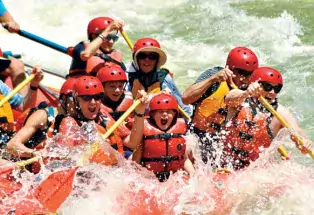 Because seasoned rafting guides spend most of spring through fall on Colorado's rivers, we asked three experts — Garry Keller of Rocky Mountain Adventures (guiding since 1997), Bruce Becker of Geo Tours Whitewater Raft Trips (guiding since 1978) and Brad Modesitt of Mountain Whitewater Descents (guiding since 1993) — to share their takes on Colorado's most epic rafting experiences.   
Planning a rafting trip? View our Colorado rafting listings to find the perfect outfitter. And raft right every summer >>
Q: What are your favorite Colorado rafting runs? 
Garry: The Cache La Poudre River is a great rafting run that is close to home and can offer challenges to any level of rafter, although there is always something special about a river trip that takes you away from civilization. For a remote river trip that's still close to the Front Range, I have always enjoyed the North Platte River through Northgate Canyon. This run starts just north of Walden and offers great scenery, camping and, when there is water in the spring, challenging rapids. 
Bruce: For a part-day raft trip with plenty of action, it is hard to beat Clear Creek. A full-day raft trip? Any run on the Arkansas River where you get action and beauty. I love the beauty and serenity of the Upper Colorado River for overnight and multiday trips. There are many great rivers in Colorado, but I guess I am biased to the ones I run most often. My favorite multiday raft trip in Colorado is the Yampa River through Dinosaur National Monument. The scenery and geology on display are awesome; pretty good rapids, too.
Brad: My personal favorite is the Cache La Poudre — the only Wild and Scenic River in Colorado, with more rapids per mile than most, and it is technical. Gates of Lodore on the Green River has spectacular cliffs and canyons with some fun and easy rapids. The Dolores is a great multiday trip with some superb scenery. The Upper Colorado has something for everyone — whether you are on an inner tube, paddleboard or raft.
Q: What's your most memorable run?
Garry: Often my most memorable run is the last trip I have finished. One of the great things about rafting is that the river can change daily. This creates a unique experience every time I'm on the water. A creek can flood and move a rock bar or a log can float down and change the line that you have to maneuver. It is truly amazing how much the geology and river can change in a canyon in a short amount of time and this makes every run memorable.
Bruce: My special moments most often come when I am solo in a raft or other watercraft. Sometimes you just can look around at the spectacular scenery and get lost in the beauty. Being wrapped in the incredible, immense, natural wonder that is Colorado can be life changing. Plus, it is good for the soul to get away from the hustle of the city. 
Brad: The most memorable runs are when I have family and friends with me, and we laugh, joke and play as we glide down the river.
Q: Tell us about a special moment you had on Colorado waters.
Garry: River stories are like fishing stories; someone can always tell a bigger and better story. One of my more unbelievable experiences is when I found a bag full of money on the bottom of the river. At first I thought it was a first-aid kit because it was tied to a raft frame that was broken and battered on the river bottom. To make a long story short, I ended up splitting the cash with the guides that were on the trip with me. There was a little over $1,000.   
Bruce: I guess I am addicted to the guide lifestyle. Getting to see the expressions on the faces of guests as they experience something for the first time — sometimes the fear, but most often the joy — is the best.
Brad: When I took a group of troubled youth down the river, I heard a 15-year-old express how much better the rafting was than the heavy drugs she had been using. Whitewater rafting is such a good, clean sport that relies on team building — I love it.
Q: What's an insider scoop for a beginner, intermediate and advanced rafter?
Garry: Beginners: Remember, rivers don't travel in a circle, so anything stashed at the launch site will not be retrieved. Intermediates: Since you know what you signed up for, we know you can paddle together, understand consequences and follow direction. It's a good idea for advanced rafters to remember to work together with the guide. Although we know you have a lot of experience and knowledge, the guide knows the best line for the current conditions.
Bruce: I want to leave beginners wanting more after they have taken the step, willingly or unwillingly, to experience something new. I want intermediate rafters to remember they still have things to learn, yet this is often a really fun group to guide because there's a lot of action, but the swims (out-of-boat experiences), if they come, are not too difficult. When you get a good crew on an advanced trip, there's a bond that develops between guide and crew, and it is a thing of beauty when everyone is in sync, paddling through a tough run.
Brad: All rapids are classified from 1 to 6 — 6 being unrunnable. Beginner runs are usually in the 1–3 range and are nice, meandering runs with low stress. Paddling becomes more important on the intermediate runs with class 3–4 rapids, because the obstacles become more difficult and the waves get bigger. Advanced runs bring the big, class 5 rapids that take a lot of skill to run. Swimming is a definite possibility.  
Want More?
Read the Complete Guide to Whitewater Rafting in Colorado and 6 River Canyons for Colorado Whitewater Rafting, and check out our Colorado rafting listings.