Where to Find Colorado's Dazzling Autumn Mountain Scenes
Just thinking about stands of shimmering, golden aspen against the bluebird skies high in the Colorado Rockies makes us practically … break into song! But with more than 15 mountain ranges across the state, how's a traveler to decide where to go?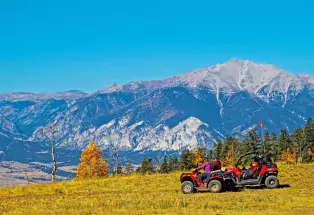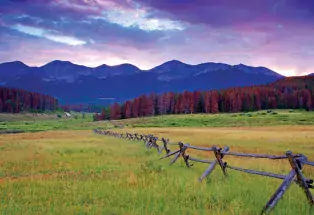 We've got your guide to the best fall panoramas and creative ways to enjoy the spectacular colors, too.
Sawatch Range
This is high-elevation splendor, with eight of the 20 highest peaks in the Rocky Mountains calling this range home — including Mount Elbert, the tallest in Colorado.
Set up basecamp in: Leadville, Twin Lakes, Buena Vista or Salida
How to Take in the Colors:
Have your breath taken away twice on a rock-climbing adventure in the Independence Pass area. Once by the fall scenery and twice by the epic climb itself. If you're an experienced do-it-yourselfer, head for Monitor Rock, which rises above pine and aspen forests and has some 60 routes to choose from.
Buena Vista's Historic OHV Fall Color Tour (September) provides off-highway vehicle riders with self-guided access to San Isabel National Forest trails chosen for maximum leaf-peeping potential. You'll also be able to explore old mining camps and ghost towns along high-mountain passes.
Sangre de Cristos 
It's said that southern Colorado's Sangre de Cristo mountains get their name (Spanish for "blood of Christ") from the red color they are drenched in at sunset every evening. In fall, they are tinged with crimson, ochre and gold foliage, too.
Set up basecamp in: Alamosa, La Veta or Cuchara
How to Take in the Colors:
Beer, music and fall foliage? Prost! They all converge during La Veta Oktoberfest (October) on this downtown street fair, which also features a car show, dancing and more than 60 arts and crafts vendors. 
San Juan Mountains 
Some of the most famous photographs of Colorado's fall colors have been taken right here in the San Juans.
Set up basecamp in: Telluride, Ouray, Silverton, Durango or Pagosa Springs
How to Take in the Colors:
The San Juan Skyway scenic and historic byway is a 236-mile loop that guarantees you great leaf-peeping scenery during the fall gold rush. Approach the loop in sections over a couple of days, and stop at the summit of Molas Pass, downtown Telluride for the famous view of Bridal Veil Falls and maybe even Ridgway's Orvis Hot Springs, where you can admire sights of iconic Mount Sneffels, framed by multi-hued foliage, while you soak.
If you're equipped with a 4x4 vehicle, head to the Alpine Loop scenic and historic byway, connecting the mountain towns of Ouray, Silverton and Lake City. This rugged route has hiking and mountain-biking trails galore, mining history and unfettered views of shimmering aspens and 14,000-foot peaks. And when riding OHVs through the Alpine Loop, make sure you follow Colorado's off-roading motto of "Stay the Trail."
Medicine Bow Range
Towering summits, high-mountain lakes ringed by blazing aspens and roaming wildlife are among the sights that await in this high-alpine range that covers 100 miles across the state line into Wyoming.
Set up basecamp in: Walden
How to Take in the Colors:
State Forest State Park is considered the moose-viewing capital of Colorado, with some 600 of Bullwinkle's buddies roaming free. Wilderness access is easy if you start at the Moose Visitor Center. Tip: Always use caution and never get close to a moose (as tempting as that selfie may be).
Make a stop at Arapaho National Wildlife Refuge, where avid birders flock to spot Wilson's snipe, American avocet and dowitchers among the refuge's prairie wetlands, surrounded by reddening prairie grasses in the fall. In late September to early October, migration peaks to some 8,000 waterfowl.
Gore Range
These enchanting, jagged peaks are classic Colorado — visible right from hiking trails and the main streets of many ski-resort towns.
Set up basecamp in: Vail or Silverthorne 
How to Take in the Colors:
Hardy backpackers will cherish the Gore Range Trail, a 45-mile trek from Copper Mountain to Green Mountain Reservoir. You'll climb above treeline, traverse stunning Uneva Pass and camp beside crystalline lakes, with plenty of radiant aspen stands along the way.
A more moderate hike awaits in Eagles Nest Wilderness: Take the Upper Piney Trail through large aspen groves to Piney Lake, with cascading waterfalls and views into glacial-carved valleys along the way (4X4 vehicle recommended).
West Elk Range 
Fed by tributaries of the Gunnison River, the West Elks are verdant and flush with forest growth — perfect when the leaves start to change. 
Set up basecamp in: Paonia, Delta or Cedaredge
How to Take in the Colors:
Powderhorn Mountain Resort offers Color Weekend (Sept. 23–24, 2023), a chance to appreciate the ski mountain's blanket of vibrant yellow aspen stands from above, via lift ride. The event also includes downhill mountain biking, live music and delicious food.
The 63-mile, electric-vehicle-friendly Grand Mesa scenic and historic byway leads you to the top of Grand Mesa, the largest flat-top mountain in the world, into the fall-color-saturated Grand Mesa National Forest and through Cedaredge, replete with apple orchards and groves of white ash.
Park Range
Rising dramatically out of the Yampa River basin, the Park Range puts on a show with craggy mounts presiding over an ovation of trembling golden aspens. 
Set up basecamp in: Steamboat Springs
How to Take in the Colors:
If a hot-air balloon ride is on your bucket list, this is the place to do it. Wild West Balloon Adventures will have you gliding above Steamboat Springs' color-soaked fall scenery, with views of the Flat Top Mountains and Hahns Peak, an inactive volcano.
There's nothing like wading amid a peaceful river current, rod in hand, surrounded by glowing autumn colors. That's what fall fly-fishing on the popular Yampa River, the longest free-flowing, dam-free river in the state, or the less-frequented Elk River offer anglers — in addition to prized rainbow, brown and brook trout. Get your fishing license. 
Front Range
The massive Front Range of central Colorado has the convenience of being adjacent to some of the state's biggest cities — yet with just a quick jaunt toward its summits, you can escape into the wild.
Set up basecamp in: Boulder, Fort Collins or Estes Park 
How to Take in the Colors: 
Trail Ridge Road scenic byway in Rocky Mountain National Park is the highest continuous auto road in the country — one that crosses the Continental Divide, where North America's streamflows are separated east from west. The drive is EV-friendly and takes you through the park's abundant fall foliage, beside herds of elk, up to a vast, awe-inspiring and high-alpine tundra environment at 11,500 feet. 
Soak up the autumn glow as you amble through the stunning Roosevelt National Forest on horseback with Beaver Meadows Stables in Fort Collins. Their small group outings with young, gentle horses are an unforgettable family adventure full of photo ops.
Flat Tops
Dotted with 110 ponds and lakes, this range has plenty of water for deciduous trees to drink from, and therefore, an exquisite variety of colors come fall.
Set up basecamp in: Yampa or Meeker
How to Take in the Colors: 
A journey on the 82-mile, EV-ready Flat Tops Trail scenic byway will take you over some of the state's lesser-known mountain passes. Pull over at the summit of Ripple Creek Pass to take in a patchwork of amber aspen groves against this range's namesake flat tops.
Hike the Trappers Lake Loop Trail, a moderate, 5.5-mile path that encircles the second-largest natural lake in Colorado. In 1919, Arthur Carhart was surveying a site for a cabin resort development. But the lake's beauty inspired him to fight for the area's preservation instead, leading to the birth of the modern American wilderness movement.
Want More? 
10 Places to See Colorado's Fall Color
9 Favorite Fall Dog Hikes
Fall Festivals & Fall Drives: Perfect Colorado Pair