Whitewater Rafting With River Runners
River Runners has been taking people rafting for almost 50 years, so it's safe to they're experts when it comes to knowing when and where to plan your whitewater adventure.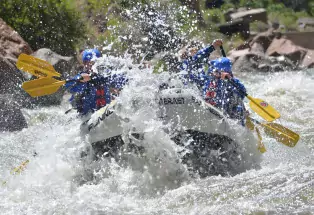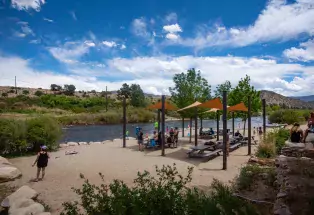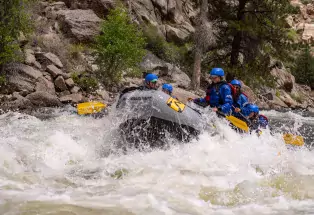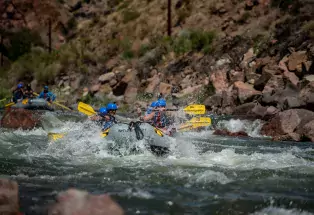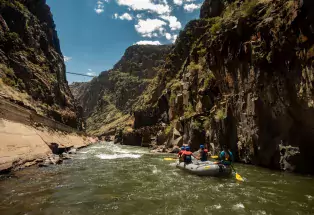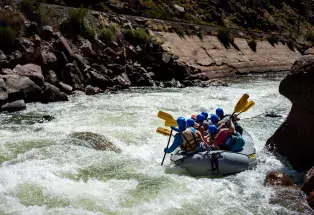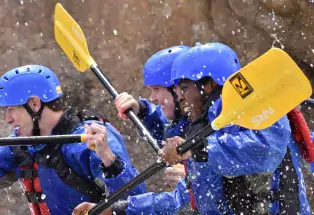 All River Runners rafting trips take place on the Arkansas River, with put-in locations in Buena Vista and Cañon City. These areas are home to the most highly sought-after whitewater in Colorado, featuring some of the best rapids in the country.
Helmet up and paddle along with us to learn more, so you can make sure your whitewater experience is a blast. 
When is the Best Time for Whitewater Rafting?
It can be tricky to nail down the perfect time for whitewater rafting in Colorado. Many factors come into play, including snowmelt and the type of ride you're after. But rafting season on Colorado's Arkansas River typically runs from May through Labor Day.
The flow brought on by melting snowpack in our mountains is what leads to the world-class whitewater rafting you'll find here. And River Runners can help fine tune your Colorado river-rafting trip based on the type of experience you're looking for — regardless of whether you're a beginner or seeking wild thrills.
Learn how water flow on the Arkansas drives the rafting season to help you get an idea of when you should plan your trip:
High Water
Late May­ to late June is the most exciting time of year in this part of the state, as the waters are high and racing, making it ideal for adventure lovers looking for an adrenaline rush. Expect big waves, large hydraulics and swift currents. You should also prepare for age restrictions on certain trips, but the guides at River Runners can help point you toward a family-friendly excursion any time of year.
Medium Water
Late June to mid-August is the sweet spot for families looking to plan a Colorado river-rafting trip. Likewise, it's also a great time for thrill seekers, as you'll have access to advanced sections of the Arkansas River — like the Royal Gorge and the Numbers — which are closed when waters are at their highest. Do keep in mind that this is also peak tourist season, so it's a good idea to book your rafting trip in advance and, if possible, on a weekday.
Low Water
Low flows are typical from early to mid-May and in late August through Labor Day, but that doesn't mean you'll find less fun. There are plenty of challenging rapids during early spring and late summer, and this is when the river is least crowded.
Choose Your Whitewater Rafting Experience
River Runners' skilled guides combined with whitewater excitement, spectacular scenery and fascinating wildlife provides the recipe for an adventure you won't find anywhere else in the world. Choose from various river-rafting experiences that range from beginner to advanced.
Flanked by the snowcapped Collegiate Peaks and set in Browns Canyon National Monument, you'll find a world of swirling eddies and rushing currents. Here are some of the rafting trips you'll have to choose from at this outpost.
• Family Float: This trip is a great option for beginners, families and people with disabilities. Everyone in your posse will enjoy these 4 miles of small rapids that offer opportunities to see wildlife along the way. You can even choose to have your guide row while you chill and enjoy the ride 
• Browns Canyon: This experience is more adventurous but still beginner friendly, with legendary rapids that will get your adrenaline going.
• Happy Hour: Start upriver and whoop as you make your way through fun segments. This intermediate-level trip ends with cocktails, local beers and food at The Browns Canyon Riverside Grill.   
• Numbers: If you're looking for advanced-level excitement where you work hard for big rewards, this is the outing for you. You'll follow your guide's instructions as you paddle through steep chutes, big waves and long rapids — so long, in fact, that the rapids were numbered instead of named.
Or book an overnight rafting trip with all your on-river meals included. After a day of shooting rapids, you'll camp on the banks of the Arkansas where the sound of the water will lull you to sleep under a star-filled sky.
Here the Arkansas River tumbles through the narrow granite walls of the Royal Gorge, creating a beautiful playground for whitewater rafters.
• Bighorn Sheep Canyon: Find the perfect blend of exciting, splash-inducing rapids and leisurely sections that let you soak up the sights. This trip is just right for beginners.
• Royal Gorge: Calling all advanced paddlers in search of a ride where you'll take on rapids of epic proportions. Holler with joy as you tackle technical challenges and whoosh under the famous Royal Gorge Bridge. If you want a longer ride, opt for the full-day trip, which starts in Bighorn Sheep Canyon before hitting the Royal Gorge — after a break for lunch on the river, of course.
Want More?
Book your whitewater rafting adventures today >>
Explore Browns Canyon whitewater rafting >>