Wildlife Viewing Experiences in Colorado
Colorado's mountains, forests, plains, rivers and mesas harbor 960 different wildlife species. These five ideas can help ensure at least a couple of them are part of your Colorado vacation. Check out this fun infographic about Colorado's Wildlife from A to Z.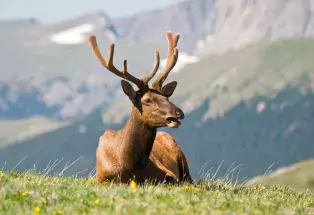 1. Follow a Colorado Birding Trail
Colorado is home to more than 450 different avian species, many of which are found in the diverse ecosystems east of the Rocky Mountains. Here, lone falcons share the sky with droves of tiny white-throated swifts, owls snooze inside hollowed trees and prairie chickens strut through vast stretches of golden shortgrass. Find top birding trails in Colorado.
2. Attend a Wildlife Festival
Nearly 30 wildlife festivals are held each year to celebrate the state's furry and feathery friends, from Grand Mesa Moose Day (July), Estes Park's Elk Fest (Oct.) to Lamar's High Plains Snow Goose Festival (Feb.) and many more. Explore more wildlife events on the Colorado Parks and Wildlife calendar.
3. Get A Guide
With eight National Wildlife Refuges, four national parks, nine national monuments, five wilderness areas, 43 state parks and nearly 350 state wildlife areas, you're bound to find a friendly ranger or guide ready to lead you through Colorado's wildlife-friendly areas no matter where your trip takes you. Find a ranger-guided tour in Rocky Mountain National Park.
4. Go Spottin'
Get an eagle-eye award for spying Colorado's state creatures as you travel around:
State animal: bighorn sheep 
Found in high-mountain terrain 
Good opportunities include a Browns Canyon National Monument rafting trip near Buena Vista; Guanella Pass scenic and historic byway near Georgetown; a hike through Beaver Creek State Wildlife Area near Penrose
State reptile: painted turtle 
Found close to the shoreline of ponds, marshes and small lakes 
Good opportunities include Jackson Lake State Park near Orchard, St. Vrain State Park near Firestone and Two Ponds National Wildlife Refuge near Arvada
State fish: greenback cutthroat trout 
Found in mountain lakes and clear, cold, gravelly, high-altitude streams 
Good opportunities include Bear Creek Regional Park west of Colorado Springs, Bellvue-Watson Fish Hatchery in Bellvue, Ouzel Creek in Rocky Mountain National Park
State bird: lark bunting 
Found on the eastern plains and up to 8,000 feet in elevation 
Good opportunities include the shade trees in town in Kit Carson, Pawnee National Grassland near Grover
5. Just Keep Your Eyes Open!
Left your hiking boots at home? Don't worry, there's no need to hit the trails to see Colorado's wildlife in its natural habitat. Hundreds of scenic roads lead safely past elk, bighorn sheep, moose, bison, bald eagles and other watchable wildlife. With a pair of binoculars, you won't even have to unbuckle your seatbelt. Learn about places you can spot Colorado wildlife without leaving your car.
Wildlife-Viewing Tips
From timing your trip in the morning or evening when wildlife are most active to ways to keep yourself and the wildlife safe to binocular usage, Colorado Parks and Wildlife has many tips to make your trip a success.
Want more?
Check out Birding in Colorado and Colorado's Top Birding Trails: Eastern Plains.