Wildlife Watching in Buena Vista & Salida
Some of Colorado's most iconic wildlife can be spotted in the Arkansas River Valley, including bighorn sheep (Colorado's state mammal), mountain goats, elk and raptors. The valley's diversity of landscapes and vegetation — from alpine peaks to canyons to pinyon-covered hills to rivers, streams and grassy meadows — mean you have a good chance of spotting an array of wildlife during your visit.
You might hear the distinctive whistle of marmots before you see them.
Mule deer — so called for their large ears — are a common sight in Buena Vista and Salida.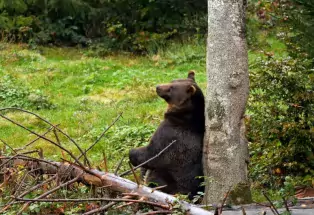 A bear scratches its back on a tree.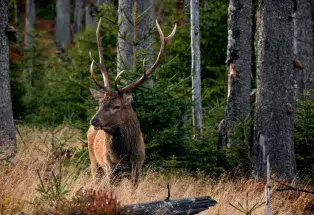 If you visit Buena Vista and Salida in fall, listen for the sound of bugling elk.
Portions of the Colorado Birding Trail's Headwaters Trail snake through the area, which opens up all kinds of opportunities to meet the locals. One of the state's cutest creatures — the yellow-bellied marmot — can be seen near the top of any of the area's 12 fourteeners (peaks above 14,000 feet). And sometimes, you won't have to go far at all: You might just see mule deer hanging around the quiet streets of Buena Vista and Salida!
 
There are year-round opportunities, and it might surprise you to know that winter can be the best time to keep your eyes peeled: The colder weather and related conditions drive many creatures down from higher altitudes. 
 
So bring your binoculars, some patience and respect for wild things — social distance from any wildlife to keep them and yourself safe. Learn how to keep wildlife wild and head to a few of these places, where the odds are good you'll meet some furry, fishy and feathery residents.
Browns Canyon National Monument
The wild playground of Browns Canyon National Monument is known for adventure, with the mighty Arkansas River roaring through its steep gorges and dense forests laced with trails for hiking and mountain biking. A good place to start is the network of trails leaving from Ruby Mountain Campground. 
 
Keep an eye out for: Elk, mule deer, bighorn sheep, mountain lions
On the Arkansas River
Get off the trails and onto the rapids within the national monument with a rafting guide for a different view of the canyon and its wild inhabitants. The water draws many migrating birds to its shores, and the super-steep cliffs are the perfect place for bighorn sheep to show off their incredible agility.  
 
Keep an eye out for: Bighorn sheep, mule deer, great blue herons, bald and golden eagles, turkey vultures, peregrine falcons
Heckendorf State Wildlife Area
Five miles north of Buena Vista, you'll have a chance to find herds of elk that have made the valley their homebase for hundreds of years at the Heckendorf State Wildlife Area. Note, you will need a state wildlife area pass or hunting or fishing license to enter most of the wildlife area. However, there's a special wildlife-viewing area that doesn't require a license. 
 
Keep an eye out for: Elk (especially December to April), pronghorn, prairie falcons, kestrels, golden eagles, mountain plovers
Love Meadow Watchable Wildlife Area
In the scenic Chalk Creek Canyon, Love Ranch started welcoming visitors (including Dwight Eisenhower) to the rustic cabins in Love Meadow Watchable Wildlife Area in the 1920s. It's still home to cabins popular with vacationers today — and also a peaceful meadow to spy wildlife who "love" it here. From Nathrop, go 8 miles west on County Road 162 to the parking area. And the Chalk Creek Trailhead, a mile closer to town, is another place to start a wildlife-seeking excursion
 
Keep an eye out for: Bighorn sheep (year-round), mountain goats on the Chalk Cliffs (especially in winter), mule deer (year-round), foxes, golden eagles and other raptors
Fourmile Creek Recreation Area
This massive nature spot known as the Fourmile Creek Recreation Area has alpine and rock-formation views in all directions, and is a haven for hikers, mountain bikers, rock climbers, fishers, campers and more. There are several access points into the area off Hwy. 285 and US 24 — just choose a nonmotorized trail for the best opportunity to score a quiet wildlife moment.
 
Keep an eye out for: Bighorn sheep, pinyon jays, elk, mule deer
Cottonwood Pass
West of Buena Vista, the trailhead at Cottonwood Lake that follows South Cottonwood Creek is a special place for spotting wildlife, as well as those reached from trailheads farther west toward the summit of Cottonwood Pass.
 
Keep an eye out for: Mountain goats, mule deer, elk, blue-winged teal and mallards, Steller's jays, yellow-rumped warblers, dark-eyed juncos, butterflies (Melissa and white-veined Arctics, Magdalena Alpines and lustrous coppers), white-tailed ptarmigans
Mt. Shavano Hatchery & Chalk Creek State Trout Rearing Unit
Two Colorado Parks & Wildlife hatcheries are dedicated to improving the fish populations in the valley, including Mt. Shavano near downtown Salida and Chalk Creek State Trout Rearing Unit in Nathrop. You'll see, learn about and feed rainbow and cutthroat trout, as well as kokanee salmon, all destined for Colorado's public fishing waters. Guided and self-guided tours featuring local fish and wildlife are available.
Want More?
Learn About Fishing in Buena Vista & Salida
 
Plan your next trip to Chaffee County
 
Learn more about Salida & Buena Vista