Your Handbook to Colorado's Guided Hunts
As the sun appears on the horizon and the grass rustles under your boots, a majestic creature casually walks into your field of vision. There's tension in your knees from the position you've been holding, but — at last — the time has come. The thrill of the hunt is upon you; and it was made possible by your incredibly talented outfitter, without whom you could have been lost in the forest, not witnessing the beauty the Centennial State has on offer.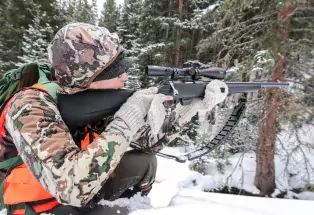 Guided hunts offer local knowledge to visiting adventurers and support during the trip. After all, Colorado has 23 million acres of awe-inspiring landscape, and it pays to have an expert lead you to the best places for game. Hiring a guide also takes the pressure off — you'll have someone to plan your day (or entire trip) and provide necessary equipment for time in the field. 
Hunting can be dangerous — these are large, wild, majestic creatures — and is not an easy sport. You will need to meet hunter-safety education and licensing requirements even if you are going with a guide, so make sure to ask about those before booking your trip. Remember to be smart, considerate and respectful of traditions when you are out in the bush. If you've never been before, you can participate in Colorado Parks & Wildlife's Hunter Outreach Program where they'll give you tips and tricks for staying safe. Be prepared for terrain of all kinds, too ­— some outings take place among the flat eastern plains while others require some mountain-scaling. 
Did you know there are different hunting seasons depending on whether you're using a bow, a muzzleloader or a rifle? Guides do! But for planning purposes, archery and muzzleloader season typically occurs when the aspen leaves turn golden in September and early October while rifle season happens in October, November and a bit of December. Then in each of those seasons are seasons for what you are hunting, like pronghorn, elk, moose and deer. Learn about big game hunting's specific dates.
Small game hunting is also available for those who prefer bobcats, rabbits, coyotes, foxes, marmots and badgers. For those creatures, the seasons vary, but typically happen during fall and winter months. Bird hunting is ideal between September and January. Find more about small game hunting dates.
From affordable, escorted chases to luxurious camps, there is something for every type of hunter. Here are some of Colorado's premier outfitters.  
By day you'll be crossing through forested landscapes, stalking mule deer, but by night you'll be tucked away in a toasty cabin. Matschee issues full-sized beds, indoor toilets, prepared breakfasts and dinners, sack lunches and field care of game on 50,000 acres of public lands that are just minutes from your berth. 
If you want to feel like you've stepped back in time, a buffalo chase amid the wispy grass of Colorado's plains is ideal. Enjoy the tastiest meat from young bulls or go in for the trophy kill where the bison weigh nearly 2,000 pounds! Prairie Ridge can set it all up for you, and they make sure the take is fully skinned and loaded for transport when you're done. 
Back in 2006, the No. 1 and No. 2 scoring pronghorn antelope in Colorado (that means they were field judged to have the longest horns) were taken on Story Creek's property. Throw on your high-visibility orange and prowl in the shadow of the epically tall Spanish Peaks while enjoying accommodations (a worthy extra fee required), food and transportation to hunting areas on private land.  
Looking to bag a mountain lion? Call up J and J for a fully managed tour through national forest lands to see (and hopefully shoot) one. They track on more than 100,000 acres with a 2:1 hunter-to-guide ratio. Be mindful: The lions might be above you and your horse!  
The best of the best in bighorn sheep tracking is Cliff at Flat Tops. He lives on the land and is an expert scout. A one-on-one expedition might take more than 6 years for a hunter to draw a license to hunt these beauties, so this is not for the faint of heart. The adventure can happen on horseback or, if you're feeling like doing more work, there is a backpack option (but you must be able to hike 3–6 miles in the rocky, rugged territory each day).  
Load up a rifle and step out of a classic canvas tent on one of these excursions. You get to choose just how involved you want to be — your chaperone can plan the quest, wrangle the horses, call elk in and show you some new tactics for success. You'll receive stick-to-your-ribs breakfast, packed lunches and time around the campfire each night. Plus, each tent comes with a wood stove and a cot.  
Myers offers affordable odysseys at Gilmar Ranch in northwestern Colorado. Here you can spot mountain peaks in the distance and grassy valleys in your immediate line of sight. The journey includes an usher to help you locate game, ranch housing and facilities for meal prep. Myers also transports your game to camp or downtown Craig for processing. Just don't forget your sleeping bag and pillow! 
Want more? 
Find more information about hunting in Colorado
Learn how to hunt from experts