Your Next Adventure at Royal Gorge Bridge & Park
Located just one hour from Colorado Springs and home to the highest bridge in the United States, Royal Gorge Bridge & Park is the place to adventure. Open to everyone from the youngest kiddo to the thrill-seeking grandparent of the family, the park has epic river scenery, vistas of snow-capped mountain peaks and adorable wildlife.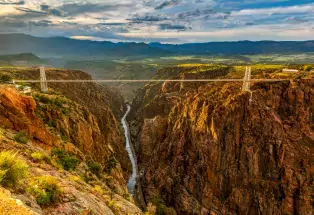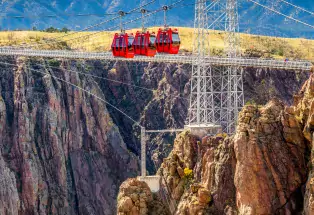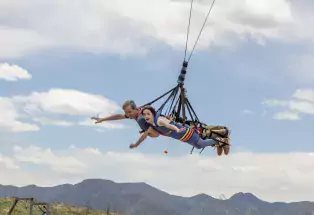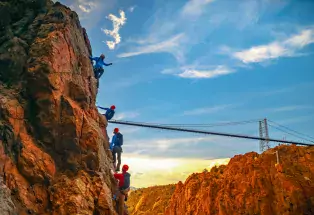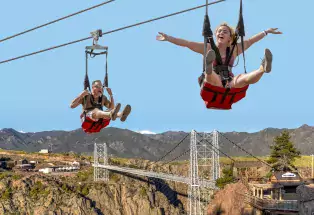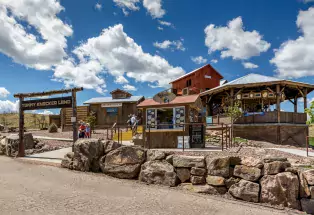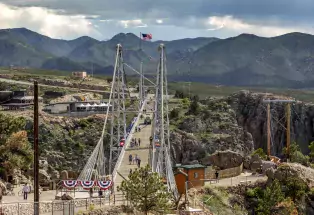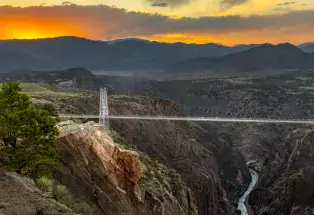 But that's not all! The rock walls date back 4 billion years and have seen historical changes from fossils to Native Americans and Colorado's homesteaders. With the help of amazing engineering, this attraction has plenty of space to explore. So, pop into the Visitors Center to plan out your entire day and pick up some souvenirs. Your adventure has just begun!
Family Fun
Being together as a family has never been easier — plus, you get to breathe in the fresh mountain air. Around every corner, there's educational entertainment for all ages.
Yes, this really is the highest suspension bridge in America and a bucket-list item for sure. Suspended 956 feet across the roaring Arkansas River, the towering steel creation is on the National Register of Historic Places. Peer down into the rocky gorge to see people whitewater rafting in the rapids or spot a bald eagle soaring through the bright-blue sky.
Looking for a 360-degree view of the gorge? Glide 2,200 feet above the Arkansas River on the tram system that is one of the longest single-span gondolas in America. Plus, it's dog-friendly and accessible. While aboard these bright-red lifts, you can snap photos of the natural beauty and "America's Bridge."
Let the wee ones burn some of their energy out in the enclosed, three-story playground of their dreams. With ropes, slides, nets, tunnels, 20-foot towers and a splash pad, they will want to spend all day running amok. Find your favorite horse on the vintage-style Daisy's Carousel and whirl around or pan for gold at Ole Zeb's Sluice Box. Little ones can also live out "Rango" at the Western-themed Shooting Gallery.
Become mesmerized as this one-of-a-kind experience in Colorado sends tumbling water from bucket to bucket to keep time. The original kept people from being late for 30 years at the park before being destroyed in the Royal Gorge Fire.
History buff? Take in the mini documentary about the park and check out the Historical Expo to see artifacts and photos that showcase the Royal Gorge Railroad War and how the bridge was built. Daily Tip: While you're visiting between Memorial Day and Labor Day, check out The Nature's Educators Birds of Prey show. Meet Juno, an eagle, and more live fowl.
After all that learnin', you'll need a pick-me-up. Indulge in a soft-serve cone, bubbly soda float or flash-frozen creation from the park's very own ice cream parlor.  
Adventure Seekers
If being one with nature is your resting heart rate, the park has experiences for you. Plan to defy gravity and have some only-in-Colorado adventures.
Meaning "iron path" in Italian, these climbs have become popular all over the world, but there's only one Royal Gorge. Hike and climb up the granite walls while being guided by trained mountaineers in a controlled experience — no "Free Solo" here! The attraction is open year-round, so you can hike when a light dusting of snow coats the gorge as well. Book your trip
Named the Travel Channel's "#1 Colorado Bucket List" experience, America's highest zipline is just waiting for you to soar 1,200 feet above the Arkansas. Since the line is between the bridge and gondolas, you'll have breathtaking views as you bolt across the chasm. Don't worry, you'll be strapped into a state-of-the-art harness with an intense braking system.
Adrenaline lovers unite, this coaster moves 50 mph through the air in a free-fall. Yes, you will be squealing as you dangle 1,200 feet above the river on the "World's Scariest Skycoaster," but you'll also want to ride it five more times.
Stop into the Mountain Man Beer Garden or the Last Chance Tap Room to come down from your adrenaline rush. There's a rotating selection of sudsy brews, from bitter pale ales to coffee-forward stouts. Whatever you choose, you'll be sipping it with a panoramic view of the gully and surrounding mountains. And if you get hungry, the stuffed baked potato topped with pork is an incredible way to end your day.
Stay the Night
The Big Horn Mountain Top Lodge is the only place to rest your head on the rim. With three bedrooms, two baths and a dining area you can't go wrong booking it for some real family time. Each room has massive windows with sweeping views of the gorge — you might find yourself camped in an armchair just staring at the crevasse's beauty your entire trip! Spend winter evenings in the lounge beside the roaring fireplace or head outside to the patio on a bright summer morning with a cup of coffee. Book your stay
Want to learn more?
Plan your trip to Royal Gorge Bridge & Park today
Purchase your tickets and visit today
Find more thrilling experiences at the park