Aspen Saturday Market
Aspen Saturday Market,
E. Hopkins Ave. & S. Hunter St.,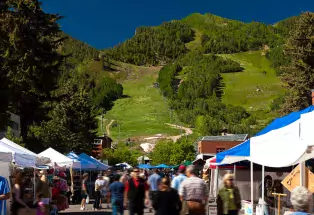 From mid-June to mid-October spend your Saturday mornings at our Aspen Farmer's Market. It has now become a local's Saturday tradition to stroll through the market and get your fresh veggies early in the mornings. The Aspen Saturday Market vendor criteria are very strict allowing only Colorado made, grown and produced items. Open from 8:30AM-3PM the market offers Colorado grown produce, crafts, live music and a food court for lunch or a snack while you peruse. Please note after Labor Day the Saturday Market hours will be 9 am - 3 pm.