Deerhammer Distilling Company
Deerhammer Distilling Company,
321 East Main Street,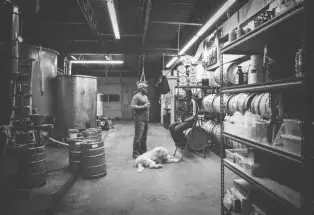 This family-owned micro-distillery is nestled at the foot of the Rocky Mountain's Collegiate Peaks in downtown Buena Vista, Colorado. With our primary focus on artisan American style whiskey, we hand-craft our spirits from start to finish in small batches. It was no mistake that we chose to build our distillery within the Arkansas River Valley. Along with the awe inspiring mountain views and epic kayaking " the same glacial water that flows down the continental divide to feed our rivers also happens to make a perfect starting point for our whiskey. With this pristine water, we mash in the finest locally grown and malted grains. Much in the way a craft-brewed beer is built from a variety of roasted and kilned barley to impart character, we also utilize these flavorful grains to add a unique complexity to our whiskey. We then double distill through a hand crafted copper pot still, using tried and true techniques with a twist of our own modern innovation. Each batch of Deerhammer is meticulously crafted one barrel at a time to bring forth flavors unlike anything you've ever experienced. Simple. Honest. Colorado whiskey.