Burlington
Many motorists whiz right by the town of Burlington, on the eastern edge of Colorado's plains, eager to get to the mountains. But they might want to know what they're missing.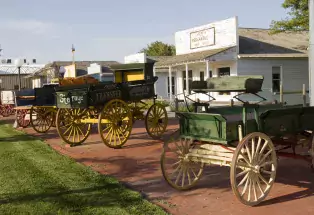 Colorado Welcome Center at Burlington
48265 I-70, Burlington, CO 80807
Old Town/City Of Burlington
Box 202, Stratton, CO 80836
First, Burlington has one of the Colorado Welcome Centers to help visitors get acquainted with the many things to do and see in Colorado. Second, Burlington pays tribute to the state's significant Western and agricultural history with its well-preserved Old Town Museum. It's more than a museum, really. It's a collection of antique-filled buildings with exhibits and information that help put the state's history into perspective. If you time it right, you might even catch a can-can show in the bar.
And don't leave without taking a look at the 1905 Kit Carson County Carousel, where you can ride not only horses, but handcarved wooden giraffes and lions, whirling to the music of a 1909 Wurlitzer Monster Military Band Organ. You'll feel like a kid again.
Speaking of kiddos, Burlington's Parmer Park is a great place to take 'em. Let your tykes run wild as you relax in the sunshine. This beloved Burlington park features a grand playground with an array of benches, a summertime splashpad and lots of mature trees.
Then satisfy your hungries with crispy fried chicken from The Farm Grill & Restaurant, which offers a homestyle mix of Mexican and American flavors. Yum!