Crestone
A personal gift from the King of Spain in the 1600s, the area surrounding this picturesque mountain town has emerged in the last few decades as a spiritual capital for world religions.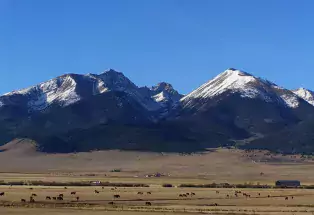 What began as a small mining town now accommodates a Hindu temple, a Zen center, a coed Carmelite monastery, several Tibetan centers and more.
Crestone is home to a diverse community of New-Agers, artists and outdoor enthusiasts. Experiments in alternative architecture complement the downtown art galleries that display local works ranging from wood creations to Tibetan arts. And since there's more than the average number of bodywork specialists in town, Crestone is a wonderful place to get a massage.
Lodging here comes in all forms — from campgrounds and cabins to luxury vacation homes and cozy B&Bs. Surrounding forest areas make Crestone a good jumping-off point for hiking, horseback riding, fishing, hunting and birding. Nearby 14,000-foot Crestone Peak and Crestone Needle are two of the most beautiful and most challenging mountains in Colorado. In addition to regular spiritual retreats, the annual Crestone Music Festival is one of the community's most popular summer events.
Crestone is also an International Dark-Sky Community and new destination for stargazers, thanks to its efforts to keep skies free of light pollution for decades. The Crestone Historical Museum, located in an 1880s schoolhouse, dives into the area's mining and ranching heritage.
For more to see and do in the area, read 2 Days in the San Luis Valley.
Other Cities in the Region