Crook
Don't let the curious name of this northeastern Colorado community fool you. Crook is home to some of the most kind-hearted folks around. Named after General George Crook, this town was settled by a group of Hollanders bent on farming the dry prairie lands.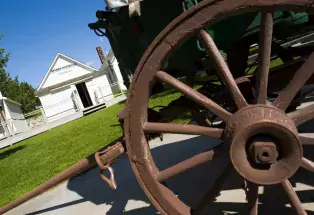 Although the venture failed, later farming took hold, and today Crook's modern industry remains rooted in agriculture. Main staples include hay, corn, sugar beets and alfalfa.
In town, along U.S. 138, there's one cafe where a visitor could strike up a conversation with a retired farmer and learn more about the Colorado plains lifestyle than from any history book. Other points of historical interest lie along Colorado 55, south of town. Here plaques detail the site of an old stagecoach stop and the markings from the historic Overland Trail.
Crook is also a good spot for camping, fishing and hunting adventures, especially at nearby Jumbo Reservoir. Pheasant, quail and waterfowl hunting and viewing is popular along the South Platte River and the Duck Creek State Wildlife Area.