Divide
Perched atop 9,165-foot Ute Pass, residents in this serene community will tell you Divide is the middle of the known universe. Named for the point at which the waters of the South Platte and Arkansas rivers separate, Divide features rustic cabins, spacious ranches and beautiful mountain homes.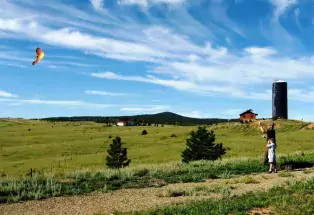 Divide sits 25 miles west of Colorado Springs and offers numerous recreation opportunities including Mueller State Park, a 5,000-acre natural area with fabulous views of the western side of Pikes Peak. The park also boasts 55 miles of scenic trails perfect for hiking, mountain biking and horseback riding, as well as cross-country skiing and snowshoeing in the winter and several options for camping.
While in the area, do not miss the more than 1,700 plant and insect species immortalized in rock at the Florissant Fossil Beds National Monument. Also nearby is the former mining town of Cripple Creek, now booming with visitors and residents testing their luck at the many casinos in town. Lodging in Divide is limited to campgrounds, a B&B and several cabin rentals, but additional rooms are available in nearby Woodland Park or Lake George.
Other Cities in the Region