Grand Junction
The largest city on Colorado's Western Slope and the heart of Colorado wine country, Grand Junction sprawls across the Grand Valley, perfectly situated for exploring the wonders of northwestern Colorado — and wonders certainly abound.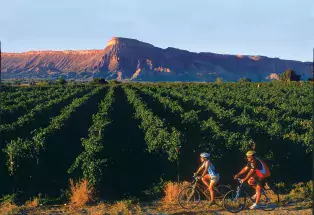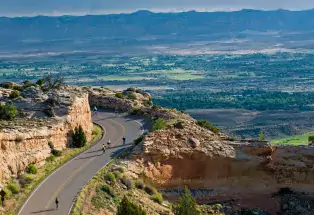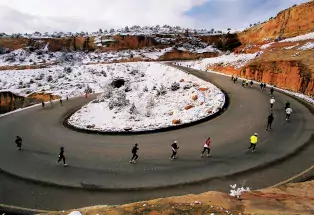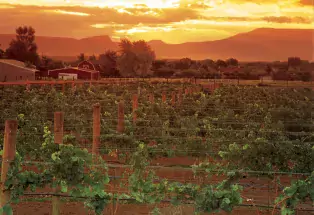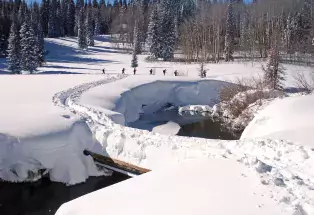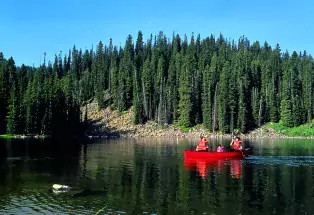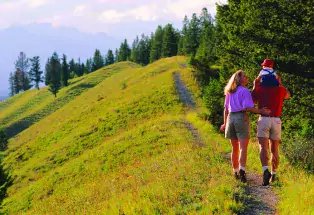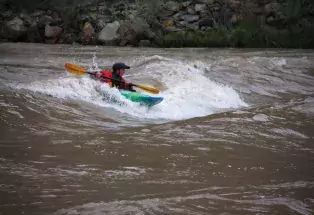 To the east is the Grand Mesa with lakes, forests, a scenic byway and terrific fall-color displays. To the west is the Colorado National Monument, a little Grand Canyon of red rock formations, steep drop-offs and high vantage points, including the 23-mile Rimrock Drive. To the south is the lush Western Slope agricultural oasis, fostering everything from wine grapes to peaches that feed more than 20 Grand Valley wineries and local farmers' markets, respectively. To the north are the Book Cliffs, sheer rippled walls of stone that descend from the mesa top to the valley floor. If you are fortunate, you can hike up the Book Cliffs and see a band of wild horses that roam freely.
The great Colorado River flows from the Rocky Mountains down through the city and into Utah. Here, you can take mild to wild river raft rides, with several areas on the river offering class-IV rapids. Nearby Rattlesnake Canyon is worth a trip to see spectacular red-sandstone arches.
Charming and booming with local businesses, the streets of downtown Grand Junction are filled with art galleries, clothing boutiques, antique shops and a variety of restaurants — many with delightful sidewalk dining. Main Street also features one of the nation's largest outdoor-sculpture collections, with more than 100 pieces of art lining the sidewalks. These are a few of the reasons the downtown area was recently named a Certified Colorado Creative District.
Because the city often has milder weather than the rest of Colorado, several fine local golf courses boast that you can play here all winter, including the Tiara Rado Golf Course, with its red cliffs towering beautifully above the links.
The mild winters played a large role in persuading those who would become the first permanent settlers to stay here in the 1880s. To learn about the city's beginnings, visit the Museum of Western Colorado, which includes a dinosaur museum (there have been several major digs locally).
Annual celebrations include the downtown farmers' market, held every Thursday evening during the summer, and Colorado Mountain Winefest, the state's largest wine festival, which takes place the third weekend of September.
Other Cities in the Region