Holly
Set on the grassland near the Kansas border, Holly was first established as a ranching center.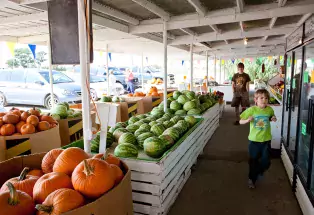 Hiram Holly, for whom the town is named, arrived in 1871 with 1,300 cattle, and his ranch was the first settlement in the area. After he sold the ranch to a private company, it grew in size to nearly 2.5 million acres.
Today, the ranching and farming life still holds sway; much of this town is built around the farm. Crops grown in the area include wheat, corn and sweet-tasting cantaloupe. Farmers and friends gather downtown to share stories and shop. Visitors will find gift shops, a handful of restaurants and a grocery store for stocking picnic baskets. 
On the south end of Main Street sits an 1874 barn that relates Holly's history through historic photos and relics. Other historical structures include an 1881 train depot and the city hall, which the local historical society turned into a museum. Hunting is a popular sport around Holly, but takes place mostly on private property. The closest recreation area is John Martin Reservoir State Park, about 50 miles away.
Other Cities in the Region