Kit Carson
Kit Carson is defined by its location — the wide-open prairie of eastern Colorado. This historic town takes its name from one of the frontier's most notable plainsman.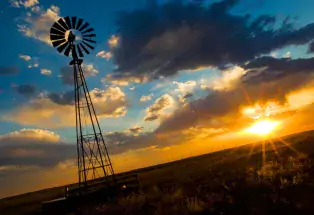 Known for trapping, scouting and fighting, Kit Carson — and the town named after him — represent the frontier spirit that was and is very much alive in the Wild West. Burned to the ground three times, this little-town-that-could is still known for its residents' hard work and determination.
Founded in 1838, and at one time the western terminus for the Union Pacific Railroad, Kit Carson's location has made it a commercial trade center. With wide tracts of prairie grassland and more than 400 active oil and gas wells, it's no surprise that farming, cattle ranching and the production of oil are the area's chief industries.
Downtown Kit Carson is quieter than in days gone by. The saloons are gone, and only a couple of cafes, hotels and a campground remain, but wandering the streets, one can almost hear spurs jingling and glasses clinking together. Step into the Kit Carson Museum, housed in an old Union Pacific Railroad depot. Artifacts dig into the heritage of the prairie and its pioneer era, as well as a railroad signal maintainer's house and caboose.