Las Animas
Las Animas once marked an important location on the historic Santa Fe Trail. Two significant hubs — Bent's Old Fort and Boggsville — once operated just miles from the present-day town. Today, visitors can explore these carefully preserved sites.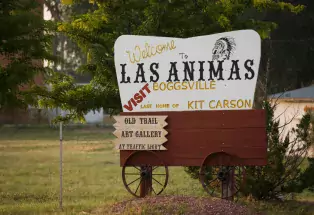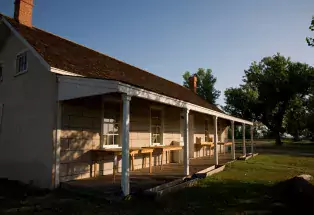 Bent's Old Fort National Historic Site, once a major trading and trapping center run by famed pioneers such as Kit Carson, now offers living history programs and tours of old structures. Boggsville Historic Site, located on the Purgatoire River just two miles south of present day Las Animas, was a settlement founded on a branch of the Santa Fe Trail. For a decade, corresponding with the arrival of three railroad lines, it was the regional center of agriculture, government, commerce and culture. In late 1867 Kit Carson moved to Boggsville, his last home before his death in 1868 at nearby Fort Lyon.
Downtown Las Animas attractions include William F. Howland Park, complete with picnic areas, skateboard area and swimming pool and slide. There are also several restaurants and cafes, including a couple of excellent traditional-style Mexican eateries. Outside town, the Bent County Golf Course is a popular public nine-hole course, and for camping and water sports, John Martin Reservoir State Park is an ideal location. Below the John Martin Dam is Lake Hasty, a quiet shady spot that's perfect for viewing wildlife.
Other Cities in the Region