Marble
It's been said that Marble is as close to heaven as one can get without "checking in."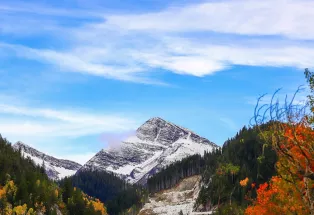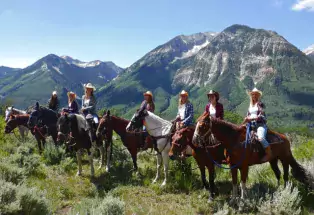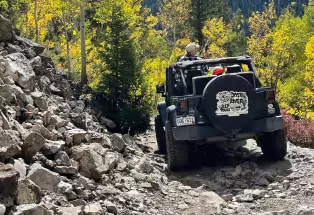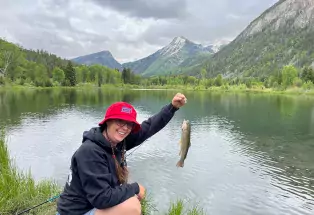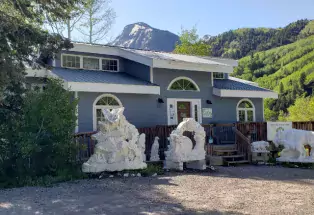 Northern Utes — First People here from centuries back, believe they spoke to their creator at the top of these mountains. Today's villagers and visitors who come to commune with nature would agree. 
The tiny hamlet of Marble is situated in a dead-end canyon in the Elk Mountain Range off West Elk Loop scenic byway (C.O. 133). Drive up County Road 3 beneath majestic throne-like Chair Mountain towards breathtaking views of iconic White House and Treasure Mountains at the other end. One gets the sense that they are entering a sacred natural cathedral. (Breathtaking might also be because of its 7,950-foot elevation. Drink plenty of water when new to higher elevations.) 
The road is dotted with residential enclaves all the way into Marble. Bogan Flats is a United States Forest Service campground and separate group site open during summer season. Campsites are nestled amongst tall ponderosas and willows along the Crystal River. 
A drive during summer continues by a dandelion-carpeted meadow where horses chase each other across the vale. A few miles later, the curvy two-lane road brings one up into the small town. 
Every July, stone carvers from all over the world come to spend a month camped by the Crystal River turning pure white blocks into sculptures, many for commissioned public and private entities. MARBLE/marble Symposium welcomes visitors to tour their grounds.
Further up the road a right turn at the stop sign leads to the historical Marble Mill Site Park (on the National Register of Historic Places). Parking and Mill Site information are available at the entrance. An easy, mostly level walking trail with markers explain historic evidence of a once thriving mining operation and local flora and fauna. Enjoy a picnic on widely spaced marble tables and benches tucked between evergreens and wild roses. Children can run and play amongst the marble ruins while adults cast for trout in the Crystal River, play disc golf and enjoy the peace and quiet of magnificent scenery. Hikers will find more challenging upper trails to explore from this base. 
Driving further on Country Road 3/Park Street past a small campground leads to the multi-denominational white-steepled historical Marble Community Church (on the National Register of Historic Places). Catch a Sunday service there some time. 
Around the next curve is the wildly popular Slow Groovin' BBQ where food and drink are top-notch, with mesmerizing views from its outdoor seating. 
Across Main Street is The Marble Hub visitor center in the Marble City State Bank building, which is on the National Register of Historic Places. It is home to locally roasted pour-over coffee, snacks and drinks — and the only public Wi-Fi. The Hub has an assortment of trail maps, local authors' books, Marble-centric gifts. It has area information on local galleries, businesses and activities. 
After crossing Carbonate Creek bridge, a right turn at the next stop sign leads to Beaver Lake State Wildlife Area. The lake, wetlands and hillsides surrounding Marble are home to a myriad of bird species including redwing black birds and bald eagles. Our four-legged neighbors are elk, moose, bear, raccoons and water creatures like beavers and crayfish. 
The lake is stocked with trout by Colorado Parks and Wildlife (CPW) and is a year-round fishing spot. Note: Everyone 18 and older on the lake, including watercraft users, must have a valid license which can be purchased through CPW authorized sales agents, by phone (1-800-244-5613) or online at CPWShop.
To learn more about the town's rich history, Marble Museum in the historical Marble High School on W. Main Street is open during summer. Marble boasts eight sites on the National Register of Historic Places within the town.
Marble. Unplugged. Uncomplicated. It's Just Our Nature.  
For the safety of residents and visitors alike, public parking is limited in Marble and Beaver Lake up to Daniels Hill. Public parking areas are posted. Trailer parking is limited to designated areas. Please plan accordingly. Be respectful of residential private property. Improperly parked vehicles will be towed. 
Text: Charlotte Graham
Photos: Russell Fiske, Cyndi Fowler, Connie Hendrix, Amber McMahill, Larry Meredith, Jill Ulrych, Monique Villalobos, Peggoty Stovall
Read 2 Days in the Roaring Fork Valley for an itinerary of things to do in the area.
Other Cities in the Region