Mesa Verde National Park
Mesa Verde National Park is America's premier archaeological wonder. Fourteen centuries of history are displayed there. Established by congress in 1906, Mesa Verde is the first national park set aside to preserve the works of humankind. Mesa Verde is a World Heritage Site, a designation granted by UNESCO to preserve and protect the cultural and national heritage of certain international sites. 9 Amazing Experiences in Mesa Verde.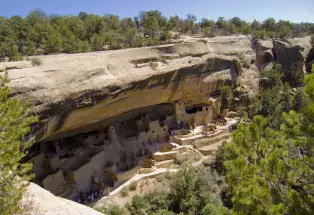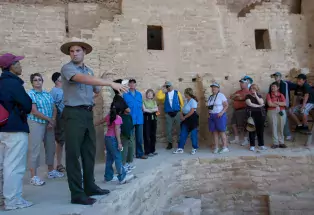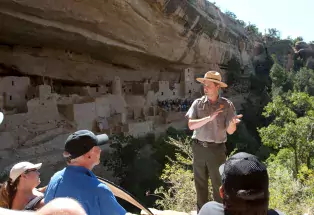 Mesa Verde has also been selected the No. 1 historic monument in the world by readers of Condé Nast Traveler, and was chosen by National Geographic Traveler as one of the 50 Places of a Lifetime — The World's Greatest Destinations.
Mesa Verde offers an excellent opportunity to see and experience the life of the Ancestral Puebloan people. Spectacular cliff dwellings and mesa-top villages were built between A.D. 450 and 1300, when people migrated to the area. The park is split into a series of sub-mesas all bearing different names. There are thousands of archaeological sites across the park as well as excellent interpretive loops and scenic pullouts.
The most famous sites for visitors are the cliff dwellings. Ticketed ranger-guided tours are available to Cliff Palace, Balcony House and Long House on a seasonal schedule. It is best to check at the park entrance or at the visitor center for availability. Spruce Tree House is open year-round and may be visited without a ticket. *Note: Spruce Tree House is closed for an indefinite period due to rock-fall concerns, but visitors can still view the dwelling from an overlook. Visit the National Park Service website for more information and updates.
Other sites located within the park are also available for individual exploration. Due to the fragile nature of the archaeological sites in the park, hiking is limited. However, there are several excellent hikes available, including one to a fascinating petroglyph panel. Interpretative tours are also offered in the park with concessionaire guides.
In 2021, Mesa Verde was certified as the world's 100th International Dark Sky Park, so you're guaranteed to get gorgeous views of the heavens in this sacred place. In summer, keep an eye out for ranger-led stargazing programs. 
Seasonal lodging is available in the park and year-round lodging is conveniently located in the surrounding communities of Cortez, Dolores and Mancos.
Other Cities in the Region