Springfield
The eastern Colorado town of Springfield is the northern gateway community to the Comanche National Grassland. A visitors center located in town will provide details on this historic area, which today encompasses more than 435,000 acres in three counties.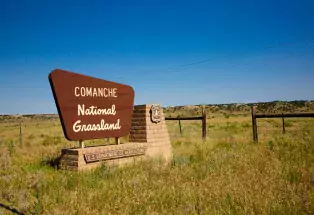 At first the grasslands were home to the Comanche tribe for about 50 years ending in 1805. In the late 1800s, cattle ranching and homesteading by settlers occupied the land until drought and too much farming on marginal lands created the Dust Bowl in the 1930s.
Now protected from overuse by the National Forest Service, the grassland is used for recreation and wildlife habitats in addition to some livestock and mineral interests. Hiking, biking and camping are all available here, as are opportunities for picnicking and wildlife viewing (including 275 different bird species).
Don't miss limestone markers on the Santa Fe Historic Trail (along U.S. 160) in the grasslands. Other interesting stops include Vogel, Picture and Carrizo canyons. At Picture Canyon, there is ancient rock art preserved on sandstone walls. Springfield's Fall Equinox fest even includes sunrise tours to see the rock art at the remote Crack Cave.
In town, visitors can cover all their traveling needs. Convenience stores, four restaurants, four motels, a movie theater with digital projection, outdoor pool and large park with covered picnic areas. Additional entertainment can be found among the nine holes at the Springfield Golf Course. 
Other Cities in the Region