Sugar City
Southeast Colorado's Sugar City was aptly named for its former sugar-beet factory. At one time the factory town on the Missouri Pacific Railroad housed saloons, a newspaper, a hotel and other businesses and boasted a population of 1,500.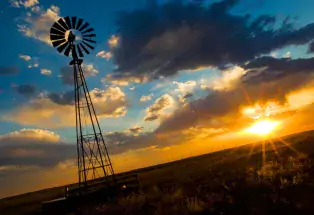 Although the National Sugar Beet Company closed its factory in 1967, the town remains true to its hardworking agricultural roots, even in modern times. In town, you'll find a charming cafe whose tables often welcome hungry motorcyclists and bikepackers hopping off the Colorado portion of the 4,218-mile TransAmerica Trail.
The lands around Sugar City were once called some of the finest and most productive irrigated land in the West. To learn more about the history of Crowley County, head west to the Heritage Center and Museum in Crowley. For years residents collected historical items from around the county, and the museum is a shining example of their passion for preserving the past.
The well-irrigated land around Sugar City owes its healthy harvests to Lake Meredith, above which the town is perched. The beautiful lake breaks the raw prairie landscape with its five-by-two-mile shoreline and offers fishing, unstructured camping and birdwatching. To the north of Sugar City is Lake Henry, a smaller watering hole fit for similar recreational pursuits.
For a scenic and historic road trip, drive south to connect with the Santa Fe Trail — a 188-mile National Scenic Byway peppered with forts, ranches, farm stands laden with fresh produce and more.
Other Cities in the Region