Weston
Near the southern border of the state on scenic Colorado 12 is the sleepy village of Weston. Once considered a rough and rowdy town in the late 1800s, Weston boasted five saloons, general stores and a jail that was apparently, well, crowded. Local legends also include famed lumber disputes and bank robberies.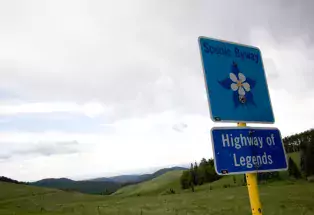 Today Weston is a much tamer place. One interesting way to visit the village is on a driving tour. The town is just one historic stop along the 82-mile Highway of Legends Scenic and Historic Byway between Walsenburg and Trinidad. Tales litter this route once traveled by American Indians, Spanish explorers and Hispanic and Anglo settlers. The remote byway also features views of the Sangre de Cristo Mountains and the Spanish Peaks in addition to inspiring geologic formations like Dakota Wall and Devil's Stairstep.
The town of Weston offers few amenities for the traveler, but its surrounding natural areas provide some areas for hiking and hunting. Recreational outlets are also available along the county road through Wet and Jarosa canyons, which eventually winds back to I-25. On the opposite side of town is the Bosque del Oso State Wildlife Area. At the gateway to 30,000 acres of elk habitat, visitors will find camping spots, hunting grounds and access to fishing along the Purgatoire River. Guests are advised to check with the local ranger first, as many parts of the wildlife area are regularly closed to the public in effort to protect the wildlife.
Other Cities in the Region