Yuma
This small agriculture and ranching community close to the Kansas border in northeast Colorado grows more corn than any other county in the state.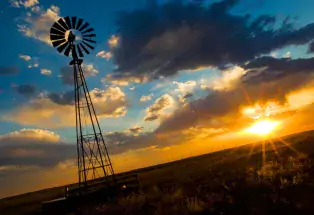 Each September, Yuma celebrates its farming history during Old Threshers Day. The folks who continue the Yuma farming tradition here demonstrate farming techniques, such as wheat threshing and corn husking.
The Yuma Historical Society Museum, open on weekends only, is located at Yuma Lake. Two buildings, including a two-room schoolhouse, display a range of artifacts, from farm tools to a of plaque early settlers' names. A windmill and railroad cabooses are open for inspection outside the museum.