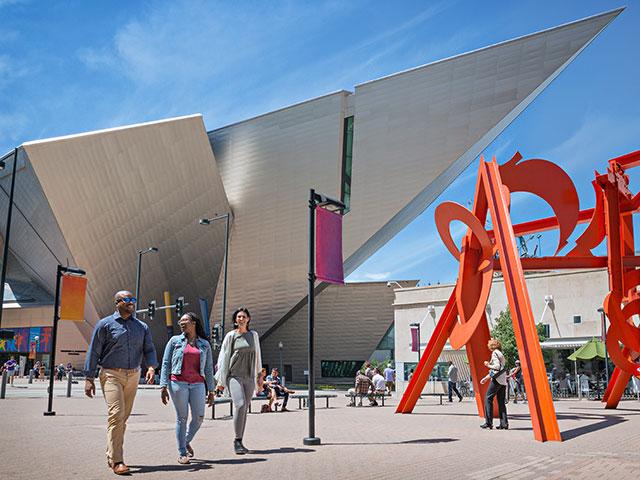 3 Days in Denver's Golden Triangle Creative District
Take a family outing to the city's cultural hub where you'll find world-class attractions like Denver Art Museum and the Clyfford Still Museum, plus smaller galleries, fine-art studios, specialty stores, restaurants, coffeehouses and bistros. It's a great place to explore on foot.
Sustainability Activity
Volunteers for Outdoor Colorado
Breakfast
Leven Deli
Leven is a modern take on traditional favorites, with roots stemming from all types of American Deli including Jewish, Italian, and Mediterranean.
Activity
Molly Brown House Museum
The Molly Brown House Museum is the premier place to explore Denver's history. Self-explore on your own, or interact with knowledgeable docents…
Lunch
Civic Center EATS
Please every palate at Civic Center EATS, Denver's largest food-truck gathering in Civic Center Park. Live music, fresh air and delectable dinners make for the perfect lunch under bluebird skies. (Tuesdays–Thursdays in summer)
Activity
Center for Colorado Women's History at Byers-Evans House
The Center for Colorado Women's History focuses on scholarship, research, lectures, tours and exhibits that expand the understanding and collective memory of the history of women in Colorado.
Dinner
100% de Agave -- Mexican Grill & Cantina
Contemporary Mexican dishes and refined tequila drinks served in a vibrant, trendy space with a bar featuring more than 100 different tequila…
Activity
Colorado State Capitol 13th Step
Snap a pic on famous step 13 at the Colorado Capitol building. You'll be saying "cheese" at exactly 1-mile high.
Lodging
the ART, a hotel
The ART, a hotel in Denver, CO, is an award-winning boutique property offering guests a unique experience unlike anyone else.