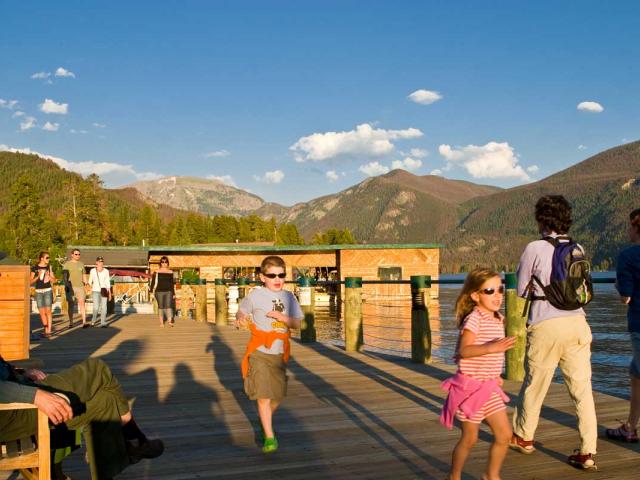 Deep lakes, thick forests and friendly attitudes define this expansive, mountainous county. Hot springs, outdoor adventure and Rocky Mountain National Park are just the tip of the must-do list.
Sustainability Activity
How to Give Back to These Special Places
Breakfast
Carvers Winter Park
We specialize in creating a breakfast and lunch experience that will be unforgettable. We try and use only the freshest, locally-grown products…
Activity
Grand Adventure Balloon Tours
Rise with the hot air year-round in the Rocky Mountains! Colorado's Premier Mountain Balloon Ride is the closest to Denver, Boulder, Fort…
Insider's Tip
Drive Down to Granby
Drive about 20 minutes south to the town of Granby for lunch.
Lunch
Maverick's Grille
Maverick's Grille specializes in Colorado family dining where customers can enjoy a delicious selection of steaks, chicken, burgers ...
Activity
Snow Mountain Ranch Ziplining
Coast through the air on one of the ziplines that criss-cross the sky.
Dinner
Granby Garage Roadhouse
We are OPEN We offer delicious steaks, burgers, wings, brews, and of course, great times! Our friendly staff is excited to meet our new Granby…
Insider's Tip
Drive to Hot Sulphur Springs
Hop on Highway 40 for 20 minutes to this spring-filled town.
Activity
Hot Sulphur Springs Resort and Spa
35,000 feet below the surface of the earth, the heat of volcanic rock is released through countless fissures that spread out through the earth's…
Lodging
Canyon Motel
AAA, free WiFi, TV, cable, kitchenettes and right by Hot Springs
Insider's Tip
Drive to Grand Lake
Head about 20 minutes north for breakfast.
Breakfast
The HUB Coffee and Cones
The HUB is the local's hangout! We proudly serve Coda Coffee and their Farm To Cup program. Espresso drinks, pastries, gluten free products, local…
Activity
Rocky Mountain SUP
Convenient Paddle Board Rentals and Exciting Water Sports in Grand Lake, CO
Lunch
Huntington House Tavern
Bring your appetite to our full-service restaurant! We offer chef-inspired dishes for the whole family throughout the day.
Insider's Tip
Explore Rocky Mountain National Park's Secret Side
At 265,000 acres in size, the park also harbors thousands of quiet, off-the-beaten path places that most visitors don't know about. In fact, the western side of the park in Grand County is noticeably quieter than the more frequently visited eastern side.
Activity
Rocky Mountain National Park
A living showcase of the grandeur of the Rocky Mountains. Elevations ranging from 8,000 feet in the wet, grassy valleys to 14,259 feet at the weather…
Insider's Tip
Drive to Dinner
Leave the national park and head toward Kremmling — but you're stopping in Parshall for dinner.
Dinner
The Parshall Inn
We are the last honky tonk on the edge of forever. Come by and enjoy the best burgers in town, and relax with a cold beer from our new draft system!
Activity
Grand Adventure Brewing Company
Situated in the heart of Colorado, at the crossroads of U.S. 40 and Highway 6, Grand Adventure Brewing Company is the new, go-to stop for all types…
Lodging
Allington Inn & Suites of Kremmling
Centrally located. Spectacular views of the Kremmling Cliffs. Indoor Pool/Hot Tub, Free Breakfast, Fitness Rm, Business Ctr, Conference Rm, WIFI,…