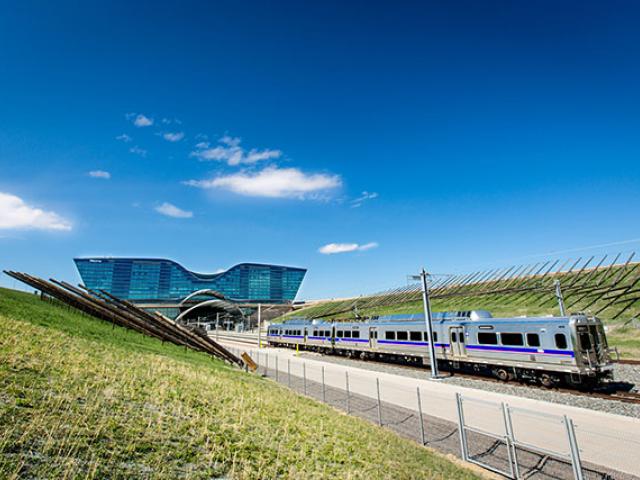 Colo-Road Trippin' Without a Car
Low emissions. High equity. Zero worry. Ditch the wheels but not the adventure. Travel through Colorado's cityscapes and mountains, while supporting local communities and minimizing your carbon footprint. Header Image: VISIT DENVER/Denver International Airport
Sustainability Activity
Volunteer with Groundwork Denver
Groundwork's mission is to bring about sustained improvement of the physical environment and promote health and well-being through community-based partnerships and action.
Sustainability Activity
Ride a Train
Ride the A Line RTD train from Denver International Airport toward downtown and get off at the 38th and Blake Street Station — right in the heart of RiNo, one of Denver's creative hubs. 
Breakfast
Just BE Kitchen
Just BE Kitchen is a gluten, grain and refined sugar free fast casual restaurant in downtown Denver. At Just BE Kitchen, our mission is to "Serve…
Sustainability Activity
Take the Bustang
Ride the RTD A Line one stop westbound to Denver's Union Station where you'll catch the Bustang to Estes Park. The route is set to begin right before Memorial Day.
Insider's Tip
Stay Off The Beaten Path
Roosevelt National Forest offers spectacular sights of Rocky Mountain National Park! So, soak up all the views and lighten your impact by taking the road less traveled.
Sustainability Activity
Make Your Way Back to Denver
Take the Bustang back to Denver, then take the free mall ride from Union Station to Civic Station. 
Lodging
Do Overnight at the Queen Ann Inn
Each room is decorated by a local artist, and no eco-detail is spared. From its recycling and composting program to the sustainable green tea insulation foam used in your mattress, this bed-and-breakfast provides everything for a comfortable, sustainable stay.
Breakfast
Brunch at Root Down
When you eat at Root Down, you very well may be eating something grown in their own backyard — literally. The restaurant's commitment to sustainability is built right into its foundation, with the building entirely constructed from upcycled and recycled materials and energy sourced by wind technologies powered by Excel.
Sustainability Activity
Rent a Car
Ride the waves of the future and rent an electric vehicle through the Turo app!

Lunch
Consume an Ethical Lunch
Part of the Good Food 100 list, Next Door creates approachable yet sustainable dishes, which are all locally sourced. The restaurant takes its commitment to food even further by donating to its sister nonprofit, Big Green. The goal? Build a healthier future for kids by connecting them to real food through a nationwide network of learning gardens and food literacy programs.
Activity
Check Out a Speakeasy
Behind a bookshelf is where you'll find Williams & Graham, a speakeasy known for its craft cocktails, small bites and ambiance. Here, even the desserts are made out of seasonal and local ingredients, so rest easy knowing your sweets are also sustainable.
Dinner
Treat Yourself at Duo
Duo Restaurant is a concept that strongly believes that it is only as strong as its community. That's why they invest in more than 90 nonprofit organizations each year — in addition to serving up some of the best contemporary and locally sourced food in the city. The restaurant also is committed to livable wages for its staff and charges a small fee to make compensation more equitable.
Sustainability Activity
Carpool to Red Rocks
Activity
Rock Out
Catch a show at Red Rocks Amphitheatre, the world's only naturally occurring and acoustically perfect venue. It also supports the City and County of Denver's 2020 sustainability goals. Red Rocks has started composting and recycling initiatives, in addition to optimizing its energy and water usage as efficient technology becomes available.
Lodging
Lay Your Head Down
Stay at Kimpton Hotel Born; a LEED Silver-certified property. It's also conveniently connected to Denver's Union Station, so you're able to easily hop back on the RTD rail and get to the airport — or enjoy the area's 91-point Walk Score.