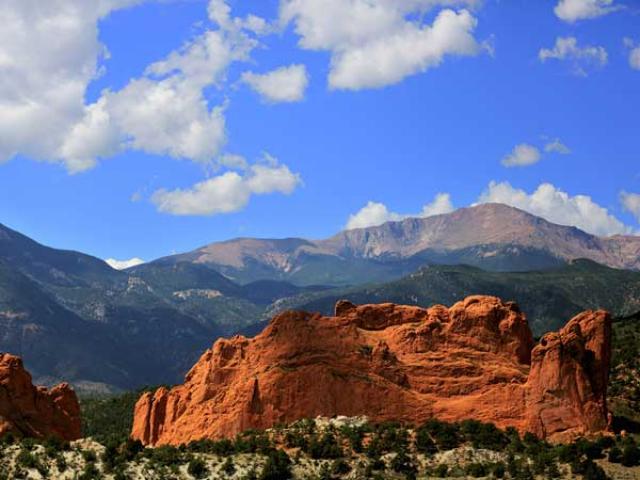 Colorado Springs' Year-Round Outdoor Adventure
Colorado Springs is the state's second-largest city, but it's first in the hearts of many visitors as a place of astonishing beauty with natural attractions, historic and geologic marvels in all directions. Spend a few days exploring the city and the communities that surround it, including Manitou Springs, Cripple Creek, Cascade, Florissant and Woodland Park.
Sustainability Activity
How to Give Back to These Special Places
Insider's Tip
Looking for Romance?
Paravicini's has a more intimate, upstairs tapas bar called Sopra.
Activity
Manitou Cliff Dwellings
Explore architecture representing the Ancestral Puebloan culture (1100-1300 AD). Museum displaying artifacts. Retail store with Native American…
Lodging
Buffalo Lodge Bicycle Resort
Best place to stay for cyclist & outdoor enthusiast.  100 year old lodge with bicycle themed rooms, walking distance to Garden of the Gods.  4…
Breakfast
The Principal's Office
We simply love beverages, people, and the process of crafting phenomenal libations. Our goal is that each drink is presented in an environment…
Activity
The Broadmoor Seven Falls
Seven Falls, where authentic Colorado awaits. Envelope yourself in a geological wonder of seven distinct falls cascading down between steep canyon…
Insider's Tip
Don't Stop at the Top
There are a few different hikes at the top of Seven Falls. Take one to keep exploring the area.
Lunch
Restaurant 1858
Restaurant 1858 is a unique Broadmoor dining venue situated at the banks of Seven Falls. Taking its name from the Gold Rush era and the famous motto,…
Activity
Cheyenne Mountain Zoo
Colorado Springs is home to America's mountain zoo. Located at 6,800 feet above sea level, Cheyenne Mountain Zoo offers breathtaking views of the…
Insider's Tip
Get to Know the Wildlife
Hand-feed giraffes, elephants and even a rhino at the zoo for an added fee.
Activity
Cheyenne Cañon Segways
While touring on a Segway X2, you see historic buildings, kinetic outdoor art, and the incredible scenic beauty of Cheyenne Cañon (even going off…
Lodging
The Mining Exchange, A Wyndham Grand Hotel & Spa
The Mining Exchange, a Wyndham Grand Hotel & Spa is a boutique 4 Diamond hotel & spa located in downtown Colorado Springs; within walking distance…
Insider's Tip
Live History
Keep an eye out for the intact vaults inside The Mining Exchange, which was built in 1902 as a stock exchange for local mining companies.