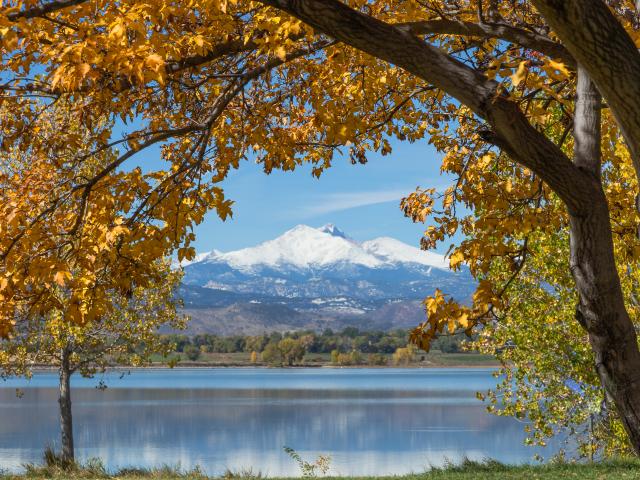 Fall in Love With Longmont
Sample all the flavors Longmont has to offer — from goat cheese to craft beer, fine dining, U-pick apples, farmers' market finds and casual eats, as well as a taste of adventure and history while you're at it.
Sustainability Activity
Travel Like a Local
There are special places and unique vistas around nearly every Colorado corner. You can help ensure these places exist for generations to come by staying on roads and trails, keeping speeds in check, leaving campsites and picnic spots just as you found them, and following instructional signs while you're out and about in our state.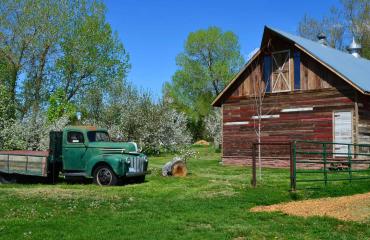 Activity
Ya Ya Farm & Orchard
Part of a historic century-old farm specializing in heirloom apples, YA YA Farm & Orchard is a U-pick-it apple orchard located in Longmont. We…
Insider's Tip
Farm Fun
You can visit the farm stand, which has apples, apple-cider donuts, apple pies and more. There are also farm animals, including Percheron draft horses, chickens, turkeys and peacocks. Take a tractor-drawn hayride or self-guided tour and breathe in the crisp fall air. There is also a U-pick section for apples, cherries, pumpkins, veggies and flowers. Reservations are required for fruit picking only.
Lunch
Post Chicken & Beer Longmont
Seen on Diners, Drive-Ins and Dives, this supreme casual restaurant in Longmont has crazy-good fried chicken, award winning Colorado craft beers,…
Activity
The Art of Cheese
Longmont is home to the Art of Cheese, an artisan cheesemaking school that is perfect for visitors, aspiring home cheese-makers, or people who…
Insider's Tip
Cheesy Tour
If you would like to learn more about how cheese is made from farm to table, make sure to take their three-hour experience. It starts by spending an hour with the friendly Nubian and Nigerian Dwarf dairy goat herd. You will learn all about the goats and you'll get to actually milk one of the does.
Dinner
Mike O'Shays Restaurant and Ale House
We have been a staple of Longmont and Boulder County for more than 30 years and strive to provide the community with excellent food and drinks and…
Activity
Downtown Longmont Creative District
Mixing historic charm and character with modern style and convenience, downtown Longmont is filled with inspiring architecture, interactive retail…
Insider's Tip
Art Spottin'
See how many art installations you can spot throughout the Downtown Longmont Creative District and around the city. These works are part of Longmont's Art in Public Places program, which boasts over 100 permanent and temporary art installations.
Lodging
Fairfield Inn & Suites Boulder Longmont
Our comfortable, well-appointed hotel is located minutes from shopping and dining at Village at the Peaks. Relax and recharge, knowing that we have…
Breakfast
Lucile's Creole Cafe- Longmont
Exploring Creole cooking from around the world. Lucile's has been providing Colorado with the best breakfast we can find since 1980. As a family…
Insider's Tip
Head East
Drive about an hour east of town to visit Keenesburg's Wild Animal Sanctuary, where rescued animals live in large open habitats on 789 acres.
Activity
The Wild Animal Sanctuary
30 miles northeast of Denver. See more than 500 lions, tigers, bears, leopards, cougars, wolves and other carnivores rescued from illegal or…
Insider's Tip
Drive Back to Longmont
After touring the Sanctuary, head back to Longmont for a late lunch.
Lunch
Gurkhas Restaurant
A family-owned and operated restaurant serving authentic Nepalese and traditional Indian cuisine.
Activity
Longmont Museum
Permanent exhibitions explore the history of Longmont and the St. Vrain Valley. Special exhibitions may be hands-on children-oriented exhibitions,…
Insider's Tip
Day of the Dead Celebration
If you're visiting in late October or early November, the Longmont Museum & Cultural Center hosts the largest Día de los Muertos or Day of the Dead celebration in Colorado, attracting more than 6,000 people. The event's date varies annually, so check their calendar for details.
Dinner
Jefes Tacos & Tequila
Jefe's Tacos & Tequila combines the authentic with the modern, both in food and drink.
Lodging
Fairfield Inn & Suites Boulder Longmont
Our comfortable, well-appointed hotel is located minutes from shopping and dining at Village at the Peaks. Relax and recharge, knowing that we have…
Breakfast
Ziggi's Coffee
Enjoying an exceptional cup of coffee goes beyond taking the first sip. For us, the experience not only starts with choosing to use quality, hand…
Insider's Tip
Admire the Architecture
While you savor a coffee and a pastry at Ziggi's, check out your surroundings. The 1904 building was the old Longmont National Bank and is now a historic landmark.
Activity
Longmont Farmers Market
The Longmont Farmers' Market season runs every Saturday beginning the first Saturday in April through the first Saturday in November, 8 a.m to 1 p.m.
Lunch
Cheese Importers
Cheese Importers is a Colorado family-owned business founded in 1976. We offer natural, organic and imported cheeses, cured meats, specialty oils,…
Insider's Tip
Behind-the-Scenes Fun at Cheese Importers
Put on a special coat and head into the largest walk-in cheese cooler in Colorado to browse cheese, charcuteries and more from all over the world. Pick something tasty off their cheese-inspired menu; and after lunch, shop at the French-inspired market.
Activity
Rocky Mountain Pumpkin Ranch
At the Rocky Mountain Pumpkin Ranch and Full Circle Farms, we grow over 100 different varieties of vegetables and pumpkins, all USDA Certified…
Insider's Tip
Fall Fest
Throughout the month of October (Saturdays and Sundays), the Rocky Mountain Pumpkin Ranch hosts their Fall Festival, which features tons of carnival fun and a pick-your-own-pumpkin patch.
Dinner
Sugarbeet
Sugarbeet is a wonderful spot for a romantic dinner for two or for meeting friends and business associates.  Join us for dinner and drinks and…
Activity
Longmont Climbing Collective
Longmont's only indoor bouldering gym. Also offering fitness equipment, yoga and training in a 15,000-square-foot climbing facility.
Lodging
Fairfield Inn & Suites Boulder Longmont
Our comfortable, well-appointed hotel is located minutes from shopping and dining at Village at the Peaks. Relax and recharge, knowing that we have…
Breakfast
Love's GF Bakery
We're your premier gluten-free bakery and cafe, and a proud member of the Colorado community. Yes, everything is gluten-free and delicious! We would…
Activity
Explore the Town of Lyons
Take a drive west of Longmont to Lyons to enjoy the views and changing fall colors. Browse their Main Street's shops and restaurants and take in the scenery. Check out the original location of Oskar Blues Brewery at the Oskar Blues Grill & Brew, and kids of all ages will enjoy the Lyons Classic Pinball and Video with over 70 classic pinball machines and arcade games. Then, take a hike at Buttonrock Preserve or Rabbit Mountain to enjoy the autumn foliage and river views.
Insider's Tip
Drive Back to Longmont
Cruise back to Longmont for a late lunch.
Lunch
Rosalee's Pizzeria
Rosalee's Pizzeria is an Old World East Coast-style neighborhood pizzeria.
Activity
Crazy Brew Craft Pass
Go on a brewery tour of one of Longmont's epic craft beer creators.
Insider's Tip
Homemade Goodness
Order a pie and a beer at Rosalee's and snag a seat on the patio to people watch downtown. Their cheese is shredded and grated by hand, they make their sauce from the highest quality tomatoes and the fresh ground pork sausage is a treat you won't want to miss!
Dinner
Caprese Trattoria
The traditional Italian menu features Chef Monnanni's signature house-made mozzarellas, as well as a variety of traditional Italian antipasti and…
Activity
Take an Evening Stroll Around McIntosh Lake
Take in some of the best views of Longs Peak, the 14,259-foot Colorado fourteener and Longmont's namesake peak, on the 3.5-mile loop.
Lodging
Fairfield Inn & Suites Boulder Longmont
Our comfortable, well-appointed hotel is located minutes from shopping and dining at Village at the Peaks. Relax and recharge, knowing that we have…