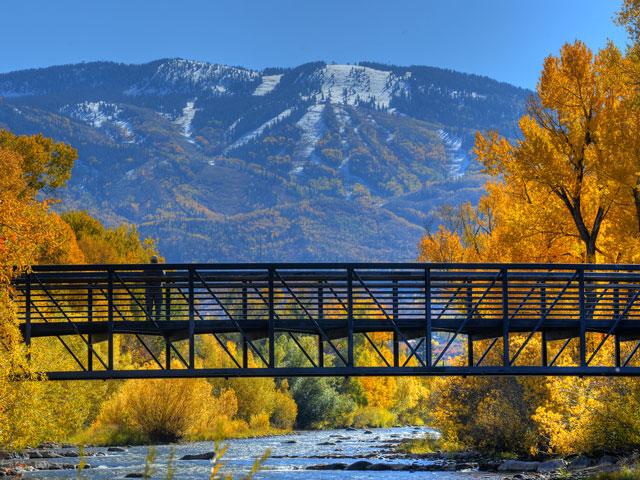 Flashes of Gold in Steamboat Springs
The days are warm, the nights are cool and the adventure is endless. Come experience the fall side of Steamboat Springs. From soaking in hot springs to leaf-peeping from the trail, here's what you need to know to make the most of your autumn escape to Steamboat Springs.
Sustainability Activity
Help Save Trails
Help take care of our trails by checking out the trail meters — dubbed "donation stations" — at many of our trailheads! These donations go to the Trail Maintenance Endowment Fund, which preserves trails for future generations.
Breakfast
Creekside Cafe & Grill
Everything at the Creekside Café that we serve to you is the highest of quality. All of the fruits and vegetables are cut by hand. Our salad…
Activity
Hike the Morning Away
Bask in the beauty of the changing aspen trees as you meander along the Hot Springs Creek. Place your feet in the cool creek for breaks along the way as you travel higher to reach Strawberry Park Hot Springs.

Map the Trail
Insider's Tip
Take Your Lunch To-Go
Stop at Yampa Sandwich in the morning before your hike and order your mouthwatering sandwiches to-go, so you can eat on the trail like a local. Remember to pack out all your trash!
Lunch
Yampa Sandwich Co.
Yampa Sandwich Company serves crave-able, good-for-you breakfast and lunch sandwiches and salads. The menu offers more than 20 sandwiches, a…
Activity
Strawberry Park Hot Springs
Imagine relaxing in 104 degree mineral water while Steamboat's famous Champagne Powder® gently collects in the surrounding forest. Enjoy a massage…
Insider's Tip
Reservation Required & Shuttle Service
To make for the best guest experience and limit crowds, Strawberry Park Hot Springs requires reservations in advance. Tired after the hike or soaking? Book a shuttle on their website for a ride back to town.
Dinner
Aurum Steamboat
Enjoy seasonal new American fare and craft cocktails in a chic riverfront space.
Activity
Yampa River Botanic Park
The Yampa River Botanic Park is an innovative, perhaps unique, experiment in private/public development and maintenance of a public botanical gardens…
Lodging
Camp on Buffalo Pass
For an alternative lodging choice, opt to camp on Buffalo Pass. You can see spectacular views and access some of the best trails Steamboat has to offer.