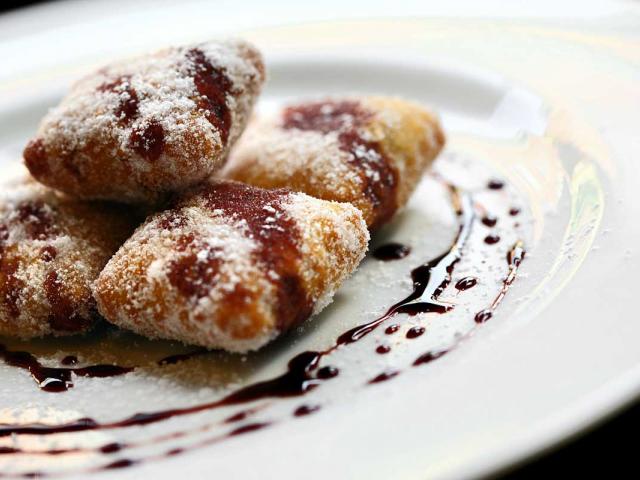 Follow Top Chef Season 15: Inspired by Food & Wine Magazine
Rich in homegrown ingredients, nationally recognized chefs and a thriving maker culture, it's no wonder Bravo set its 15th season of "Top Chef" in breathtaking (and delicious) destinations in Colorado. Experience the highlights for yourself on this flavor-packed tour of the celebrated culinary scenes in Denver, Boulder, Aspen and Telluride. Start your journey in the Mile High City.
Sustainability Activity
Travel Like a Local
There are special places and unique vistas around nearly every Colorado corner. You can help ensure these places exist for generations to come by staying on roads and trails, keeping speeds in check, leaving campsites and picnic spots just as you found them, and following instructional signs while you're out and about in our state.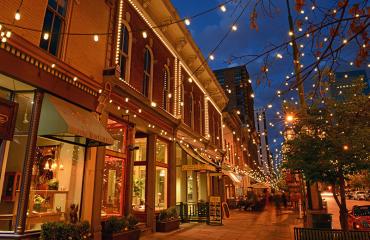 Activity
Larimer Square
Victorian buildings house specialty boutiques, unique-concept dining and one-of-a-kind shops in the heart of Denver.
Lunch
Rioja
Cuisine featuring a menu inspired by Mediterranean ingredients and influenced by local and seasonal products. Chef/owner Jennifer Jasinski, winner…
Activity
Rhein Haus Denver
Rhein Haus brings authentic German food and beer to downtown Denver. Try some traditional meals like Schnitzel and Spatzel with a pretzel on the…
Insider's Tip
Enjoy a Slice of Bavaria
Choose a European brew from the extensive beer list at Rhein Haus, where Keegan Gerhard (chef and owner of Denver's D Bar Restaurant) brought the cheftestants to taste authentic German eats, and play bocce at one of the five indoor courts.
Dinner
Bar Dough
Bar Dough is an Italian kitchen that has an elevated take on traditional cuisine in a cozy neighborhood setting.
Activity
The Denver Central Market
Denver Central Market brings a gourmet food emporium and community meeting place to the heart of Colorado's capital city.
Insider's Tip
Sip & Savor
Pick up some mouthwatering, house-made confections at Temper Chocolates and belly up to the bar at Curio for a cocktail (we like the Fancypants, a blend of vodka, lime, bubbles and popping pearls).
Lodging
The Maven Hotel at Dairy Block
Discover handcrafted hospitality at the boldest new independent hotel in Downtown Denver's LoDo district. Make your move to The Maven Hotel at Dairy…
Insider's Tip
Stroll Through History
Opt for a self-guided tour of the Governor's Residence at Boettcher Mansion, where former Colorado Governor John Hickenlooker and his wife, Robin, hosted a challenge. 
Dinner
Tag Restaurant
TAG represents a culmination of Chef Troy Guard's travel experiences from Singapore…
Activity
54Thirty Rooftop Bar at Le Méridien
54thirty is Denver's highest open-air, seasonal rooftop bar at Le Méridien Denver Downtown with a focus on crafted cocktails and globally inspired…
Lodging
The Maven Hotel at Dairy Block
Discover handcrafted hospitality at the boldest new independent hotel in Downtown Denver's LoDo district. Make your move to The Maven Hotel at Dairy…
Breakfast
Mercantile dining & provision
Offering Chef Alex Seidel's signature take on elevated comfort food, the restaurant follows in the footsteps of the award-winning Fruition…
Insider's Tip
DIY Boulder Farm Tour
Drive to Boulder, where your culinary adventure continues. Pick up a Farm Trail map from Boulder's Convention & Visitors Bureau to discover the county's bounty of local farmers and producers on your own.
Insider's Tip
Reserve a Tour
Reserve a guided tour of Avery Brewing's massive facility on their website: AveryBrewing.com.
Lodging
St Julien Hotel & Spa
St Julien Hotel & Spa, located in the heart of downtown Boulder, Colorado, sits at the base of the Flatiron Mountains and offers breathtaking…
Insider's Tip
Extend Your Trip After Boulder
If you have an extra day, make the trip to Estes Park Campground at East Portal near Rocky Mountain National Park or the Stanley Hotel — both sites of "Top Chef: Colorado" cooking challenges.
Breakfast
Santo
Santo is inspired by Chef Hosea Rosenberg's home Taos, New Mexico, and its Northern New Mexican cuisine.
Insider's Tip
Grab Breakfast for the Drive to Aspen
"Top Chef" season 5 winner Hosea Rosenburg is the chef/owner of Boulder's Santo, which offers breakfast to-go Monday through Friday, 7am–11am — the perfect fuel for your drive from Boulder to Aspen.
Lunch
Ajax Tavern
The Tavern comes to life at lunch, and the party rolls on well into the night. If you go no further on the menu, try the truffle fries and Ajax…
Activity
T-Lazy-7 Ranch
Located in Aspen, Colorado the authentic T-Lazy-7 Ranch has been the jumping off point for a variety of adventure activities since 1938. T-Lazy-7…
Insider's Tip
Book a Fly-Fishing Excursion
Follow in the footsteps of the cheftestants, who were tasked with catching and cooking a fresh catch at T-Lazy-7 Ranch, by embarking on your own fly-fishing adventure at the stunning property.
Dinner
Element 47 (at The Little Nell)
Whether you ski in for lunch, drop in at the bar for a more casual rendezvous, or join us for the most special of occasions, you'll be greeted…
Activity
Red Light Lounge at the Little Nell
Those looking for a once-in-a-lifetime wine-tasting experience can book a coveted table at the Little Nell's Red Light Lounge, hosted in the luxe hotel's 22,000-bottle wine cellar. Enjoy a private cellar tasting, catered to your every need and hosted by a Little Nell sommelier. Once an invite-only activity, the tasting room is now available to just four to six guests at a time.
Lodging
The Little Nell
The Little Nell is the only ski in/ski out hotel in Aspen, and our cosmopolitan but intimate hotel has the most convenient access to mountains of…
Insider's Tip
Grab Breakfast for the Drive to Telluride
Order an espresso and a smoked salmon or prosciutto and mozzarella panini to-go for the scenic drive from Aspen to Telluride.
Breakfast
Cafe V
Jump start your morning in Café V with an Illy coffee, latte, cappuccino, hot tea, mocha, Americano, espresso and hot coco. If you are feeling a…
Lunch
New Sheridan Chop House
Steak house bistro offering a selection of grilled prime steaks.
Insider's Tip
Savor Something From the Grill
Order the Dry-Aged Bone-In Bison Ribeye at New Sheridan Chop House. The dish was adored by Bryan and Michael Voltaggio — brothers who competed against each other on "Top Chef: Las Vegas" and served as guest judges on "Top Chef: Colorado."