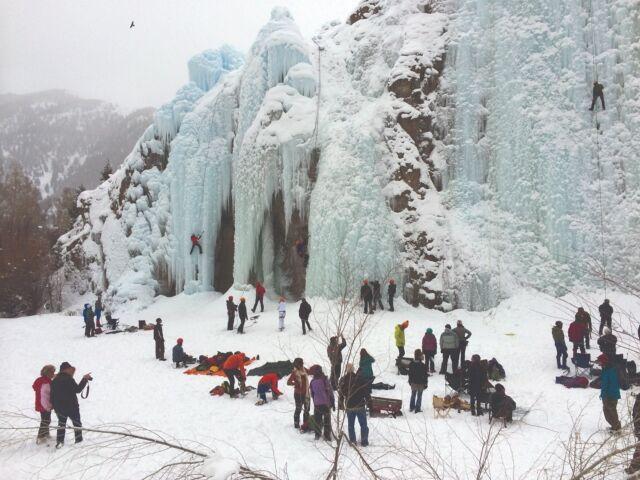 Get Away From It All in Lake City
Surrounded by 14,000-foot peaks and blanketed by some of the country's darkest night skies, Lake City is an authentic Colorado mountain town. Partake in classic winter pursuits like cross-country skiing and snowmobiling on 100 miles of multi-use trails and scaling frozen walls at their famous ice park — all tucked away in a quiet alpine paradise so you can truly get away from it all.
Itinerary Tip
Backcountry Safety
Sustainability Activity
How to Give Back to These Special Places
Donate to Lake City Friends of the Bears, dedicated to the reduction of bear-human conflict through many educational projects and the use of humane bear deterrents.
Insider's Tip
Travel Resources
Get all the information you need about cross-country skiing, snowmobiling and other activities by picking up a Lake City Winter Map from the Chamber of Commerce and other businesses in town.
Insider's Tip
Stay for Entertainment
Lake City Brewing Company hosts trivia and live music on select evenings. Check their Facebook page for more information.
Lodging
Matterhorn Motel
Excellent online reviews. Open 365 days a year! Located in the downtown National Historic District, off the main Hiway tucked up against the…
Breakfast
Chillin' Internet Coffee Shop & Cafe
Serving breakfast and lunch and homemade espresso drinks, smoothies, and frozen yogurt.
Activity
Guided Snowmobile Trip with Lake City Auto and Sports Center
Your professional guide will take you to the Continental Divide, where over 100 miles of groomed trails await. Other activities to try on these trails include fat biking, cross-country skiing and snowshoeing. Gear rentals are available at the Sportsman Outdoors & Fly Shop.
Activity
Ice Fishing at Lake San Cristobal
Ice fishing on Lake San Cristobal, just 4.5 miles from downtown, is super popular. Here, bait and jigging are common tactics that result in lake trout — sometimes one too big to fit through the hole. Want to extend your trip? Set up a hut and stay for a few days. Guidance is available at Lake City Sportsman.
Insider's Tip
Grab Some Food for the Road
Snag a tasty sandwich to-go at Chillin' Internet Coffee Shop & Cafe on your way out of town in the morning. Once you're up on the Continental Divide, you won't be eager to leave.
Dinner
Southern Vittles
Good old southern cooking. Specializing in fried fish, shrimp and chicken; also added this year is more BBQ. Come check out our new menu items.
Activity
Mountaineer Theatre
Over the years our theatre has been a staple to our family, the members to the Lake City, and everyone passing through. We continue to provide…
Lodging
Lakeview Property Management
If you are looking for a vacation rental in beautiful Lake City, you have come to the right spot! We have properties of all sizes.