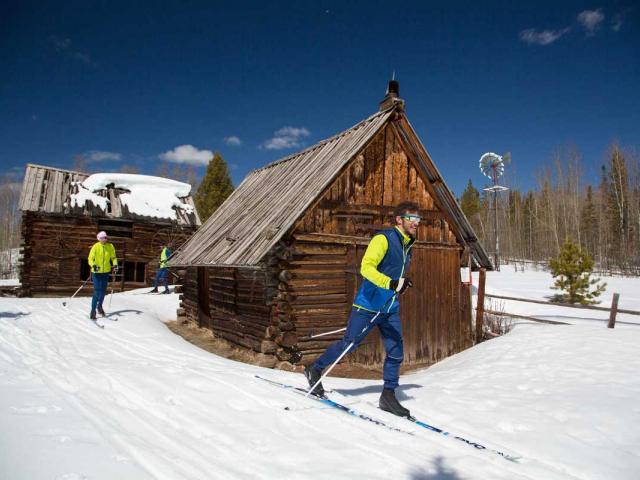 Grand County in the Winter
Thick forests and the good old Colorado work-hard, play-harder attitude define mountainous Grand County, home to Winter Park, Grand Lake, Granby, Kremmling and Hot Sulphur Springs. World-renowned hot springs, working guest ranches and Rocky Mountain National Park are just the tip of the winter iceberg.
Itinerary Tip
Backcountry Safety
Sustainability Activity
Travel Like a Local
There are special places and unique vistas around nearly every Colorado corner. You can help ensure these places exist for generations to come by staying on roads and trails, keeping speeds in check, leaving campsites and picnic spots just as you found them, and following instructional signs while you're out and about in our state.
Insider's Tip
Hop on the Road
Take the 25-minute drive from Grand Lake to Granby for breakfast.
Breakfast
Java Lava Cafe
Grab a specialty coffee or some of our delicious breakfast before getting out in the Colorado sun.
Activity
Snow Mountain Ranch/YMCA of the Rockies
Kids finding their outdoor spirit, families coming together in nature, and friends connecting over the crackling of a warm fire. This is YMCA of…
Insider's Tip
Head to Tabernash
Hop on 40 and drive about 15 minutes to lunch.
Lunch
Heck's Tavern
Heck's offers an exceptional taste of inventive ranch fare, from crafty cocktails and hand-selected wines from our private cellar, to crave-worthy…
Activity
Devil's Thumb Ranch Resort & Spa
Devil's Thumb Ranch Resort & Spa is a highly regarded and environmentally friendly year-round Ranch resort and spa offering rustically upscale…
Insider's Tip
Drive to Winter Park
Approximately 11 miles south of Devil's Thumb Ranch lies Winter Park, your dinner destination.
Dinner
Hernando's Pizza Pub
We offer fresh homemade pizzas, pastas, salads and sandwiches. Resonable prices and fun!
Activity
Hideaway Park Brewery
Hideaway Park Brewery was started to fill the niche of a small gathering place for friends and acquaintances. Stop in and have a pint, come alone…
Lodging
Winter Park Mountain Lodge
With 110 rooms, Winter Park Mountain Lodge is a great hotel for mountain adventures. Located directly across from the Winter Park Ski Resort, the…
Breakfast
Goodys Mountain Cafe & Creperie
People describe our food in various ways: Street food, comfort food, mountain food, etc... but our aim is always to serve great tasting food,…
Activity
Grand Adventures Snowmobile & Off-Road Tours and Rentals
Summit the Continental Divide this summer on our 4 person Side by Side Off Road Tours.  Tours top out at nearly 12,000ft.  Our tours are a family…
Lunch
Rudi's Deli
Rudi's is famous for providing fresh bread, amazing sandwiches, hearty soups, desserts, Gluten-Free options, wireless Internet and kid's menu. …
Insider's Tip
Head Toward Hot Sulphur Springs
A 30-minute drive to the hot springs will seem like nothing once you've soaked your weary muscles.
Activity
Hot Sulphur Springs Resort and Spa
35,000 feet below the surface of the earth, the heat of volcanic rock is released through countless fissures that spread out through the earth's…
Insider's Tip
Drive to Grand Lake
Jump on 40 and head to Grand Lake for dinner.
Dinner
The Historic Rapids Lodge and Restaurant
The Historic Rapids Lodge (1915), along the Tonahutu River, offers spacious and comfortable accommodations in Grand Lake: Rapids Lodge Guest Rooms…
Activity
The World's End Brewpub and Inn
A family-run inn and brew pub near Rocky Mountain National Park in Grand Lake
Lodging
Gateway Inn Hotel & Conference Center
The Gateway Inn is making it S'more Fun in Grand Lake, Colorado with breathtaking mountian and lake views!  Enjoy our deck with fire pit tables,…